The eye-catching Pump Syrup from Jacked Labs has a unique style with a ready-to-drink formulation. It features a barrage of highly potent and efficient dosing that will fully satisfy you with pumps for days!
I recommend this product to individuals looking for a high-dose pump supplement that increases the dosages of pump pre-workouts with the convenience of liquid. Glycerol is difficult digest in powder form and also tastes chalky, so liquid makes for more efficient ingestion.
Thank you, Jake from Nutricartel, for sending this full product for review!
Ready to Drink!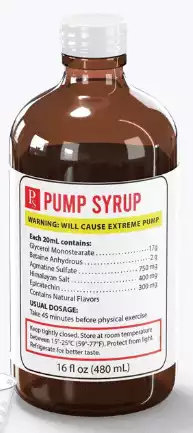 Pump Syrup | Jacked Labs – Nutrition Cartel
Great for going all out on endurance and expanding the pump in training for further muscle development.
Glycerol Monostearate: 17g
Epicatechin: 300 mg
Agmatine Sulfate: 750 mg
Shop NutriCartel
Lift Vault earns a commission if you click this link and make a purchase at no extra cost to you.
Where to Buy Pump Syrup by Jacked Labs
You can buy Pump Syrup by Jacked Labs from the following retailer:
Experience
Glycerol is a sugar alcoho which gave me a mild energy boost along with the epicatechins derived from green tea extract. This energy felt similar to caffeine citrate, with a quick and short burst from 10 minutes after ingestion.
Intense, full and wet pumps! Vascularity resembling the maps of rivers, routing and crawling all over. When I put in the work at the gym, my muscles were popping. I experienced improved contraction, endurance, and some strength as well. I have used this in a fasted state, multiple times, and also after a meal. I felt slight stomach discomfort when I did not work within 30 minutes of intake, probably due to it being released via digestion vs absorption to the muscle tissues.
Similar to creatine, where the water molecule is held in suspension at the muscle fiber, glycerol allows increased hydration to the muscle fibers. This promotes greater contraction, improved endurance, and strength. Since this is more than just a liquid glycerol supplement, they have added endurance enhancers as well as vasodilator for nitric oxide support.
While this has not being marketed for a sexual aid product, I also do not have direct erectile dysfunction. However, sometimes, especially with illicit stimulants like DMHA, I have experienced some form of ED. This provided an improvement to my overall erection quality, which was a positive.
Side Effects
The only negative side effect I did experience was one occurrence of bowel distress, most likely due to the glycerol that wasn't utilized by working out. At this time, I had to pick my daughter up earlier than expected, when I didn't get past warm-up exercises.
Flavor
The flavor is just natural flavor, which is a blue-tasting bitterness. It had a texture similar to actual cough syrup, which made me grimace. I have had many products premixed in a multi-serving bottle like this, which are not particularly tasty. Pump Syrup can be added to a product, but doing so made it bitter. The best way to avoid the flavor is to shoot it back and follow it with something flavorful.
Dose/Scoop Size
The serving size is 20 ml, containing 20.45 grams of active ingredients plus the natural flavors and/or water. It is nice that they included the dosing cup, as similar products suggest using a tablespoon or the cap of the product. Although measuring on the scale might be an option, the solution saturation of the syrup might not be entirely consistent, so I suggest giving it a heavy shake with each use.
For each serving of this pump pre-workout, I used the serving size of 20 ml and 10 ml once without training, which hit precisely how I needed it. While it isn't on the label, I did calculate the 16 fl ounces to 473 ml, the 20 ml serving size would give us 23.65 servings. Dosage wise isn't comparable directly on the market for liquid-based products, but purely on the number of servings per container; it is around the lower to mid-end.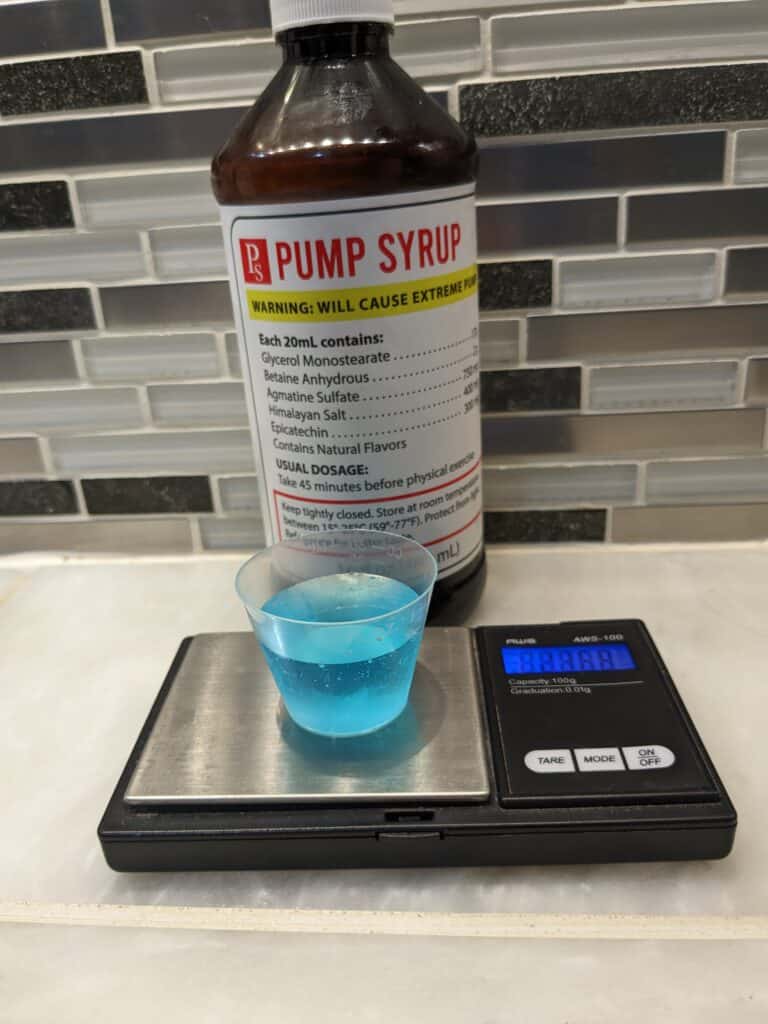 Ingredients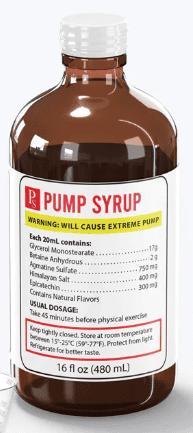 Glycerol Monostearate – 17 g
Glycerol provides enhanced performance, increased muscular pumps, and supports proper hydration levels. Most pump products work by increasing Nitric Oxide (NO) production, which then leads to increased vasodilation. Glycerol increases vascularity and pumps via raising the osmotic pressure within bodily fluids, which supports water movement throughout the body.
From PubMed, the hyperhydration effect of glycerol can be used to fight off heat exhaustion. 3-5 grams should be noticeable for pumps, but the 17 grams in pump syrup is much greater than powder-based supplements.
Betaine Anhydrous – 2 g
Betaine is included to help increase your power output. However, research needs to be more consistent around this claim. The typical range for betaine is between 1.5 g and 5 g, but generally, 2 grams is on the mid-end for what is in the market. Per the clinical trials, daily supplementation is required to obtain the full benefits.
Agmatine Sulfate – 750 mg
Agmatine is often included in pre-workout supplements as a pump ingredient, but more research is needed to understand how reliable these claims are. Theoretically, since agmatine can increase endothelial nitric oxide, it can help boost nitric oxide in the body. A comparable dose in similar product categories would be 750-1,000 mg, placing pump syrup in the middle to upper dosage range.
Himalayan Salt – 400 mg
Salt helps retain water, enabling you to achieve fuller muscle bellies during your workout. This can help prevent muscle spasms like a "Charlie horse" and allow for a good contraction.
100 mg is a lower dosage for this ingredient; however, it is diet dependent as not everyone will need higher amounts (for comparison, FSU Dyehard has 300 mg, and Hooligan Bare Knuckle has 250 mg).
It also contains essential electrolytes! More info can be found at Supplements in Review.
Epicatechin – 300 mg
Epicatechin is a flavonol. It is a naturally occurring compound found in green tea and cacao sources. Noted benefits of Epicathecin, in terms of pump syrup, are increased nitric oxide and more strength.
According to the data, you'll need an Epicatechin dosage of 200 to 250mg daily, so the 300 mg included is more than enough.
Pump Syrup Pre Workout Review
Summary
Having the convenience of using a liquid is great for improved absorption. The trade-off is value, as the liquid is a bit more expensive. You will still need to drink plenty of water to get the maximum effectiveness, and the versatility is great as you can add it to anything you take. Ultimately, I recommend this product for any individual looking to go all out on endurance, and expand the pump in their training for further muscle development.
Pros
Excellent endurance
High-quality and efficiently dosed ingredients
Strong full, and wet pumps
Powerful muscle contractions
Added energy and fat metabolism
Convenient and highly dosed
Cons
Gastric bloating if not training, up taking to muscles