Ryse and Daddy Noel, bring us Pump Daddy! This stimulant-free pre-workout, extremely high pump formulation has an added focus element. Thank you, Jake, with Nutricartel, for providing this product for review. If you are looking for a pump product, this could be the pre-workout for you!
Stimulant-free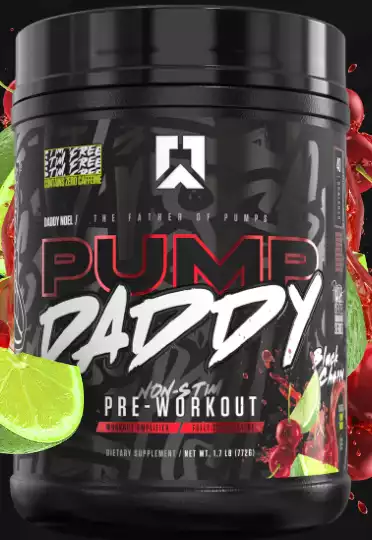 Pump Daddy Pre Workout - Ryse Supplements
Pump Daddy pre-workout is a great option for beginners or those seeking a stimulant-free experience.
Discount code:
LIFTVAULT = 15% off at Nutri Cartel
L-Citrulline: 4,500 mg (per scoop)
Creatine Monohydrate: 2,500 mg (per scoop)
Glycerol Powder: 2,000 mg (per scoop)
Betaine Anhydrous: 2,000 mg (per scoop)
Shop Nutri Cartel
Lift Vault earns a commission if you click this link and make a purchase at no extra cost to you.
Where to Buy Pump Daddy Pre-Workout Supplement
You can buy Pump Daddy Pre-Workout at the following retailers:
Experience
I was fortunate enough to utilize this product as a stimulant-free pre-workout, which was helpful in keeping my stimulant tolerance low. I enjoy taking this approach every few months, especially if I start taking caffeine on my non-training days, which I try not to do. After ingestion, the beta-alanine effects took 15 minutes to surge through my body, and four grams plus the adsorption ingredients made it very potent! By 40 minutes, I felt the focus just enough to let me know it was there, but at around 4/10 in strength.
In terms of vascularity, this product did not deliver for me. Surprisingly, the label indicates a high dose, but I have experienced more with these ingredients at lower dosages. I had muscle fullness in workouts, but not the skin stretching effect I was looking forward to achieving. Lastly, endurance was also lacking with this product, as I didn't have any level of increased stamina from my baseline.
Side Effects
I had some gastric distress on two occasions, which led me to the restroom while at the gym and a bloat feeling with each use. I always work out fasted and didn't take on extra water during my workout for these scenarios. I also tried drinking more water during my workout a few times, but that didn't make it more comfortable.
Flavor
Black Cherry is the flavor I received for review and contained a hint of lime. I was not a fan of this flavor, and struggled with each swallow. It has an earthy, almost chocolate taste but not pleasant. I couldn't make the flavor any better with flavor enhancers or such. I found 12 ounces of water was adequate for flavoring with two servings, as the directions suggest six to eight ounces per scoop. With a product like this, more water is better for the effects.
Dose/Scoop Size
I utilized this product as a stand-alone stimulant-free pre-workout to take a stimulant break and lower my caffeine tolerance levels. I use stimulant pre-workouts on training days. Occasionally, I will have some caffeine on my days off, with the exception of reviewing a product like this. For each use of this product, I consumed two rounded heaping scoops, as shown below, with the exception of running this product as one scoop on one occasion.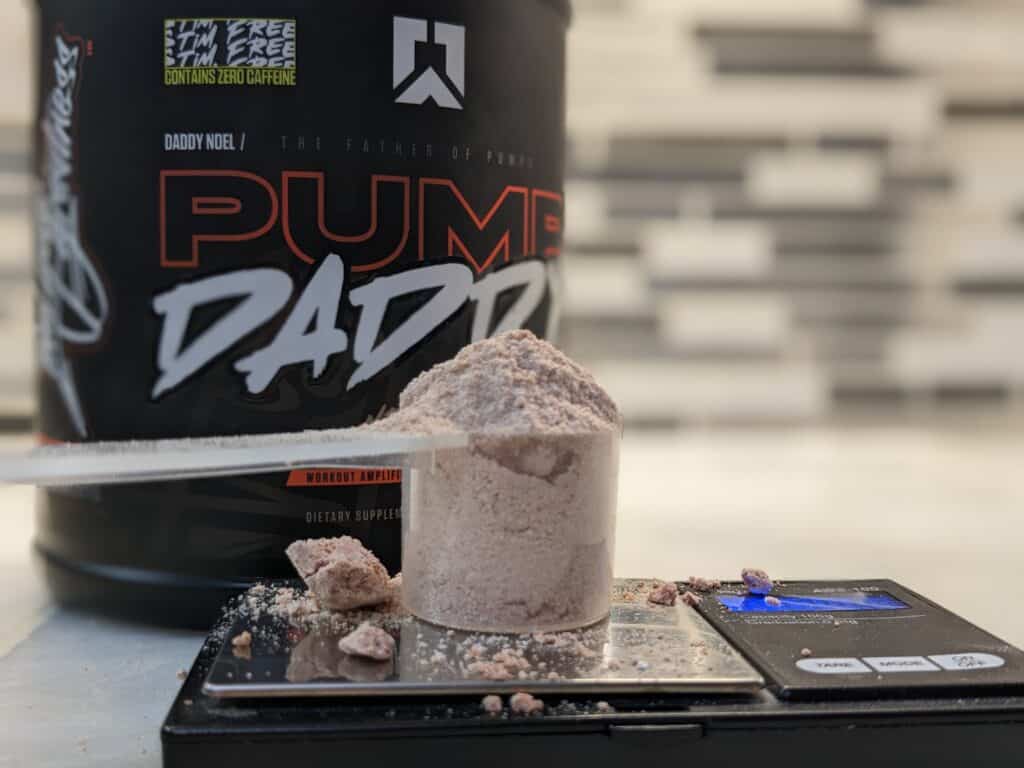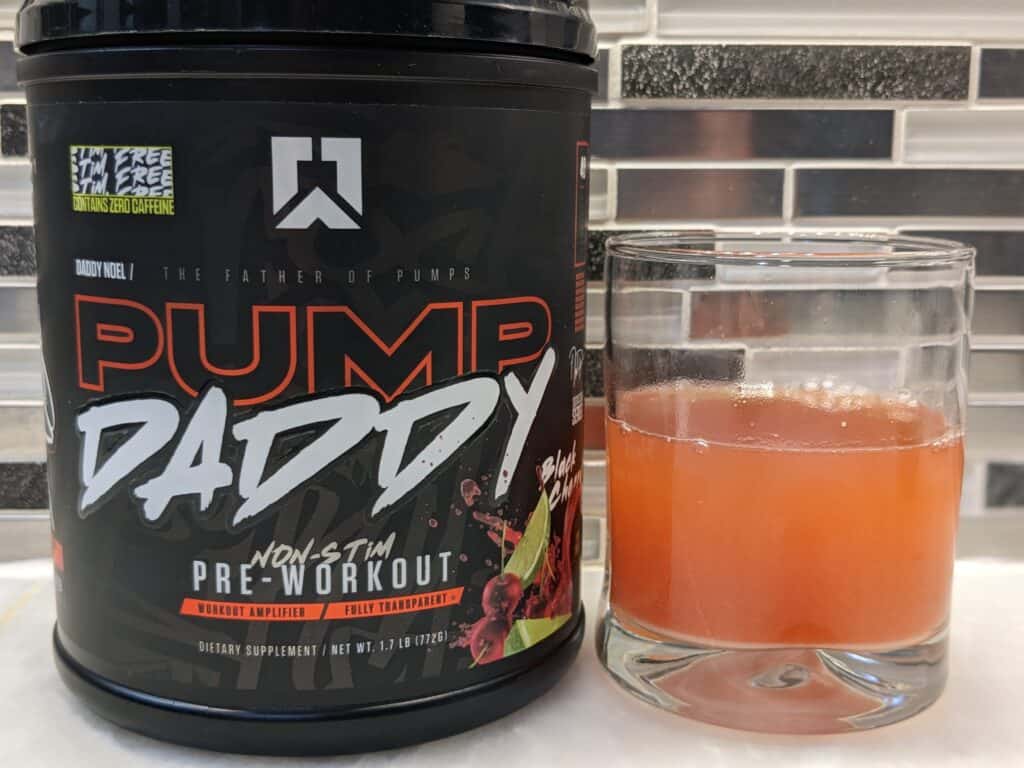 Ingredients
Pump Daddy by Ryse is currently the biggest pump product on the market, especially at the two-serving dosage, as shown below. It contains all the right ingredients at the perfect dosages with added AstraGin for adsorption. They even go one step further by giving you the daily dosage of Creatine Monohydrate and a large clinical dosage of Beta-Alanine.
To push this product to the max, they have included focus ingredients Nitrate, Glycerol, VasoDrive-AP®, and Thinkamine making this product a powerhouse, stimulant-free pre-workout. 
Much more isn't needed, except maybe more nootropics like Alpha GPC or Lion's Mane, but then this wouldn't be as accessible when taken late at night.
I am really impressed with the label for this product while having reservations about how this formulation could cause some gastric distress.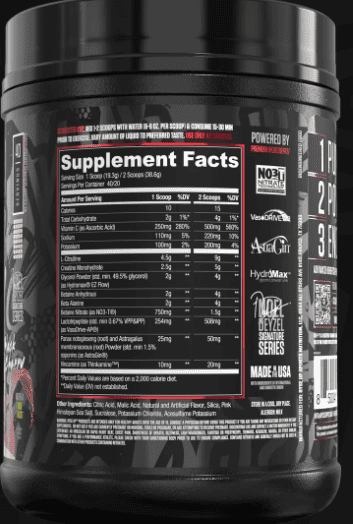 Sodium – 220 mg
Salt helps retain water, enabling you to achieve a swole look during your workout.
220 mg is a low dosage for this ingredient; however, it is diet dependent as not everyone will need higher amounts (for comparison, Sicario has 500 mg, FSU Dyehard has 300 mg, and Hooligan Bare Knuckle has 250 mg).
It also contains essential electrolytes! More info can be found at Supplements in Review.
L-Citrulline – 9 g
L-Citrulline is one of the most common pre-workout ingredients. Extensive evidence supports its ability to increase nitric oxide production, power output, pumps, blood flow, and endurance. It is typical for this ingredient to contain malic acid in malate, which has some benefits similar to beta-alanine. However, you want six to eight grams of pure Citrulline for proper dosage, and some products may list the Malic Acid as a separate ingredient.
Creatine Monohydrate – 5 g
Creatine Monohydrate has been on the market for decades, with fitness enthusiasts swearing about it.
Generally, it is water soluble but also comes in 100% creatine powder form that you want when you need that extra bit of support. Creatine monohydrate, scientifically studied and proven to be effective, is similar to amino acids and helps support muscle growth.
Glycerol Powder (Hydromax® EZ Flow) – 4 g
From MPA Supps, HydroMax is a patented and highly concentrated powdered form of glycerol. It's broken down into 65% glycerol and 35% silica, and it is a more potent form of glycerol than glycerol monostearate. Noted benefits of HydroMax are enhanced performance, increased muscular pumps, and supporting proper hydration levels. This product states this Hydromax is EZ Flow, which also shows the standardization for 49.5% glycerol, and that wouldn't be Hydromax, and the trademark on the label shows 65%. I am confused about which it is, although this amount is huge in either percentage.
From PubMed, the hyperhydration effect of glycerol can be used to fight off heat exhaustion. One gram should be noticeable with pumps, but four grams is the amount found in Pump Daddy.
Betaine Anhydrous – 4 g
Betaine is included to help increase your power output. However, research is inconsistent around this claim. The typical range for Betaine is between 1.5 g and 5 g.
Beta-Alanine – 4 g
Beta-Alanine has been shown to support muscular endurance and act as a lactic acid buffer. Depending on the source of this ingredient, you may feel the paresthesias intensify. This feeling is often desirable in the sports community, as it does make you feel the intensity after ingestion and as you start training. This effect may be negated by diet and intake of beta-alanine.
Beta-alanine requires regular intake to be effective, akin to creatine. Daily beta-alanine supplementation is recommended to become effective, with a three to five weeks loading period.
3 to 4 grams is the recommended daily dosage for beta-alanine, putting Pump Daddy at the high end of the clinical dose range.
Betaine Nitrate (as NO3-T®) – 1.5 g
Nitrate (NO3–T) is a small molecule produced in the body in limited amounts (as a byproduct of nitric oxide). It is obtainable via vegetables, particularly beetroot and other low-calorie tuber vegetables such as turnips, as well as leafy green vegetables such as spinach or rocket.
Noted benefits of nitrates are reduced blood pressure, improved blood flow and vasodilation, reduced oxygen cost of exercise (allowing you to go longer), and kidney protection.
VasoDrive-AP (Casein Hydrolysate) – 508 mg
VasoDrive-AP helps decrease blood pressure, increase nitric oxide production, increase blood flow, and enhance muscle pumps. Check out this video to learn more about VasoDrive-AP.
Panax Notoginseng W/ AstraGin® – 50 mg
Generally, Ginseng is known for its focus nootropic effects; however, it seems too low of a dose for the cognitive benefits but rather included due to the nutrient uptake. Being this ingredient is combined with AstraGin, it is included for such.
Like Bioperine (a black pepper extract), AstraGin helps absorb nutrients. 50 mg is the standard dosage for this ingredient. Furthermore, it appears AstraGin® is formulated from Panax Notoginseng.
Vincamine (as Thinkamine™) – 10 mg
Vincamine is the main ingredient and alkaloid of the lesser periwinkle plant, Vinca minor – a common garden plant.
According to Science Direct, although increased cerebral blood flow has been reported after the intravenous administration of vincamine, there have been no reliable blood flow studies after oral consumption. Improvement in scores on some psychometric tests has been obtained with vincamine in some patients with cerebrovascular disease. No clear-cut practical benefit has been demonstrated.
It has been used for over two decades in certain European countries (e.g., Hungary, Germany, and Poland) and Japan to treat cerebrovascular disease states and associated dementia.
If you attempt to find research on "Thinkamine™," the only results you'll find are trademark information.
It's not known what the required dose is to experience benefits, but 10 mg is the typical dosage I have seen.
Stimulant-free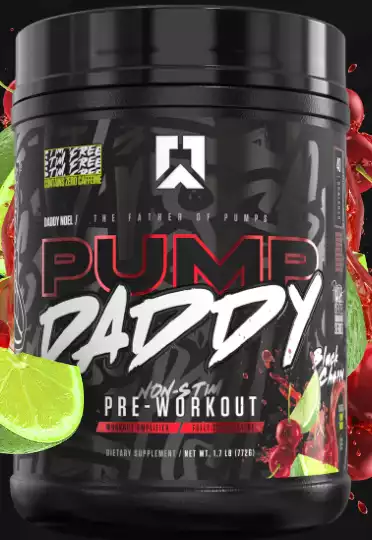 Pump Daddy Pre Workout - Ryse Supplements
Pump Daddy pre-workout is a great option for beginners or those seeking a stimulant-free experience.
Discount code:
LIFTVAULT = 15% off at Nutri Cartel
L-Citrulline: 4,500 mg (per scoop)
Creatine Monohydrate: 2,500 mg (per scoop)
Glycerol Powder: 2,000 mg (per scoop)
Betaine Anhydrous: 2,000 mg (per scoop)
Shop Nutri Cartel
Lift Vault earns a commission if you click this link and make a purchase at no extra cost to you.
Pump Daddy Pre-Workout Review
Summary
I am unsure why this product didn't meet the hype or my expectations, as I enjoy Ryse and Noel. I expected it to perform better than similar pump pre-workouts I have tried recently. I would recommend this product if you want a milder pre-workout. I have reviewed other products on Liftvault that are more effective, and some even offer a nootropic focus if you need that extra push.
Pros
Muscle fullness
Stimulant-free focus
Unique, comprehensive formula with patented ingredients
Healthy formulation, daily driver
No banned ingredients
Made in the USA
Veteran-owned and supported
GMP Certified
Cons
Clumping in container initially
Odd, earthy taste
Lacking vascularity
No increased endurance