Stim Shady by Frenzy Labz is one of two products currently on the market with the beloved AMP Citrate stimulant, a replacement for DMAA. Thank you, Suppscentral, for providing this product for my review! I recommend this product to anyone looking to try AMP Citrate who may have missed it in the past or wants a different experience from other available offerings.
Great focus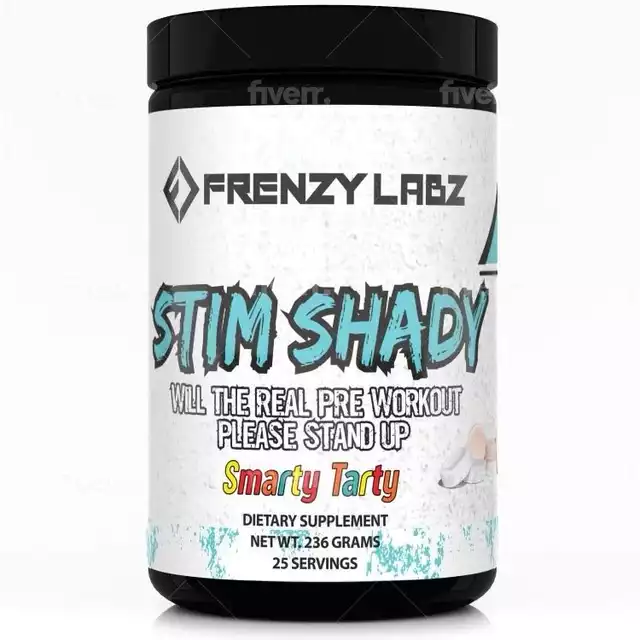 Stim Shady by Frenzy Labz Preworkout
This gave me the focus and mind-to-muscle connection I needed to push through some grueling workouts!
Shop Supps Central - LIFTVAULT15 = 15% off
Synephrine: 20 mg
DMAE: 750 mg
Beta-Alanine: 3.2 g
Shop Supps Central
Lift Vault earns a commission if you click this link and make a purchase at no extra cost to you.
Where to Buy
You can buy Stim Shady by Frenzy Labz at the following retailers:
Experience
Tingles started within 10-15 minutes and before the paresthesia from the Beta Alanine began. Within 30 minutes, the Beta Alanine was hitting great! Ifelt tingling all over my face, brow line, and top of my head, which had me scratching like a meth head. The nasal decongestant effect was noticeable at this point, which might have been the AMP Citrate. It wasn't hitting as strong as 200 mg of DMHA or DMAA has for me in the past, but it gave me a great rambling energetic effect while talking with my gym partner.
By the time I made it to the gym, it had been 35 minutes, including the brief 10-minute walk with my dogs. At this point, the energy was going great, with the focus coming in strong, building up to a 6.5 out of 10. While working out, I felt a good mind-to-muscle connection.
I did not experience much endurance, stamina, or strength with this product. However, it did give a good solid fullness in my muscles which could be from the mind-to-muscle connection focusing on contracting those fibers more. Overall, a noticeable stimulant sweat occurred, which was pleasant and added to the overall experience. The energy lasted several hours and the focus outlasted that at around 4 hours.
Side Effects
I observed no side effects while using this product.
Flavor
10 ounces of water was a great ratio for one full serving size. The directions suggest 6-8 ounces. I received the Smarty Tarty flavor, but there were four different flavors at the time of release. It was not overly sweet and the initial flavor tasted like coconuts before shifting to a smarty candy flavor. I enjoyed this flavor very much, and the Rocket the Rabbit would be the next flavor I would choose. Kudos to Frenzy Labz for naming the flavors as they did since they are in keeping with the Eminem theme.
Dose/Scoop Size
I only utilized this product at a 1-scoop dosage, which comes out at less than a level scoop. The powder was very fine and was easy to scoop appropriately. Since it contains an above-average dose of stimulants and caffeine, I suggest going less than a flat scoop or aiming for the line in the scooper.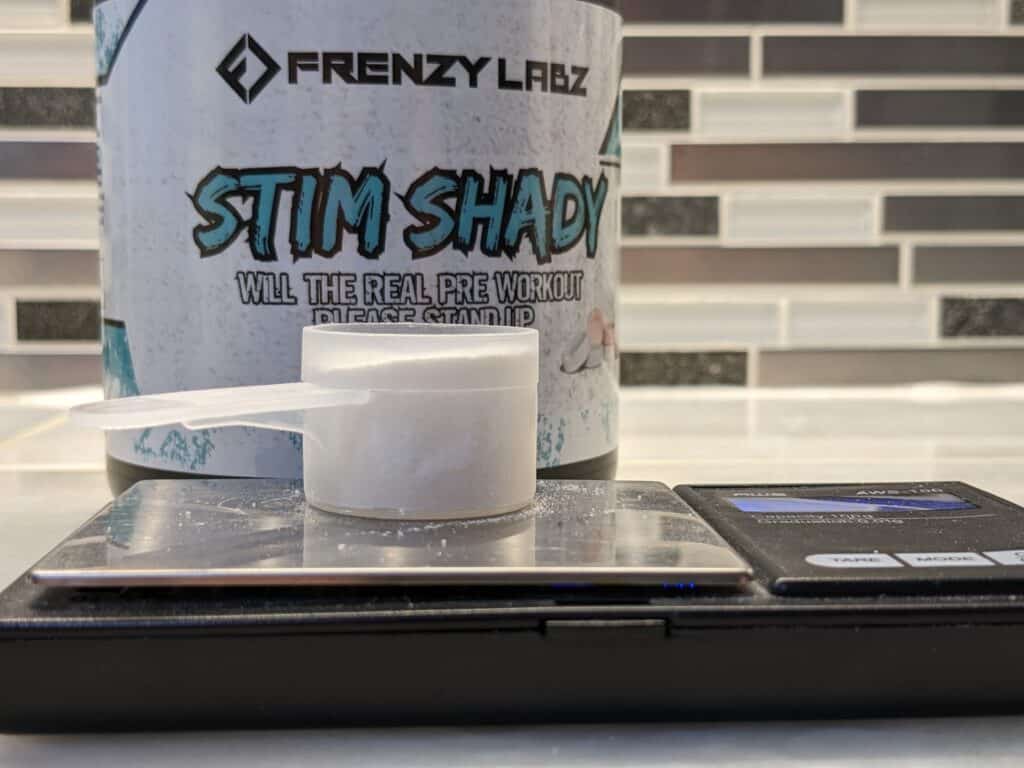 Ingredients
Stim Shady has a simple ingredient profile. It doesn't add the hefty amounts of L-Citrulline like other products and instead uses 2 grams of Glycerol. There is a bit to be desired for additional ingredients here, but based on the effectiveness. Personally, I would like more Glycerol or a Nitrate to help with pumps and/or vascularity. Additionally, maybe add additional focus ingredients or a second form of caffeine to prevent a crash later on. Potassium, Magnesium, and Vitamin C are included on this label at significant dosages, depending on the forms which are disclosed, as they do support pumps.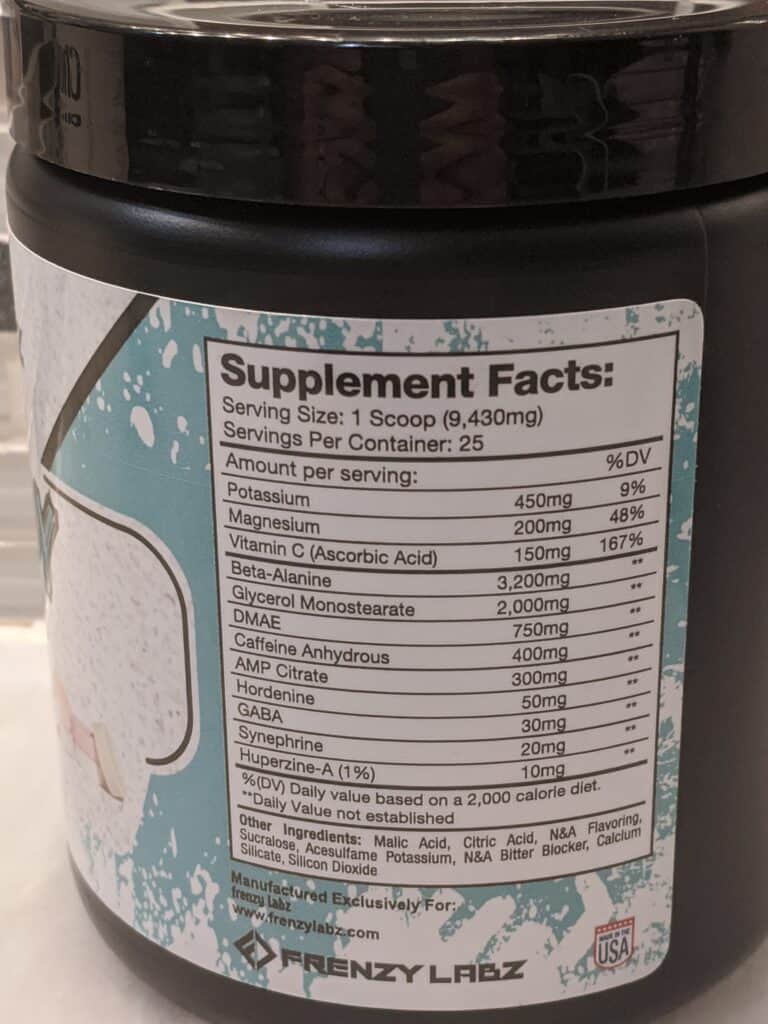 Beta-Alanine – 3.2 g
Beta-Alanine has been shown to support muscular endurance and act as a lactic acid buffer. Depending on the source of this ingredient, you may feel the paresthesias intensify. This feeling is often desirable in the sports community, as it does make you feel the intensity after ingestion and as you start training. This effect may be negated by diet and intake of beta-alanine.
Beta-alanine requires regular intake to be effective, akin to creatine. Daily supplementation of beta-alanine is recommended, with a loading period of three to five weeks, to become effective.
3 to 4 grams is the recommended daily dosage for beta-alanine, putting Stim Shady in the standard clinical dose range.
Glycerol Monostearate – 2 g
Glycerol powder assists with hydration and allows the body to absorb more water. This helps stave off dehydration and boasts mild improvements in endurance. Since it helps hydrate your muscle fibers, take this product with plenty of water for maximum results.
Glycerol is often included in pre-workout supplements because the extra water absorption helps your muscles swell up, giving you a "swole" look. The concentration isn't given here, but a typical amount would be 65%, yielding 1.3 grams of glycerol, which is a bit of a low dose. The previous product Frenzy Labz released, Demolish, has 97% on the label, so I am making an educated guess.
DMAE (Dimethylethanolamine) – 750 mg
DMAE is a choline molecule used to treat cognitive decline in elderly patients. It is included in pre-workouts to promote focus and feelings of well-being. Dosing guidance for performance enhancement needs to be better understood.
For reference, Chemix pre-workout contains 400 mg of DMAE. Dark Energy and Assassin V6 contain 750 mg.
Caffeine Anhydrous – 400 mg
Caffeine anhydrous is the standard form of caffeine, known for increasing energy, alertness, motivation, and mood. The caffeine content varies for each product. The 350-450 range is the typical dosage for sports supplements on the market today. Often, products list several forms of caffeine, which release faster or slower.
AMP Citrate – 300 mg
1,3 dimethylbutylamine HCL, also known as 1,3 DMBA, DMBA, 4-amino-2-methylpentane, AMP, or AMP Citrate, is a very rare stimulant nowadays (this is the second product I know of that contains it, with the first being Pre Black by SP Nutrition). I personally have had Pre Black, and I find Stim Shady to be a better experience, yet still underwhelming. A decade or so ago, it was more common.
It's in the realm of DMHA regarding its effects on motivation, energy, and mood. Typical doses are between 100-400mg, putting Stim Shady in the range. Either the AMP Citrate on the market back in the day was stronger, or it was just DMAA hiding in plain sight. The AMP C in this product and Pre Black definitely don't hit nearly as strong.
Hordenine – 50 mg
Hordenine (N,N-dimethyltyramine) is a stimulant often included in recent "nootropic" products. It is not widely researched, so much of the information available comes from anecdotal accounts.
GABA – 30 mg
GABA is a neurotransmitter that is critical for the regulation of depressive and sedative actions in the brain as well as general relaxation. It also enhances the metabolism of growth hormones.
GABA is also included in pre-workouts like Dark Energy to take the "edge" off higher stimulant doses similar to L-Theanine. Since this ingredient is added to reduce the potential side effects of stimulants, the dosage depends on the product's performance and whether it needs a higher dose. 30-50 mg in a pre-workout is the typical range. It can help promote a slight dopamine release.
Synephrine – 20 mg
Synephrine is a well-researched ingredient that has been shown to aid in weight loss.
"In general, bitter orange extract alone (p-synephrine) or in combination with other herbal ingredients did not produce significant adverse events such as an increase in heart rate or blood pressure or alter electrocardiographic data, serum chemistry, blood cell counts, or urinalysis. p-Synephrine alone and in combination products were shown to increase resting metabolic rate and energy expenditure, and modest increases in weight loss were observed with bitter orange extract/p-synephrine-containing products when given for six to 12 weeks."
Synephrine Meta-Analysis
20 mg of synephrine found in Stim Shady is a lower dosage than the evidence for fat-burning effects.
Huperzine-A (1%) – 10 mg
Huperzine A is cholinergic and acts as a cognitive enhancer. As an acetylcholinesterase inhibitor, it lengthens the half-life of cholinergic sources (Examine).
It tends to be taken in doses of 50 mcg to 200 mcg, depending on the extract percentage. Stim Shady contains 10 mg of huperzine, standardized to 1% huperzine A, which yields 100 mcg making it an effective yet less well dose compared to others on the market.
Great focus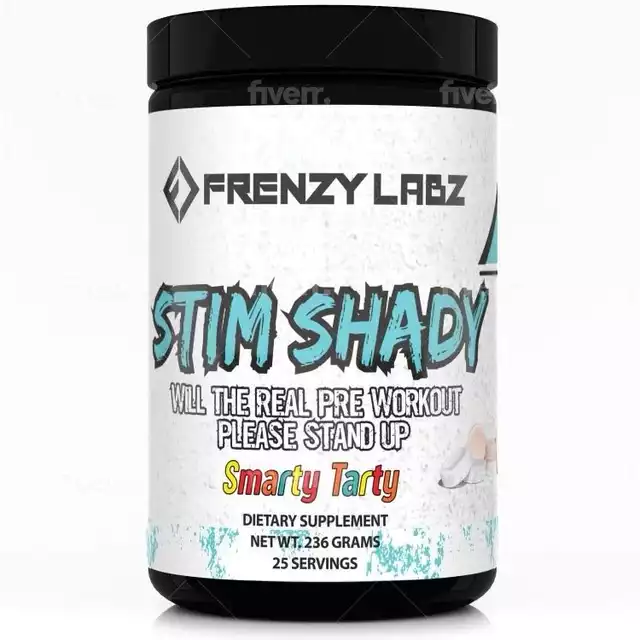 Stim Shady by Frenzy Labz Preworkout
This gave me the focus and mind-to-muscle connection I needed to push through some grueling workouts!
Shop Supps Central - LIFTVAULT15 = 15% off
Synephrine: 20 mg
DMAE: 750 mg
Beta-Alanine: 3.2 g
Shop Supps Central
Lift Vault earns a commission if you click this link and make a purchase at no extra cost to you.
Stim Shady by Frenzy Labz
Stim Shady by Frenzy Labz
My overall experience with Stim Shady was good, as it gave me the focus and mind-to-muscle connection I needed to push through some grueling workouts. Compared to other products on the market with AMP Citrate, this would be the option I would pick.
Pros
Great focus

Mind-to-muscle connection

Beta-Alanine tingles

Strong full pumps

Thermogenic effect

Great tasting flavor

Made in the USA
Cons
Slight crash later in the day