Kilo Labs brings us another strong stimulant-based pre-workout hitter called Stim Thug. This product features heart-pumping, high-energy, and focus ingredients such as alpha yohimbe, eria jarensis, theobromine, and two forms of caffeine.
Stim Thug ranks on the top tier of products I have reviewed. This is an excellent pre-workout even for those who feel they are sensitive to alpha yohimbe, as Kilo Labs have formulated this product precisely without over-taxing your heart rate.
Thank you, Jake from Nutricartel, for sending this full product for review!
Top Tier Pre-Workout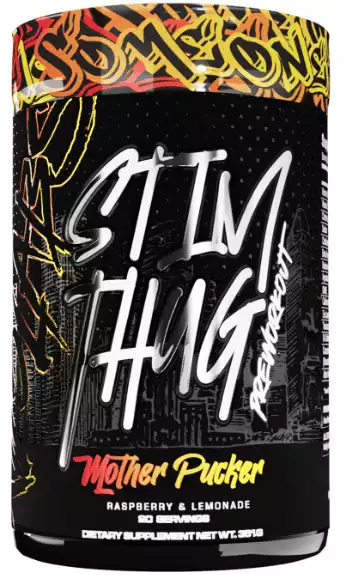 Stim Thug Pre Workout - Kilo Labs
This is an excellent pre-workout even for those who feel they are sensitive to alpha yohimbe, as Kilo Labs have formulated this product precisely without over-taxing your heart rate.
Discount Codes:
LIFTVAULT = 15% off at Nutri Cartel
DMAE: 500 mg
Caffeine Anhydrous: 350 mg
Eria Jarensis: 300 mg
Shop Nutri Cartel
Lift Vault earns a commission if you click this link and make a purchase at no extra cost to you.
Where to Buy Stim Thug by Kilo Labs
You can buy Stim Thug by Kilo Labs from the following retailers:
Experience
Within the first 10 minutes, I felt my energy levels increase and some slight but powerful paresthesia tingle effects. Approximately 15 minutes later, I started getting numbing around my lips and the bridge of my nose between my eyebrows. Pulsing focus around the forehead occurred around 20 minutes.
By the 30-minute mark, the tingles intensified around my ears and face. At this point, everything felt perfect, as I thought I could just sit there with an elevated mood and a smile on my face feeling happy, but I was too energetic to want to sit still. Everything worked together around the 45-minute mark, with tremendous energy and improved breathing.
Substantial endurance, improved stamina, and vascularity were present throughout the workout. The repetitions came quickly, and the contractions felt more robust with each movement. I could pick a spot on the wall and press or pull with focus at an all-time high.
The pump was also very good, with muscle tightness being very high and soreness occurring later after training. While my heart rate did feel elevated, my levels were normal upon checking. The numbing focus dissipated some after the training, but was still slightly present around my forehead.
Concentrated focus and elevated levels of energy sustained post-workout for over six hours. I would reach for this product again for all the reasons above, especially since it was non-exhaustive and didn't contain a crash or drop in energy later in the day. I felt this product could be a daily rotated pre-workout, as it didn't decrease the efficiency with each use.
Side Effects
I didn't experience any effects that were negative while using this product.
Flavor
"Still Sippin" was the flavor I was sent for review, labeled as a watermelon and peach flavor. It was one of the best-flavored pre-workouts I have tasted, despite containing bitter stimulants. The flavor was about a 9.7/10 regarding desirability, as it starts very sweet and finishes with a minimal bitter aftertaste. It had a juicy watermelon taste, similar to jolly ranchers. Kilo Labs always knocks the flavor out of the park.
The suggested amount of water is 8-12 ounces, and I enjoyed it most with 12 ounces of water, as it is powerful in flavor.
Dose/Scoop Size
The serving size is 17.55 grams for a whole serving. The total serving amount comes to a very flat-level scoop. Since it does contain alpha yohimbe, I would not suggest going too much above a flat level, as the effects are pretty strong.
With each serving of this pre-workout, I used the full scoop, which hit precisely how I needed it. We are given a solid 20 servings in this container, which is currently the market standard. The mixability was excellent, with minimum sediment toward the end of the cup.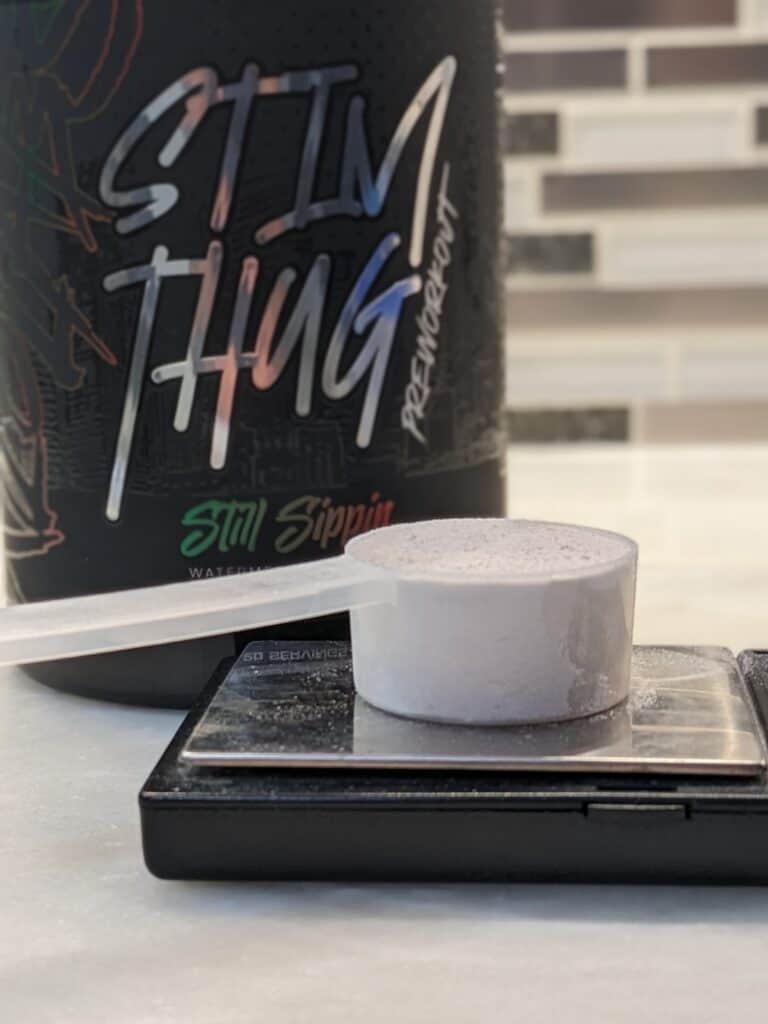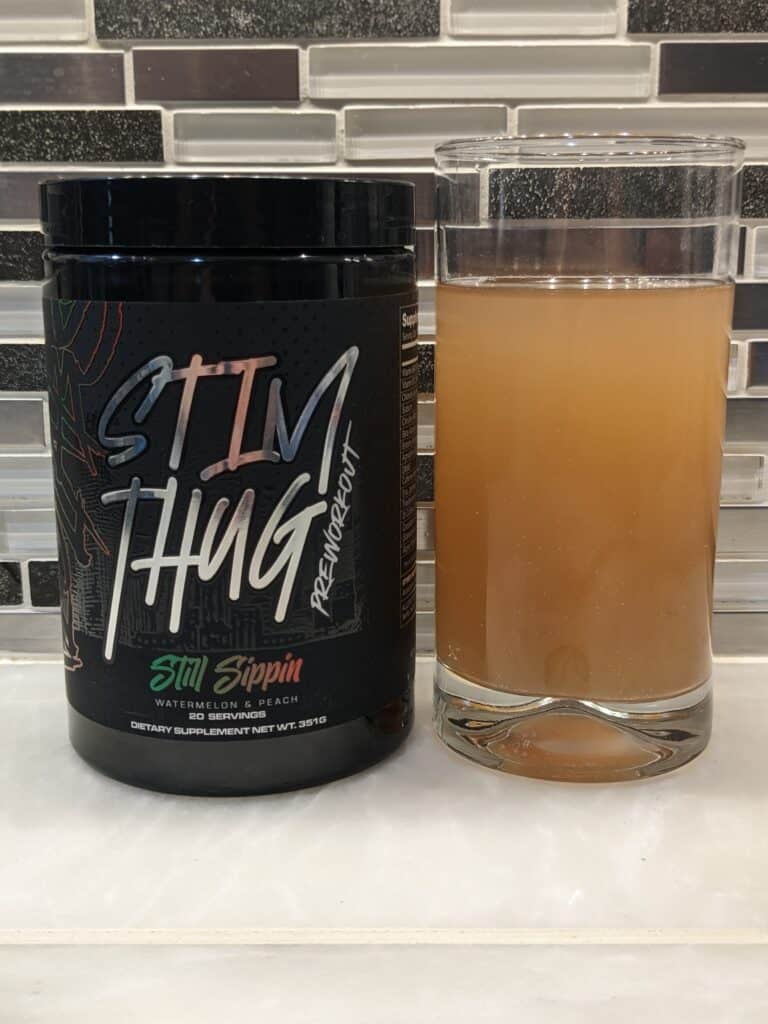 Ingredients
There are some great ingredients and ideal dosages in this pre-workout, and if you have seen kilo labs before, you wouldn't be surprised to see them do well with fewer ingredients. A few companies are known for their potency of ingredients, and Kilo Labs are on that list.
I don't have much to comment on for this section, other than the dosage on the alpha yohimbine might actually be rauwolfia vomitoria extract, but that is unclear. We are given a few vitamins (b6, b12), which can offset nausea and provide energy. It looks very well-formulated; in fact, this product is dosed for pumps greater than many other high stimulant-based pre-workouts.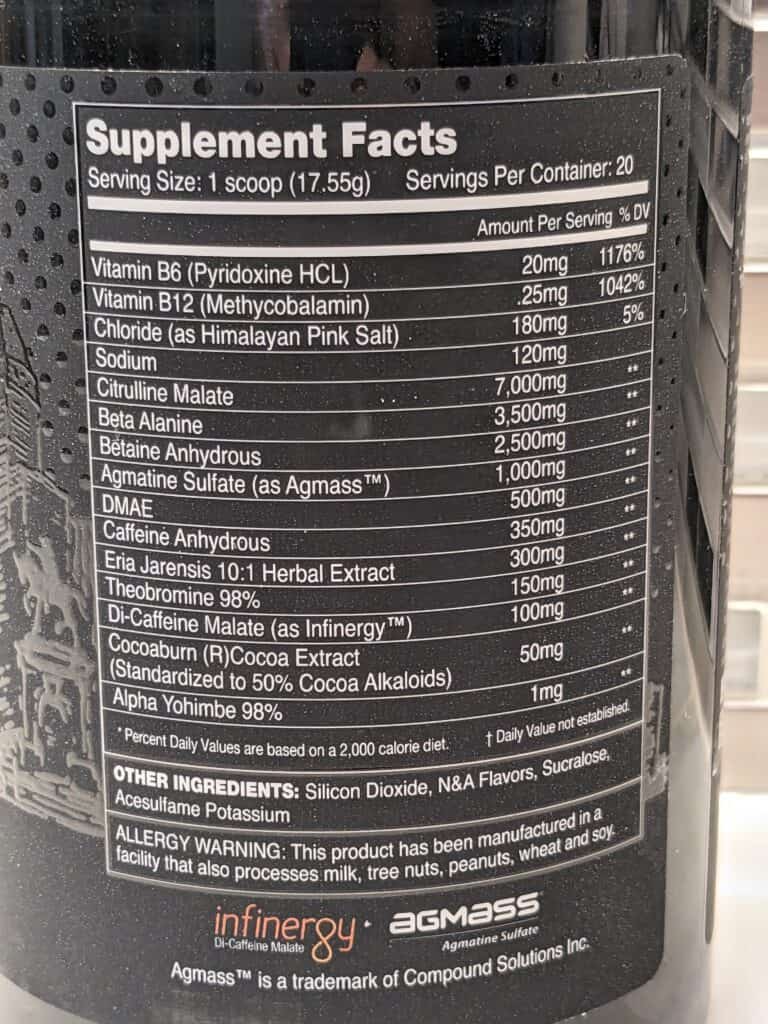 Pink Himalayan Salt – 180 mg
Salt helps retain water, enabling you to achieve fuller muscle bellies during your workout. This can help prevent muscle spasms and allow for a good contraction.
180 mg is a lower dosage for this ingredient; however, it is diet dependent as not everyone will need higher amounts (for comparison, FSU Dyehard has 300 mg, and Hooligan Bare Knuckle has 250 mg).
It also contains essential electrolytes! More info can be found at Supplements in Review.
Citrulline Malate – 7 g
L-citrulline is one of the most common pre-workout ingredients. Extensive evidence supports its ability to increase nitric oxide production, power output, pumps, blood flow, and endurance. It is typical for this ingredient to contain malic acid mixed in a 2:1 ratio per the clinical studies. Malic acid has some benefits similar to beta-alanine, and these ingredients aren't in a chemical bond, and some products may list malic acid as a separate ingredient.
You want six to eight grams of pure l-citrulline for proper clinical dosage. If the ratio is on the label as 2:1, a seven-gram dose would contain close to 4.6 grams. Per the clinical trials, daily supplementation is required to obtain the full benefits.
Beta-Alanine – 3.5 g
Beta-alanine has been shown to support muscular endurance and act as a lactic acid buffer. Depending on the source of this ingredient, you may feel the paresthesias tingling effect. This feeling is often desirable in the sports community, as it makes you feel the intensity after ingestion. This may be negated by diet and intake of beta-alanine.
Beta-alanine requires regular intake to be effective, akin to creatine. Daily beta-alanine supplementation is recommended to become effective, with a three to five weeks loading period. Three to four grams is the recommended daily dosage for beta-alanine, putting stim thug at the higher end of the clinical dose range.
Betaine Anhydrous – 2.5 g
Betaine is included to help increase your power output. However, research needs to be more consistent around this claim. The typical range for betaine is between 1.5 g and 5 g, but generally, 2.5 grams is on the high end for what is in the market. Per the clinical trials, daily supplementation is required to obtain the full benefits.
Agmatine Sulfate (as Agmass™) – 1 g
Agmatine is often included in pre-workout supplements as a pump ingredient, but more research is needed to understand how reliable these claims are. Theoretically, since agmatine can increase endothelial nitric oxide, it can help boost nitric oxide in the body. A comparable dose in similar product categories would be 750-1,000 mg putting stim thug on the high end.
DMAE (Dimethylaminoethanol) – 500 mg
DMAE is a choline molecule used to treat cognitive decline in elderly patients. It is included in pre-workouts to promote focus and feelings of well-being.
Dosing guidance for performance enhancement is poorly understood, but 500 mg is a strong dose compared to other pre-workouts containing DMAE.
Chemix pre-workout contains 400 mg of DMAE (per scoop), while Dark Energy and Zeus contain 750 mg (400-800mg)
Caffeine Anhydrous – 350 mg
Caffeine anhydrous is the standard form of caffeine, known for increasing energy, alertness, motivation, and mood. The caffeine content varies for each product. The 350-450 range is the typical dosage for sports supplements, and some products may contain other forms such as below di-caffeine malate bringing the total caffeine content to 425 mg.
Eria Jarensis Extract (N-Phenethyl-Dimethylamine Citrate) – 300 mg
Eria jarensis is a stimulant frequently seen alongside DMHA in high-stim pre-workouts.
300 mg is a mid to high dosage for this ingredient but isn't currently the highest on the market. The most eria jarensis I've ever seen in a pre-workout is 500 mg in Flame Pre Workout (which is fantastic). When combined with other stimulants, it may be warranted to have less instead of more.
Theobromine 98% – 150 mg
Theobromine is a "caffeine light" stimulant ingredient found in chocolate, some tea plants, and the kola nut. Its name means "Food of the Gods." Greek "theo" means gods, and "broma" means food.
Some anecdotal evidence suggests that theobromine can affect mood elevation, focus, and stimulation. Most doses range from 100 to 400 mg, leaving stim thug on the lower end.
Di-Caffeine Malate – 100 mg
Di-caffeine malate is the extended-release version of caffeine, which usually slowly releases and adds to energy/focus later in the workout, delaying or preventing a crash depending on the formulation of stimulants in the pre-workout. Typically, 75% caffeine anhydrous and 25% malic acid, meaning 100 mg, would yield 75 mg of caffeine anhydrous.
Infinergy™ represents a precise combination of Caffeine and Malic Acid into an ionic bonded compound. By combining the well-established properties of Caffeine and Malic Acid, Infinergy™ offers a multi-dimensional ingredient that not only optimizes energy levels but also stimulates thermogenesis while promoting mental focus.
Cocoaburn Cocoa Extract (Std. 50% Alkaloids) – 50 mg
Cocoa extract is a bitter mixture with a chocolate taste, made up of xanthine molecules (theobromine and caffeine) and procyanidins. Supplementing cocoa extract may provide cardiovascular and cognitive benefits through improved blood flow and antioxidant effects. In addition, it may improve insulin sensitivity.
While there isn't a supplemental dosage standard, studies show the effective dosage for cocoa flavanols is 500-1,000 mg daily. For more information on this ingredient, check out Examine.
Alpha Yohimbine 98 % – 1 mg
Alpha Yohimbine, or "alpha yo," is a "love it or hate it" stimulant. While it contains similar alkaloids as rauwolfia vomitoria extract, they are different as the Rauwolfia can contain more purity. Some individuals are particularly sensitive to alpha yohimbine and avoid any pre-workout with it outright. Common adverse side effects include anxiety, headaches, sweating, frequent urination, and increased blood pressure.
Cons
Stim Thug Pre-Workout Review
Summary
As expected from kilo labs based on my experience with their other products,  I truly enjoyed reviewing this pre-workout. This isn't the euphoric pre-workout they are known for, but rather an excellent middle ground for a daily driver and a high stimulant product. I had a consistent experience each time running this pre-workout, which was great as it provided destressing happiness for me a few times when I needed it most.
Pros
Daily driver and high stimulant based
Sustained stamina
Energy highness
Improved endurance
Thermogenic
Excellent energy, with happy vibes
No crash post-workout
Pinpoint focus
High-quality and potent ingredients
Strong pumps
Amazingly tasting flavor
Made in the USA
Excellent clinical and efficient dosages