SVG75 is a pre-workout supplement from First Choice Supplements. The main reason someone would take a look at this product is the 75 mg of DMAA on the ingredient label (hence the 75 in SVG75). 
They also make a pre-workout called SVG115, which has the same ingredient profile except with (you guessed it) 115 mg of DMAA on label.
Along with the 75 mg of DMAA, this product boasts 3.2 g Beta-Alanine, 350 mg Caffeine, and 2 mg Alpha Yo, among others.
Although I've only tried this product once, I could easily feel the effects, mostly mood elevation, and energy.
It's rather hard to recommend this to anyone as it's just sort of there. It's not spectacular or extraordinary in any regard, but not overly terrible.
I could only recommend this for advanced users who want to try a new pre-workout and see if it works for them and prefer energy and mood over other factors like pumps and focus. It's not a show stopper and isn't going to make our list of the best DMAA pre workouts or strongest pre workouts.
Read on for additional details of my experience, the best prices for the SVG75 pre-workout, and a breakdown of its ingredient label.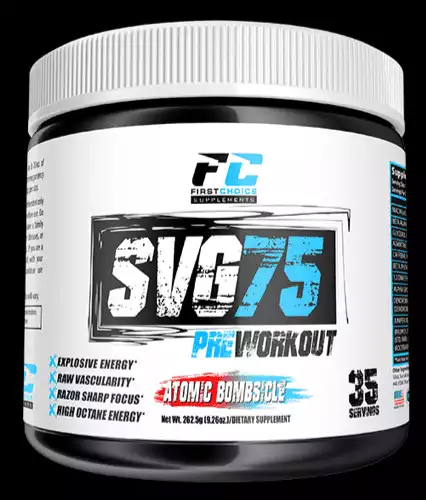 Where to Buy
You can buy SVG75 Pre Workout at the following retailers:
My Experience
I took SVG75 just one time, but it gave me the energy for a 3-4 hour workout with mood elevation to go along with it.
Effects
I felt a sense of energy within 15 minutes of taking the product and wasn't overly strong and lasted a good 3-4 hours without a crash.
For being the most prominent ingredient (almost half the scoop size), the Beta-Alanine was underwhelming, and the tingles came on within 20-25 minutes but weren't strong at all. For the intensity of the itches, maybe a 5 out of 10.
The focus was good, lasted throughout the workout. Not very strong, though, maybe a 7.5 out of 10.
The most substantial component of this product, though, is easily the mood elevation. Within 30-40 minutes, I felt an excellent sense of well-being. It lasted longer than the energy did, with a slight head buzz some 5 hours later.
Thermogenic effects were mild. I didn't feel warmer or the need to drink more fluids while I took this product.
When I first took this, I forgot that Alpha Yo was in this product, and I barely felt it.
No adverse effects were noted (including Alpha Yo or crash).
Flavor
The flavor I tried was Sour Gummy. It smelt like sour gummy, tasted like it but had a strong bitter taste. Oddly enough, the aftertaste has a hint of fruity cereal (go figure).
Out of 10, I'd give it a 3.5.
Other flavors include Atomic Bomsicle (probably a Rocket Pop-Esque flavor), Rainbow Sherbet, and Watermelon.
Scoop Size
A whole serving is seven grams, which comes out to a heaping scoop.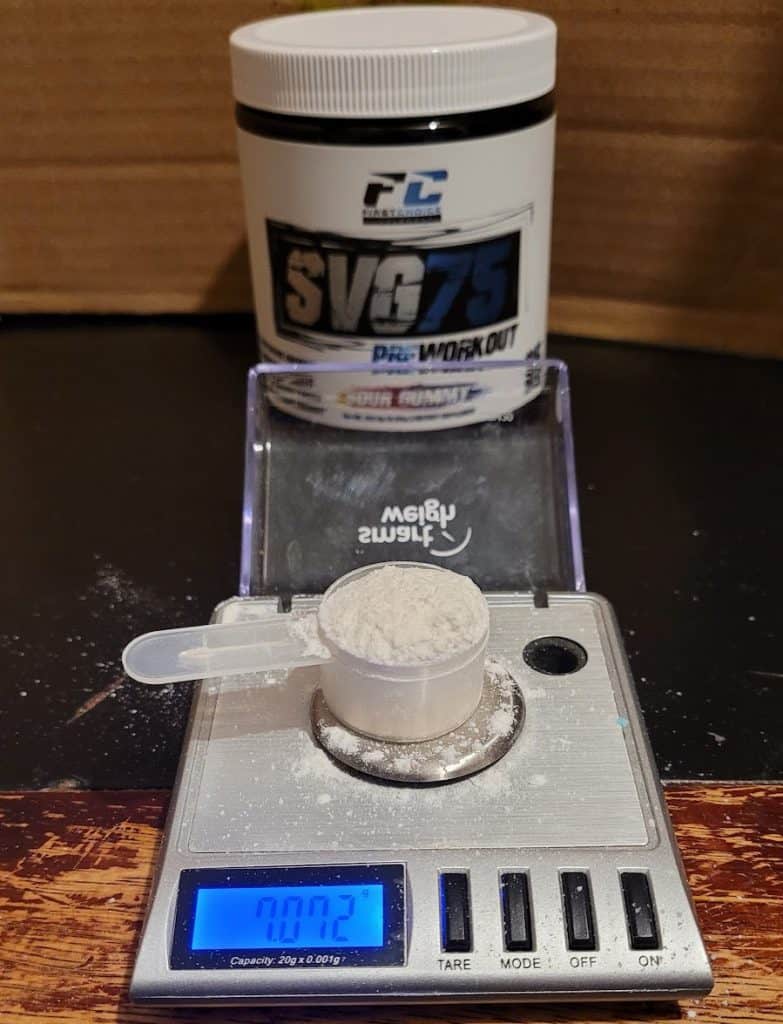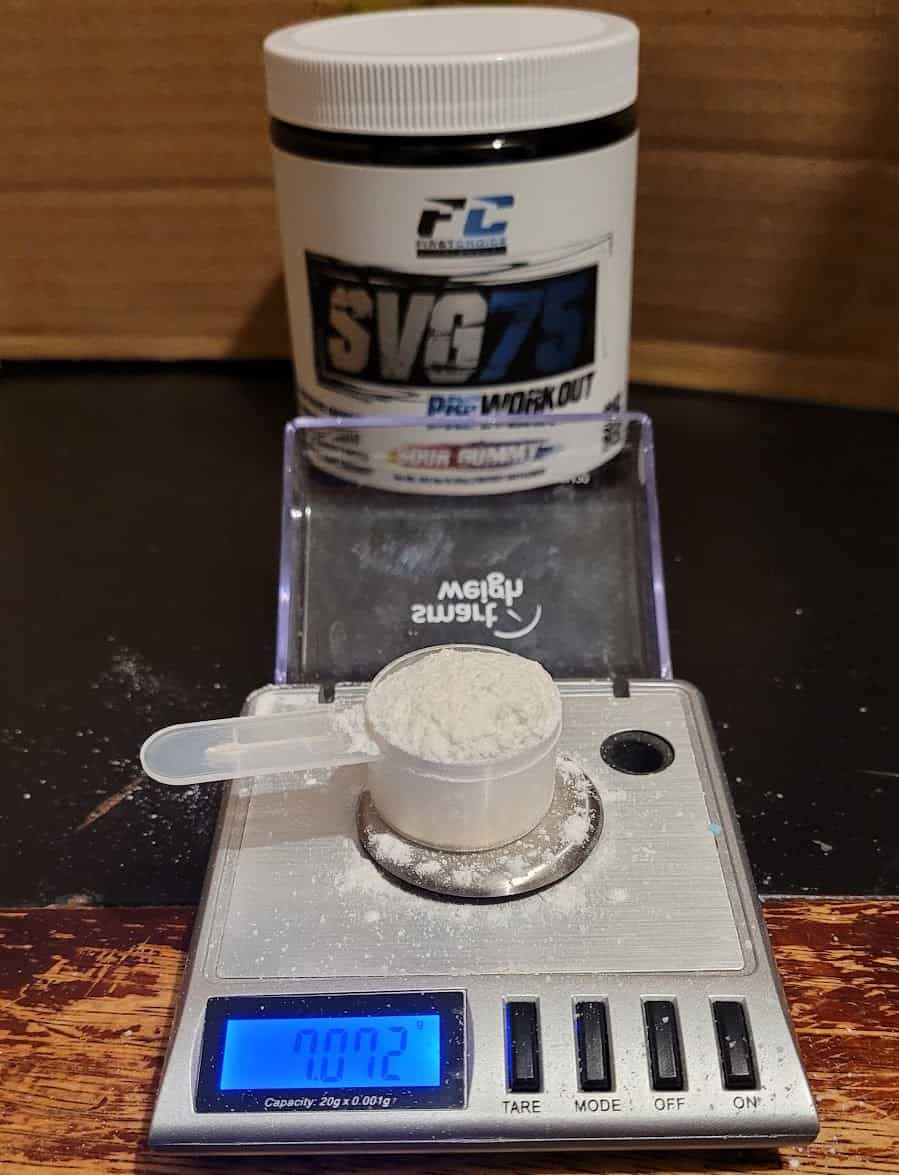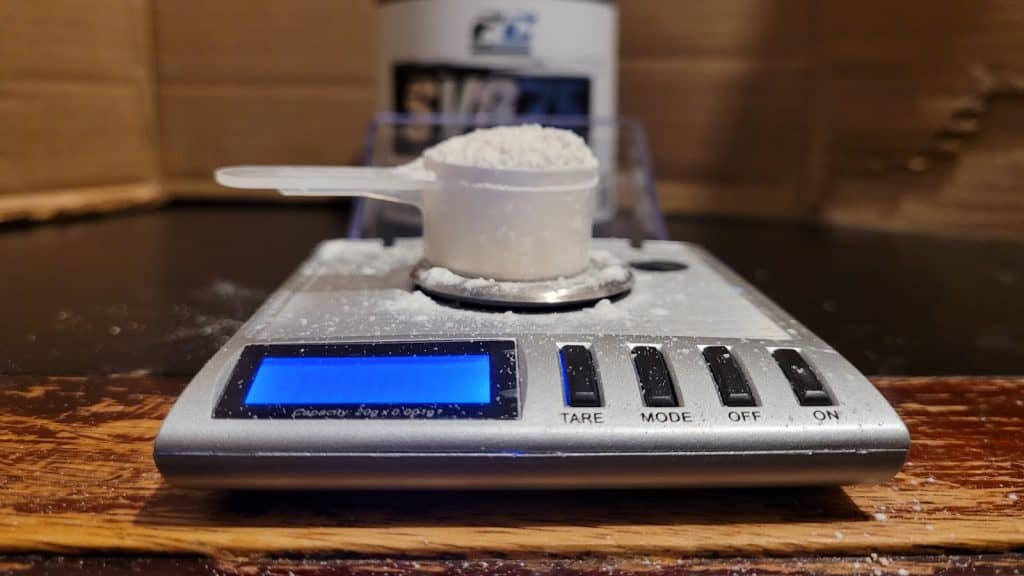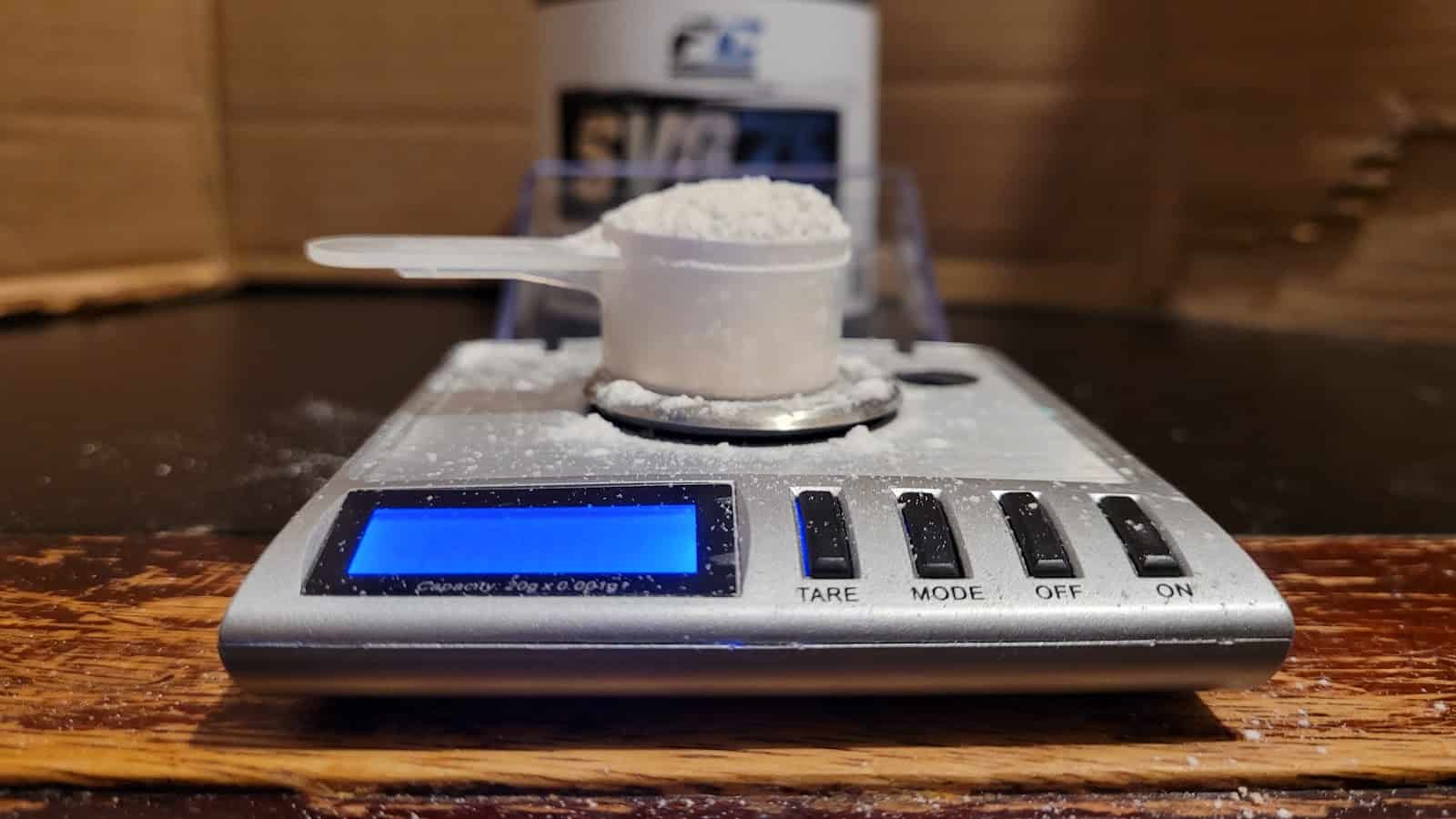 Ingredients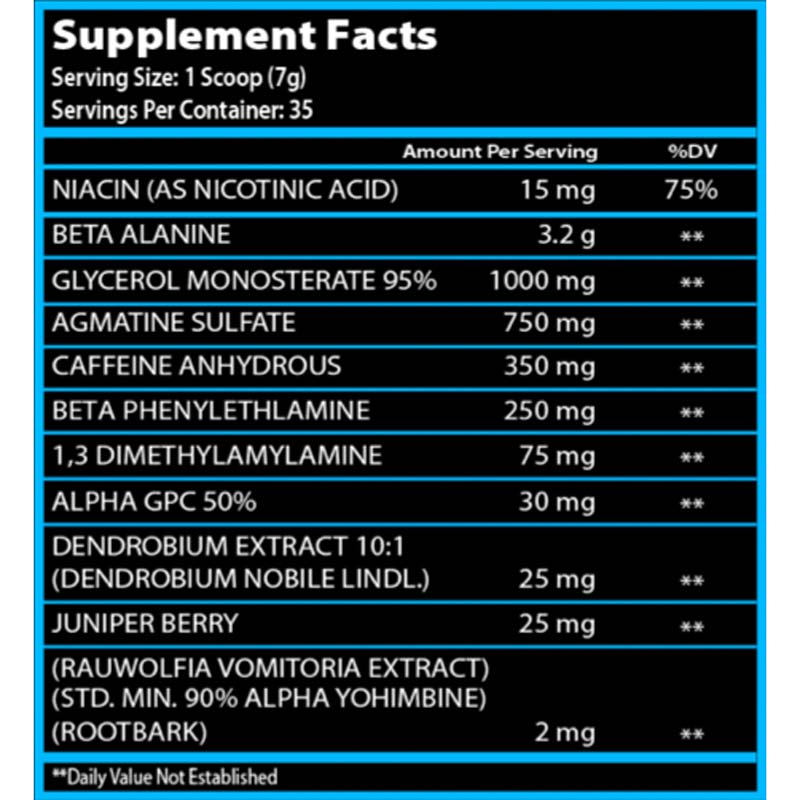 Beta-Alanine – 3,200 mg
Beta-alanine has been shown to support muscular endurance and act as a lactic acid buffer.
However, beta-alanine requires regular intake to be effective, akin to creatine. Daily supplementation of beta-alanine is recommended, with a loading period of three to five weeks needed to be effective.
3 to 4 grams is the recommended daily dosage for beta-alanine. SVG75 gives you the typical dose found in other pre-workouts of 3.2 g, and the tingles are intense in this product.
Glycerol Monostearate – 1,000 mg
This is the generic form of Glycerol powder found in other pre-workout products. Glycerol powder assists with hydration and allows the body to absorb more water than it usually would. This helps stave off dehydration and can have mild improvements in endurance.
But the real reason glycerol is often included in pre-workout supplements is that all of this extra water absorption can help your muscles swell up, giving you a "swole" look.
One gram is on the lower end for glycerol as it usually ranges from 2 to 3 grams per serving in good supplements.
One slight side-effect of glycerol is clumping inside the tub, as it's hygroscopic and will pull water in, hence why it will give you a swole look. This is to be expected and, while a little annoying, doesn't negatively impact the supplement's efficacy.
Agmatine Sulfate – 750 mg
Agmatine Sulfate is included as a "pump" ingredient, but research is more limited on this ingredient vs. the classic L-Citrulline. The 750 mg found in SVG75 is within the range you'd typically see in a pre-workout supplement with Agmatine Sulfate, which occasionally ranges between 500mg and 1,500mg.
Caffeine – 350 mg
The Grand-Daddy of stimulant supplements. It's in your coffee, tea, soda, heck; it may even be in your sweets and gum (some confectioners add caffeine to their sweets for a kick). Well known for increasing energy, power, and focus, it's the staple ingredient in all stim-based products—one of the most studied sports compounds.
Typically, you'll see 300-400 mg as the average range for caffeine dose in pre-workouts. SVG75, with 350 mg
Beta Phenylethylamine – 250 mg
Beta Phenylethylamine, aka Beta PEA, is a neurotransmitter that inhibits uptake and efflux (i.e., removal) of dopamine, norepinephrine, and serotonin levels (2008 study). PEA is included here to increase focus and motivation.
Typical dosages range between 200 mg and upwards of 600 mg. As MAO-B primarily metabolizes it and rather quickly, it requires an MAO Inhibitor to length the feeling, as stated in this study. Hence, the 250 mg is on the lower end, but I believe it aided mood elevation.
Light Year has 150 mg, and the incredible HyperMax Extreme 3D has 400 mg.
1,3-dimethylamylamine – 75 mg
1,3-dimethylamylamine, aka DMAA, is a stimulant that induces feelings of energy, euphoria, and motivation in its users. After coming under scrutiny from the FDA around 2015, there were a few years where DMAA disappeared from pre-workouts. 75 mg is a decent dose that you'll see, which typically ranges between 60 mg and 120 mg.
I've taken quite a bit of DMAA pre-workouts before, and this felt more akin to 40-50 mg, maybe. The effects were still there, though as I believe it's what created the pronounced sense of mood elevation I felt.
For a list of DMAA pre workouts we do recommend, check out our best DMAA pre workout list.
Alpha GPC – 30 mg
Alpha GPC is used for enhancing cognition and increasing power output. It's usually a 50% yield of actual GPC.
For athletic purposes, doses range from 300 mg to 600 mg. Doses for reducing the effects of cognitive decline are much higher, around 1,200 mg per day.
SVG75, however, has a measly 30 total mg of the ingredient, putting it woefully underdosed and practically without a reason why it's in SVG 75, to begin with.
Dendrobium – 25 mg
Once dubbed "DMAA's replacement," dendrobium extract is a Chinese herb traditionally used to boost the immune system and provide energy.
Dendrobium is rich in PEA, a central nervous stimulant and reuptake inhibitor of norepinephrine. Dendrobium is supposed to help increase focus and motivation.
25 mg is relatively light, as typical doses range from 200 mg to 600 mg, most pre-workout supplements. 25 mg is a very disappointing dosage in an otherwise well-dosed product
Juniper Berry – 25 mg
Juniper Berry is included to help increase the effectiveness and absorption of stimulants in the body. It is not an exceptionally well-researched ingredient, and I am not aware of any dosage guidelines for this ingredient.
Rauwolfia Vomitoria [Leaf] Extract – 2 mg
Also known as Alpha Yohimbine or simply "Alpha Yo," it is a central nervous system stimulant. It can be pretty divisive, with some individuals reporting anxiety, headaches, sweating, chills, and increased blood pressure.
2 mg is in the middle of the range you'll see, ranging from 0.5 mg to 5 mg.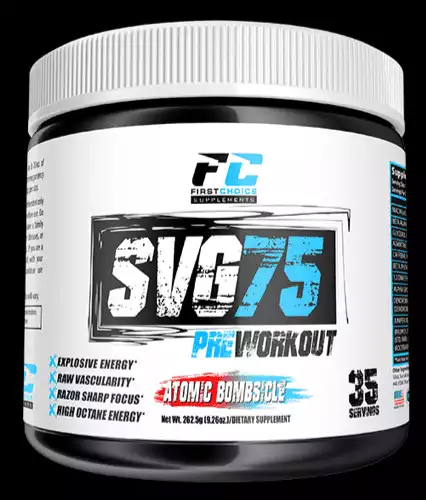 SVG75 Pre Workout Review
Summary
SVG75 is a pre-workout by First Choice Supplements that boasts 75 mg DMAA along with 3.2 g Beta-Alanine, 350 mg Caffeine, and 2 mg Alpha Yo. The Beta-Alanine is underwhelming (feeling more like 2.5 grams). The focus was okay, but not very good. The main aspects of SVG75 are easily mood and energy, while pumps are minimal.  As stated above, it's hard to recommend this to anyone. I felt some sense of DMAA, so definitely not beginners. But for advanced users or "stim-junkies," it's not strong enough for them. If someone is seeking a "middle of road" pre workout with DMAA, this may be for them.
Pros
 Great mood elevation

Nice energy (3-4 hours)

No crash

Open-label

35 servings
Cons
Underdosed ingredients

No digestion aid

Minimal pumps