Reactive Training Systems (RTS) train some of the strongest powerlifters on the planet, so when Mike Tuchscherer published a general outline for a training program people took notice.
About RTS and RPE
RTS have been some of the strongest proponents of using RPE in training or Rate of Perceived Exertion. If you're not familiar with RPE, please take the time to go over this explanation on RTS's blog.
Here's a visual summary from another explanation of RPE from the RTS blog: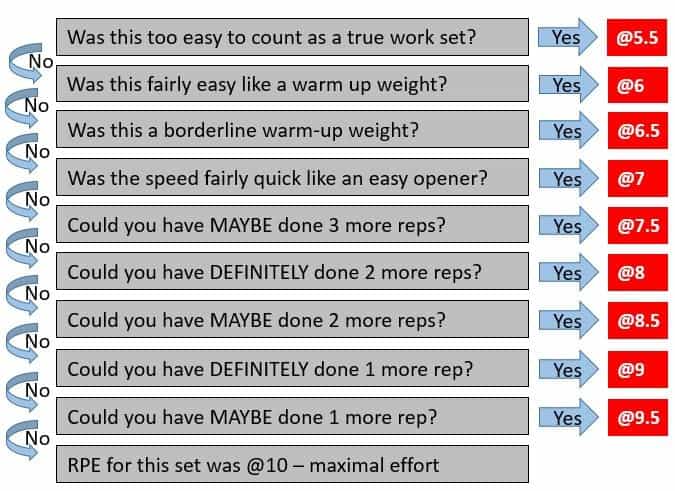 About the RTS General Intermediate Program
This program was based off of loose template posted by Mike Tuchscherer on the RTS forum. You'll need to understand how RPE works and how RTS programs fatigue percentages. Otherwise the spreadsheet is going to move from confusing to very confusing. I'll try to set aside some time to write some better instructions than the original spreadsheet author, but until then, I'd recommend reading the RTS material I linked to. Mike T at RTS is a very smart coach and it'd behoove you to understand how his program methods work. Whether or not you decide to follow them is of course up to you.
I'm sure it was never intended to be ran by the general public, but here we are. The program is based off the following hypothetical person:
This program is written for David. David is 30 years old and weighs 215 pounds. He has been lifting for 4 years and has posted Class 3 numbers in the Russian Classification Chart. He comes from a background of various 5×5 programs and has done a short stint of 5/3/1. He is able to continue his transition from a 3x weekly template to a 4x weekly template. He has read enough articles on the RTS site to be familiar with RPE's and Fatigue percents. He has no significant injuries and no significant time restrictions. He has basic equipment. David trains and competes raw (no knee wraps). He deadlifts conventional style and his sticking points are all at the bottom of the lift.
The more you deviate from this hypothetical athelete, the less this program was designed for you. With that said…
RTS General Intermediate Program Spreadsheet
RTS General Intermediate Program | LiftVault.com