This is a version of 5/3/1 that was posted on Reddit a few months ago. It's noteworthy because it lays out enough 3 week cycles to be run for about a year straight.
If you're looking for a straightforward, no-frills strength program that lets you just put your head down and get to work, then this is something I think you'll like.
It's also pretty flexible and allows the lifter to choose their own accessories and supplemental lifts.
5/3/1 Forever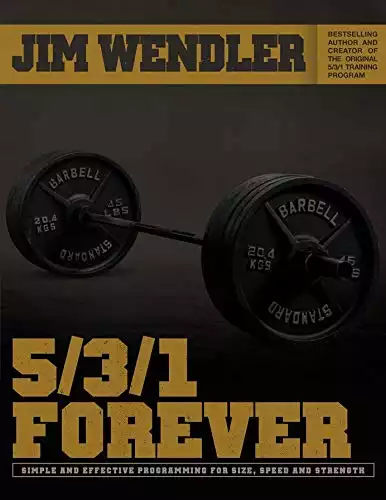 Program Overview
Frequency
The program uses four training days per week, with each training session focused on a main lift (squat, bench press, deadlift, or overhead press).
Each main lift is trained once per week.
Training is grouped into 3 week cycles.
Main Work
The main work is what follows the 5/3/1 loading protocols. For this program, the main work consists of the squat, bench press, deadlift, and overhead press.
These lifts are each trained once per week, with each training day dedicated to one main lift.
Supplemental Work
The supplemental lifts are up to the lifter.
They can be the same lifts as the main work (e.g. after performing your main work on squats, you'd follow the supplemental rep and loading scheme for more squats) or they can be variations (e.g. after performing your main work on squats, you do front squats, safety bar squats, hack squats, etc.).
Supplemental work is trained at various loads and rep schemes depending on the cycle.
Cycle 1: 5 x 12 @ 45% of training max (TM)
Cycle 2: 5 x 6 @ 75% of TM
Cycle 3: 5 x 11 @ 50% of TM
Cycle 4: 5 x 5 @ 80% of TM
Cycle 5: 5 x 10 @ 55% of TM
Cycle 6: 5 x 4 @ 85% of TM
Cycle 7: 5 x 9 @ 60% of TM
Cycle 8: 5 x 3 @ 90% of TM
Cycle 9: 5 x 8 @ 65% of TM
Cycle 10: 5 x 2 @ 95% of TM
Cycle 11: 5 x 7 @ 70% of TM
Cycle 12: Test maxes or do a training max test, adjust to the lower TM and start over from the beginning.
Here's the author on what they mean by "adjust to the lower TM":
By lower TM I mean the following:

You start with a TM of 200 on bench press. After 12 cycles your TM is now 260. When you test your maxes you find out that your actual max for bench is actually 260. Using the 90% TM means the new TM you would use is now 235.

In a different example, you started with a 200 pound TM on bench, but when you test your new max you actually bench 300. This would suggest that your new TM should be 270, but stick with the 260.

Stick with the lower number and you'll have less chances of getting stuck. What do you do if you get stuck? Follow normal 531 protocol. I never stalled on this programming.

– /u/Frodozer
Load Calculations and Progression
Week 1 trains in the 5 rep range

5 reps @ 65%, 5 reps @ 75%, 5+ reps @ 85%

Week 2 trains in the 3 rep range

3 reps @ 70%, 3 reps @ 80%, 3+ reps @ 90%

Week 3 trains at 5/3/1 reps

5 reps @ 75%, 3 reps @ 85%, 1+ rep @ 95%
*All percentages are based on the training max, not a true one-rep max.

For example, if a lifter's one-rep max at the bench press is 100 lbs and they use an 85% training max, their training max would be 85 lbs.
From here, their week 3 5/3/1 loads would be 63.75 lbs (85 lbs x 75%), 72.25 (85 lbs x 85%), and 80.75 lbs (85 lbs x 95%). Rounding to the nearest 5 lbs, they'd perform 5 reps at 65 lbs, 3 reps at 75 lbs, and 1 rep (or more) at 80 lbs.
From here, 5 lbs would be added to their training max and the next 3-week cycle would begin.
Training Maxes
All loads for main work and supplemental lifts are calculated using a training max.
A training max of 80% or 85% is recommended for this program.
Accessories
Here is the advice on accessories from the original author.
Find a training max for each accessory lift by finding your true one-rep max and multiplying it by 90% or finding a load you can only perform for 3 to 5 reps.

If using a true one-rep max, multiply it by 90% to find the training max (e.g. 100 lbs x 1 rep x 90%, use 90 lbs at the training max).
If using a 3 to 5 rep max, you don't need to multiply it by anything (e.g. 85 lbs x 3 reps, use 85 lbs as the training max).

Find 70% and 50% of your training max

For example, let's say 85 lbs is the training max. 70% would be 60 lbs, 50% would be about 45 lbs.

Do 3 sets @ 70% for 5 reps, with the last set being an AMRAP set (5, 5, 5+)
Do 2 sets @ 50% for 10 reps (10, 10)
Keep the weight the same for the entire cycle, aiming for rep PRs on the 5+ AMRAP set
Increase the weight by the smallest amount possible if the minimum rep counts are hit for all 5 sets (5, 5, 5+, 10, 10).
Spreadsheet
All credit goes to Jim Wendler and /u/frodozer, who shared the spreadsheet on /r/weightroom in October 2021.
531 x 365 Strength Program | LiftVault.com
How to Use the Spreadsheet
Set your rep maxes on the "Input" tab
Set your progressions on the "Input" tab (5 lbs is standard)
Set your training max percentage on cell C3 on "531×365" tab
Optional: Track your accessories in columns J-T.
5/3/1 Glossary
If you're looking to brush up on your 5/3/1 terminology, check out our 5/3/1 glossary.
Other 5/3/1 Programs
5/3/1 Forever