The Nemesis Project is back again with an energy product labeled as a fat-burner. Is it because they don't want the FDA to scrutinize the formula? I think so!
This is a straight-to-the-point product with no fillers, just raw effective hardcore stimulants such as DMHA, eria, and alpha yo. This is not formulated for the faint of heart, but I could recommend it to those hardcore stimulant fans needing something extra for their energy needs.
Thank you, Supps Central, for sending this full product for review!
High-Stim!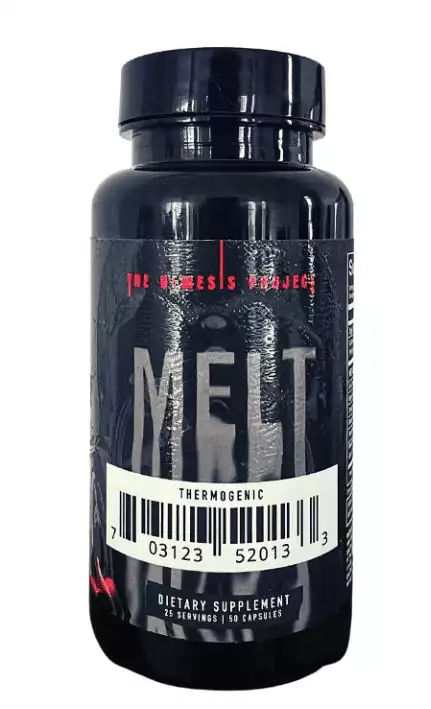 MELT Fat Burner | The Nemesis Project
This is not formulated for the faint of heart. Recommended for those hardcore stimulant fans needing something extra for their energy needs.
Discount Codes:
LIFTVAULT15 = 15% off at Supps Central
Triple Threat Caffeine Blend: 400 mg
Eria Jarensis: 200 mg
English Walnut: 200 mg
Alpha Yohimbine: 90% std
Shop Supps Central
Lift Vault earns a commission if you click this link and make a purchase at no extra cost to you.
Where to Buy Melt by The Nemesis Project
You can buy Melt by The Nemesis Project from the following retailers:
Experience
Not much to report for the first 20 minutes except for a small burst of energy before transitioning to a level of 8.5/10 at the 40-minute mark. I felt an incredible amount of increased energy, and improved memory processing, while moving around more rapidly than normal. On a couple of occasions, I took this before cutting the grass. Let me tell you, it works well for this activity! While doing steady-state activities, such as cardio, helped speed up time quite well.
The thermogenic effect caused my entire shirt to be completely sweaty. It might have allowed me to do longer cardio and/or activities. I noticed improved breathing, which is always pleasant. Science has shown that 66% of calories burned are exhaled due to the breakdown of carbon molecules. While an increased heart rate does move your hemoglobin, the oxygen and carbon dioxide carriers in your blood, the cellular offloading, and reloading of these molecules are more effective with deep breathing rather than rapid.
I felt a minimal increase in focus and a nootropic mood elevation head high. Since I have reviewed the Nemesis Project Hive version two, I prefer the effects from Melt as they were more intense. I did feel some jitters, which is typical from alpha yo. I saw an improvement in my vascularity while using this melt, possibly due to the vasoconstriction from the stimulants. Such an effect is caused by more blood retention in your venous blood supply (veins), which can cause dilation and vascularity. The energy levels were sustained for 4 to 5 hours depending on if I had any meals, but overall this was a great energy product.
Side Effects
This is a hardcore fat-burner energy pill; if you try to abuse or overuse it, you will experience issues.
Dose/Serving Size
The serving size is two capsules after assessing tolerance. The total serving amount (2 pills) adds up to 911 mg in active, disclosed ingredients, and considering the capsule, it weighs around 125 mg alone (I emptied and weighed it). This brings the total mg weight of a serving to the expected 1163 mg before adding the undisclosed alpha yo.
I mention this because I have measured all 60 capsules in the bottle, and the weights vary around 630-750 mg. I assume there is a standard margin percentage for packing capsules.
I always took two capsules each time, as I felt the effects were plenty potent at this serving, and I could evaluate it effectively. I didn't feel this was as highly effective as a fat burner, but it was great as an energy pill! It could be utilized as being added into a stack with a non-stimulant or lowly dosed pre-workout or to help bring up the effectiveness of a lagging product.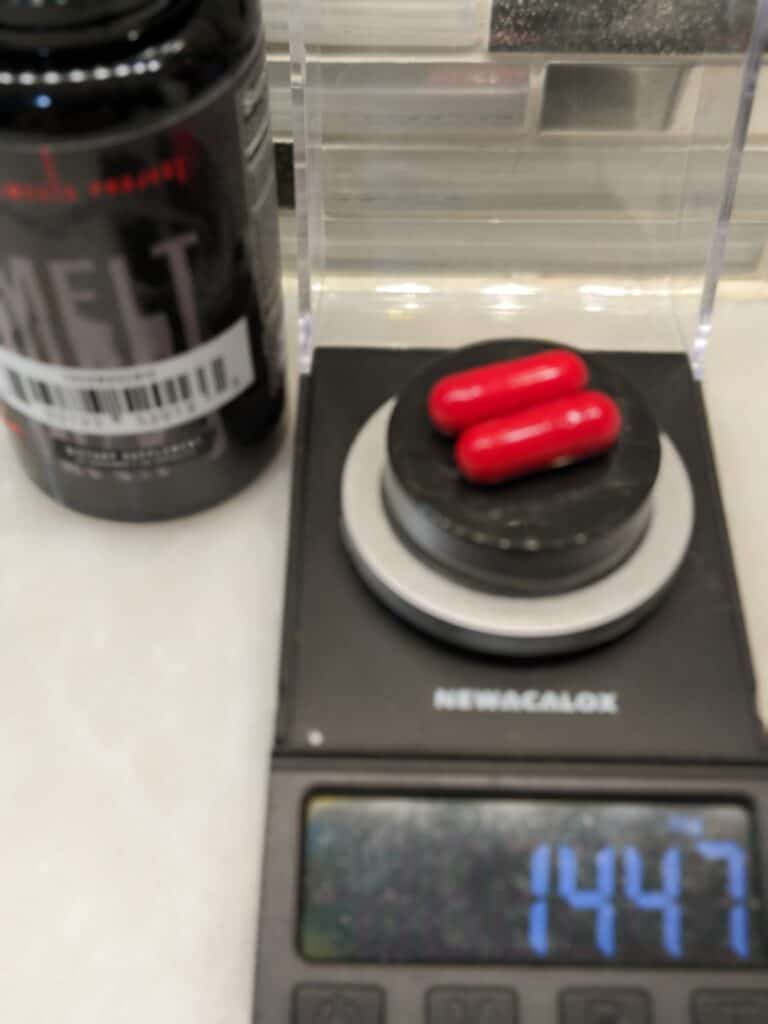 Ingredients
This formulation is very simple and straightforward with hardcore stimulants. The dosages are on par, and they work synergistically together. I wouldn't have any recommendations for this label as an energy pill other than disclosing how much alpha yo is in here (assuming 0.5 mg, which would be standard). The label could use some incorporation of fat-burners or thermogenics.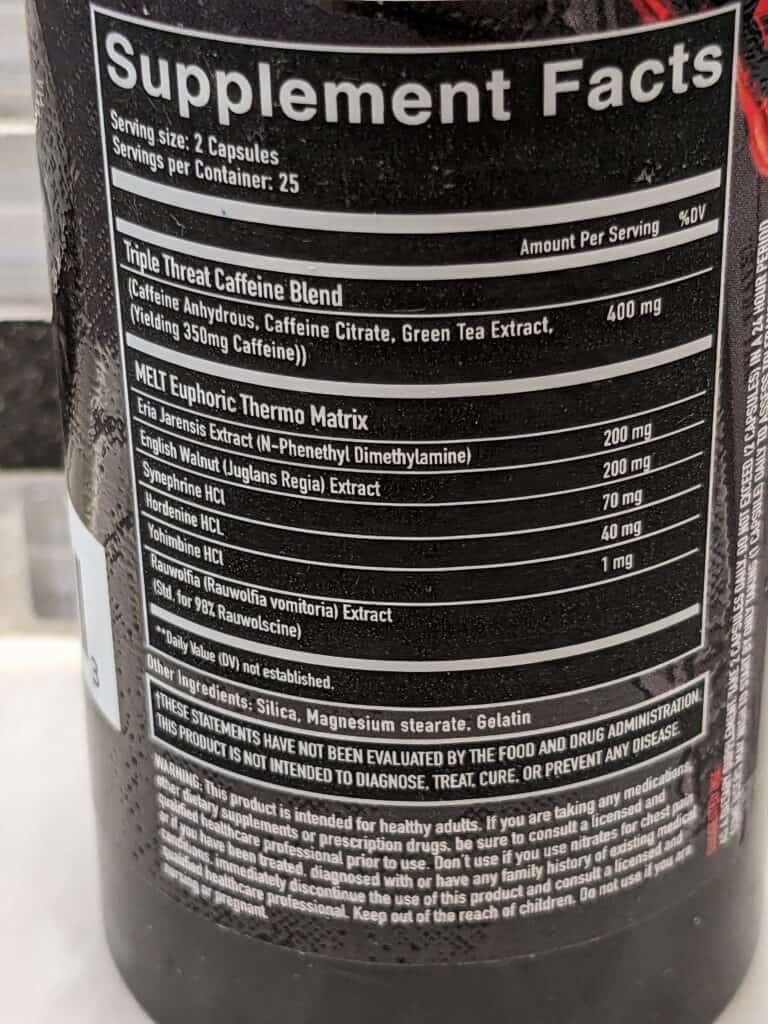 Triple Threat Caffeine Blend – 400 mg
Caffeine Anhydrous, Caffeine Citrate, Green Tea Extract (yielding 350 mg caffeine)
Caffeine anhydrous is the standard form of caffeine, known for increasing energy, alertness, motivation, and mood. The caffeine content varies for each product. The 350-450 range is the typical dosage for sports supplements, and some products may contain other forms, such as di-caffeine malate or citrate, as found in melt.
Caffeine citrate is a faster-acting version of caffeine when compared to caffeine anhydrous. It's not very common in supplements. Some popular pre-workouts, like Wrecked Extreme and M2, include this ingredient. Caffeine citrate is usually 50% Caffeine and 50% citric acid.
Less is more, as your dependency will lead to diminishing returns as you increase your intake. The overall combinations of many factors, such as sleep, caffeine timing, diet, and nutrition, affect how much you will need. The dosage doesn't always indicate how strong a product is, so look for other stimulants like DMHA and others found in adrenaline.
Green Tea Extract (from the matrix above)
GCG (epigallocatechin gallate) is a plant-based compound called catechin. Catechins are natural phenols and antioxidants with a wide array of effects. Familiar sources include white tea extract and green tea extract. It's often simply referred to as green tea extract.
EGCG acts as a fat burner by inhibiting catechol-0-methyltransferase (COMT), an enzyme that degrades catecholamines. By inhibiting COMT, catecholamine levels elevate. Catecholamines help break down fat stores. By inhibiting COMT, EGCG allows catecholamines to do their thing for extended periods, leading to increased levels of fat removal.
In terms of dosage, most people should aim for 400 to 500 mg of green tea extract per day. This is more of a bonus ingredient, whereas most fat-burners would add this for fat-loss. It is included for energy, which the fat-burning effect would be underdosed.
Eria Jarensis Extract (N-Phenethyl Dimethylamine) – 200 mg
Eria jarensis is a stimulant frequently seen alongside DMHA in high-stim pre-workouts.
200 mg is a medium dosage for this ingredient, but it isn't the current highest on the market. The most eria jarensis I've ever seen in a pre-workout or fat-burner is 500 mg in Flame Pre Workout (which is fantastic). When combined with other stimulants, it may be warranted to have less instead of more.
English Walnut (Juglans Regia) Extract – 200 mg
This is the "natural" form of DMHA, a stimulant similar to DMAA, which boosts energy, focus, and mood. DMHA shares similar effects as DMAA but requires a larger dosage. This made it a popular pre-workout ingredient for replacing DMAA in DMHA pre-workout supplements.
It comes in many different forms: juglans regia extract, English walnut extract, 2-aminoisoheptane, kigelia africana, octodrine, 2-amino-5-methylhexane, 2-amino-6-methylheptane, 6-amino-2-methylheptane, 2-isooctyl amine, 2-heptylamine, 6-methyl-, 2-metil-6-amino-eptano, amidrine, vaporpac, 1,5-DMHA, and 1,5-dimethylhexylamine. Read about the comparison of DMAA vs. DMHA here.
The dosage found in melt is 200 mg, above the industry standard but varies based on the product. However, just because it says something on the label doesn't necessarily mean you will always "feel" it due to different sourcing purities. It isn't often at all anymore to find this ingredient with DMAA, so try lightly if you are not used to hardcore supplements like this.
Synephrine HCl – 70 mg
Synephrine is a well-researched ingredient shown to aid in weight loss. "In general, bitter orange extract alone (p-synephrine) or in combination with other herbal ingredients did not produce significant adverse events such as an increase in heart rate or blood pressure or alter electrocardiographic data, serum chemistry, blood cell counts, or urinalysis. p-Synephrine alone and in combination products were shown to increase resting metabolic rate and energy expenditure, and modest increases in weight loss were observed with bitter orange extract/p-synephrine-containing products when given for six to 12 weeks." Synephrine Meta-Analysis. The typical range for synephrine is 10-50mg, which is supported by evidence for fat-burning effects.
Hordenine HCl – 40 mg
Hordenine (N, N-dimethyltyramine) is a stimulant often included in recent "nootropic" products. It is not widely researched, so much of the information comes from anecdotal accounts. Typically dosed between 10 and 50 mg, 40 mg is well within usual standards. One study shows that hordenine is an MAO (monoamine oxidase inhibitor) that lengthens the feeling of energy and mood elevation.
Yohimbine HCl – 1 mg
Yohimbe stimulant is a very popular ingredient in many supplements. It has a variety of uses and can serve as an appetite suppressant, fat burner, aphrodisiac, mood elevator, and performance and focus ingredient. Yohimbe is a tree native to central and western Africa, and the bark of the tree produces an alkaloid called yohimbine. Depending on the quality of the extract, it can be very potent, so dosing varies with different products or brands.
Rauwolfia Vomitoria Extract (std. To 90% Alpha Yohimbine)
Rauwolfia Vomitoria Extract, or Alpha Yohimbine, or simply "alpha yo," is a "love it or hate it" stimulant. Some individuals are susceptible to alpha yohimbine and avoid any pre-workout with it outright. Common adverse side effects include anxiety, headaches, sweating, frequent urination, and increased blood pressure.
If you are sensitive to the effects of Alpha Yo, I'd suggest starting with one capsule to assess if the effects are too strong for you.
Melt Fat-Burner Review
Summary
I enjoyed using Melt for energy. It did have some similar effectiveness to a fat-burner. However, I didn't experience any appetite suppression. I could see that this product will increase someone's energy consumption and output. Couple that with the thermogenic effects plus mood elevation, might help melt some unwanted weight. This product would be perfect for someone with a need for increased energy and staying awake.
Pros
Improved performance
Increased energy
Thermogenic
Improved breathing
Some focus
Nootropic mood elevation
Effective cardio aid
Cons
Measured weights inconsistent