Originally launched in 2013, Mesomorph has been reformulated many times to accommodate increasingly stringent guidelines from the FDA. It once famously contained DMAA, but was reformulated in 2017 to have that ingredient removed.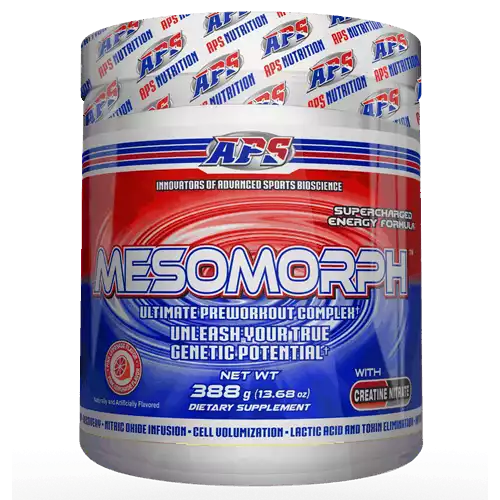 The latest formula of Mesomorph drew a lot of attention due to the inclusion of "Geranium Extract." DMAA, of course, can be extracted from geranium, leading to speculation that DMAA was reintroduced into this pre workout.
I'd put Mesomorph in the same class as Superhuman Supreme or Wrecked. I prefer that those pre workouts disclose their full ingredient label, whereas Mesomorph does not, so I'd recommend them over Mesomorph for that reason.
But if you're willing to look past the proprietary blend, Mesomorph is a solid pick for energy and motivation at a nice price.
As always, full details and ingredients are below.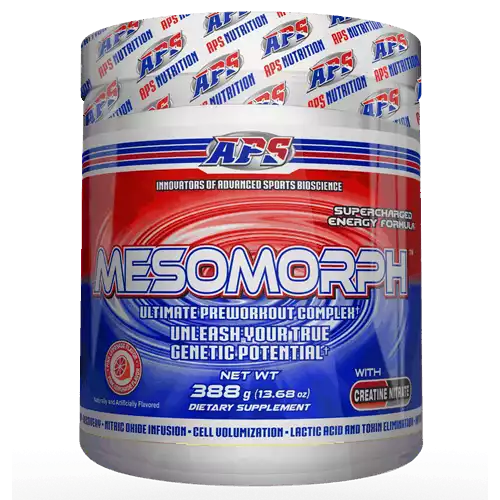 Mesomorph Pre Workout
The classic is back, now with DMHA and geranium extract. Very solid energy + motivation for a great value. Stronger than a beginner pre workout, but not too intense. Good for intermediates.
Discount code:
LIFTVAULT = 15% off at Nutri Cartel
Shop Nutri Cartel
Lift Vault earns a commission if you click this link and make a purchase at no extra cost to you.
Where to Buy + Discount Codes
You can find Mesomorph at the following retailers:
My Experience
Flavor
I got the rocket pop flavor. It's pretty good for a pre workout supplement.
Effects
I took a full, pretty level scoop of Mesomorph which weighed out to one serving (15.5 g). It started kicking in after about 25 minutes for me, which is fairly standard.
The primary effects I felt from Mesomorph where energy and motivation. Focus and mood elevation were decent, but nothing too significant.
I really enjoyed my training on Mesomorph. I felt happy to be working out, felt dialed in for my set, etc.
Did I get any illicit or high feelings? Not much. Really, Excelsior stands alone there. I would not have guessed DMHA (2-aminoisoheptane HCL) was on the label and I'm guessing it's a pretty small dosage.
It's really a solid all around pre workout that I'd feel good recommending to just about anyone in terms of intensity. By that I mean I don't think anyone would find it too intense. If you want something really strong, this probably isn't for you and my list of the strongest pre workout supplements would be better suited for you.
So… is Mesomorph back? Have we returned to 2016?
Well, I can't say for sure.
I never tried older versions of Mesomorph. All I can say is this version of Mesomorph is solid. It's above average, but nothing crazy. I think it serves as a good introduction to higher stim pre workout supplements without getting too crazy.
Side Effects
I didn't experience any negative side effects with Mesomorph.
Ingredients
True to its old school roots, Mesomorph utilizes a proprietary blend on its ingredients label, meaning you cannot determine the exact amount of each ingredient in this supplement.
I personally am not a fan of this practice, as its usually done so companies can underdose ingredients without catching flak from consumers.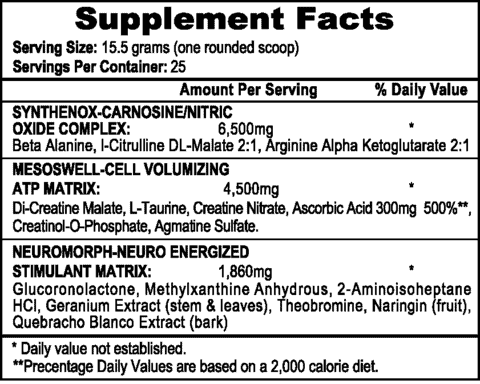 Synthenox-Carnosine/Nitric Oxide Complex
Beta Alanine
Beta alanine has been shown to support muscular endurance and can act as an a lactic acid buffer. Nice.
However, beta alanine requires regular intake in order to be effective, akin to creatine. Daily supplementation of beta alanine is recommended, with a loading period of three to five weeks needed to be effective.
3 to 4 grams is the recommended daily dosage for beta alanine. Unfortunately, because Mesomorph uses a proprietary ingredient blend we can't know if a clinical dosage is included in this product.
Note: We won't be able to know how much of just about any ingredient is in this product, so it goes without saying from this point forward.
L-Citrulline DL-Malate 2:1
L-Citrulline is an amino acid that turns into L-arginine in the kidneys. Consuming L-Citrulline improves nitric oxide metabolism, increasing endurance for aerobic and anaerobic exercise, along with reducing fatigue.
It's a classic pump ingredient and one of the best-researched exercise supplements available.
Arginine Alpha Ketoglutarate 2:1
While arginine is important for blood flow and boosting nitric oxide levels, direct oral supplementation of it has not been shown to reliably increase blood flow in humans. This may be due to poor absorption. For that reason, L-Citrulline or L-Citrulline DL-Malate is preferable for exercise supplementation.
Mesoswell-Cell Volumizing ATP Matrix
Di-Creatine Malate
Creatine is likely the single most effective supplement for increasing power output. Di-creatine malate is a compound that combines creatine with malic acid, presumably to help absorption.
L-Taurine
Taurine is kind of a "miscellaneous" pre workout ingredient with a range of potential, albeit limited, physical benefits. It can aid in blood flow, reduce cramping, and act as a booster to anti-oxidant defense systems (Examine). It's a pretty insignificant ingredient in pre workout compared to other ingredients, but doesn't hurt anything either.
Creatine Nitrate
That's right, it's creatine again!
The primary difference between creatine nitrate and creatine monohydrate is that creatine nitrate is:
Not nearly as well studied as creatine monohydrate.
Creatine nitrate is more soluble than creatine monohydrate.
It's kind of unusual that Mesomorph would include two types of creatine, but whatever. I don't personally like when creatine is included with my pre workout, as I prefer to supplement with creatine separately, but it's not a big deal.
Ascorbic Acid
It's just vitamin C.
Creatinol-O-Phosphate
Not to be confused with creatine, creatinol-o-phosphate is a compound that is not very well studied. Some research suggests it may help "…prolong anaerobic glycolysis in the presence of excess lactic acid." In other words, it may let you work out harder and stimulate greater muscle growth.
Agmatine Sulfate
Agmatine sulfate assists endothelial NO synthase (eNOS), which signals vasodilation.
Neuromorph-Neuro Energized Stimulant Matrix
Glucuronolactone
Glucuronolactone is often included for detoxification and energizing purposes, though there frankly is not much research available on this ingredient.
Some claim that glucuronolactone helps extend the effects of caffeine.
Methylxanthine Anhydrous
This is just a fancy word for caffeine anhydrous, the standard form of caffeine.
Apparently there is 300 mg of caffeine in Mesomorph.
2-Aminoisoheptane HCL
More commonly known as DMHA, 2-aminoisoheptane HCL is a stimulant known for inducing energy, focus, and euphoria.
Related: DMHA Pre Workouts
Geranium Extract (Stems & Leaves)
DMAA can be extracted from geranium, which is why this ingredient is on the label. Mesomorph does not pack the same punch as other pre workouts that claim to have DMAA in them, but I suppose no one knows for sure. Personally, I doubt it, but that's just my opinion.
Related: DMAA Pre Workout
Theobromine
Theobromine is a compound, structurally similar to caffeine, naturally found in dark chocolate, coffee beans, and guarana berries. It lowers blood pressure, acts as a milder, longer lasting stimulant than caffeine, and may positive impact mood (source, source).
Naringin
Naringin is an anti-oxidant that may help reduce the amount of free radicals in the body.
Quebracho Blanco Extract
Quebracho blanco extract seems to reduce blood pressure, as it is sometimes taken to help with erectile dysfunction and asthma.
Mesomorph Pre Workout Review
Summary
Overall Mesomorph is a solid pre workout and one that would likely appeal to a lot of early to intermediate pre workout users. I don't think it packs enough of a punch to classify it as a stim junkie pre workout and would likely disappoint those who are buying it simply because they think it contains DMHA or DMAA. With those expectations removed, it gets the job done. Unfortunately, I think this pre workout will continue to live in the shadow of what it once was.
Pros
Good price
No negative side effects
Good energy and motivation
Cons
Proprietary ingredient blend
Will disappoint stim junkies