Designed by the smart folks at Ripped Body, this beginner bodybuilding workout routine is a great introduction to hypertrophy training for novices. The spreadsheet for this bodybuilding program for novices is based on this post shared by Ripped Body.
Related: Intermediate Bodybuilding Program by Ripped Body (5 Day)
Recommended Reading
This beginner bodybuilding workout routine is a sample of the training methodologies discussed in significant depth in The Muscle and Strength Pyramid: Training written by Eric Helms, Andy Morgan, and Andrea Marie Valdez of RippedBody.com.
It's a terrific book, quite comprehensive, and is highly recommended.
4 Day Beginner Bodybuilding Program Spreadsheet
Program by Ripped Body. Spreadsheet by Lift Vault.
Ripped Body Novice Bodybuilding Routine | LiftVault.com
Program Overview: 4 Day Beginner Bodybuilding Workout Routine
This is a bodybuilding routine for novices shared by Ripped Body. Similar to PHUL, it uses an upper/lower split across 4 days. There is an upper strength day, a lower strength day, an upper volume (i.e. hypertrophy) day, and a lower volume day.
It is essentially a 1 week program where weight can be added each week for as long as possible (see "Main Lift Progression" below). The only reason I show 8 weeks in the spreadsheet is to make it a little simpler to maintain and provide some training history.
Pro Tip: Instead of overwriting a "finished" spreadsheet, just make a copy and add the date to the filename. e.g. Make a copy of "Spreadsheet A" and make the new copy "Spreadsheet A – 12/18/19" – this way you can access old training logs if you'd like to. This can be helpful for identifying what is working and what is not.
The strength training days use a classic 3 sets of 5 reps scheme that progresses linearly each week as long as all reps were achieved.
The volume/hypertrophy training days use 2 to 4 sets of 8 to 15 reps depending on the exercise movement type.
You can see the outline for the program here: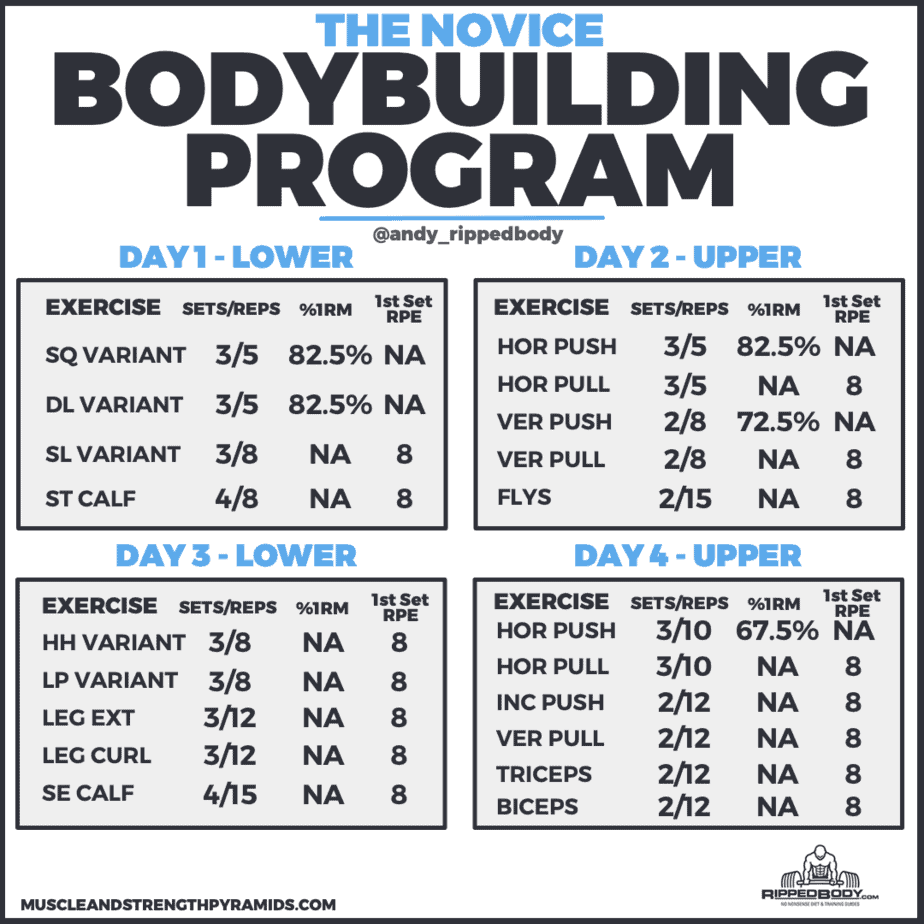 Using the Spreadsheet: Progression by RPE & Reps Achieved
Progression on the lifts is a combination of prescribed linear weekly progression and RPE based progression.
Main Lift Progression
The main lifts (squat movement, horizontal press movement, vertical press movement, and deadlift all progress 5 lb or 2.5 kg each week as long as all reps are hit. This is indicated in the spreadsheet by marking "YES" in the "All Reps Achieved" column. "NO" will keep the weight the same for next week.
If you miss the desired number of reps two weeks in a row, lower next week's weight by 10%. The simplest way to do this in the spreadsheet is to directly type in the weight you should lift in the relevant week.
So if you don't achieve all reps on Week 4 and Week 5 of the squat at 100 pounds, in week 6 you would type in "90" in the weight to be lifted. This will automatically update all subsequent weeks. If you achieve all reps at 90 pounds, week 7 will prescribe 90+5=95 lbs.
Accessory Lift Progression
Accessory lifts progress by using RPE or rate of perceived exertion. A shorthand way to think of RPE is by using "reps in reserve" (RIR).
Accessory movements should increase weight until the number of prescribed reps hits RPE 8 or, described differently, you feel as if you have 2 more clean reps left. This is what is meant by "First Set RPE."
For example, let's say the program calls for 4 sets of 8 reps on the hammer curl. You complete 8 reps with 20 lbs and feel like you could have done 4 more reps with good form. This is not RPE 8. You increase the weight to 25 lbs and complete 8 reps. You feel like you could have done 2 more reps with good form. This is RPE 8 and it counts as one work set. You should then complete 3 more sets to complete 4 work sets, even if the RPE increases in sets 2 through 4.
However, you should not miss reps. If you feel like you will miss a rep, decrease the weight.
If you'd like additional information on how to incorporate accessory progression into your training, RippedBody.com has a free email course on this subject.
VERY IMPORTANT: Recover Seriously for Optimal Gains
In a novice state, you are primed to make rapid gains assuming you allow your body to recover properly.
You grow muscle mass during recovery, not during your workout. You sow your seeds in the gym and you harvest them while you eat and sleep.
Get at least 8 hours of sleep.
Learn your TDEE and eat at maintenance or a surplus.
Determine what macro profile aligns with your goals.
Don't fixate on bulking/cutting.
Stick to the program.
Be consistent with 1 through 5.
This will get you 80% to wherever you're trying to go in an efficient manner.
Exercise Selection
All exercises are pre-populated in the spreadsheet, but can be edited by using the drop down selections.
If you're not sure what exercises to do, start with the ones already there.
If you have issues with a certain movement such as pain (avoid pain!), excessive difficulty with the movement, or you know you already don't like a particular exercise, then you can switch to another option in the drop down menu.
All of the options appear below, with the pre-selected options bolded.
Squat

(Back) Squat
Front Squat
Safety Bar Squat

Horizontal Press

Bench Press
Dumbbell Press

Vertical Push

Overhead Press
Dumbbell Press

Deadlift

Conventional Deadlift
Sumo Deadlift
Romanian Deadlift
Good Morning

Single Leg Variant

Bulgarian Split Squats
Lunges
Pistol Squats

Calf Raises

Calf Raises with Smith Machine
Calf Raises with Leg Press

Hip Hinge

Barbell Hip Thrusts
Barbell Glute Bridges
Cable Pull Throughs

Vertical Pull

Chin Ups
Pull Ups
Lat Pulldowns

Horizontal Pull

Seated Cable Rows
Dumbbell Rows
Seal Rows
Machine Rows
TRX Rows
T-Bar Rows

Flys
Leg Press

Seated Leg Press
45 Degree Leg Press
Hack Squat

Incline Push

Barbell Incline Press
Dumbbell Incline Press
Machine Incline Press

Triceps Isolation

Tricep Pushdowns
Cable Tricep Extensions
Skullcrushers
Dumbbell Tricep Extensions

Biceps Isolation

Hammer Curls
Cable Curls
Dumbbell Bicep Curls
Preachers Curls
Barbell Curls