This spreadsheet uses the popular Candito 6 Week Intermediate Program as a base and replaces the regular bench press work with Candito's Advanced Bench Press Program. The result is a solid program for intermediate level strength athletes seeking considerable bench press volume.
Candito 6 Week + Advanced Bench Press Hybrid Program Overview
6 weeks in length
4 to 5 training sessions per week
Bench Press is trained 5x to 2x per week, depending on the week
If you enjoy the program, please donate to Jonnie Candito.
Spreadsheet originally assembled by /u/thisisnotjonah, then improved by Lift Vault reader, Elliot.
A list of the improvements is below.
Candito 6 Week + Advanced Bench Empty Template (fix) | LiftVault.com
Popular Programs via App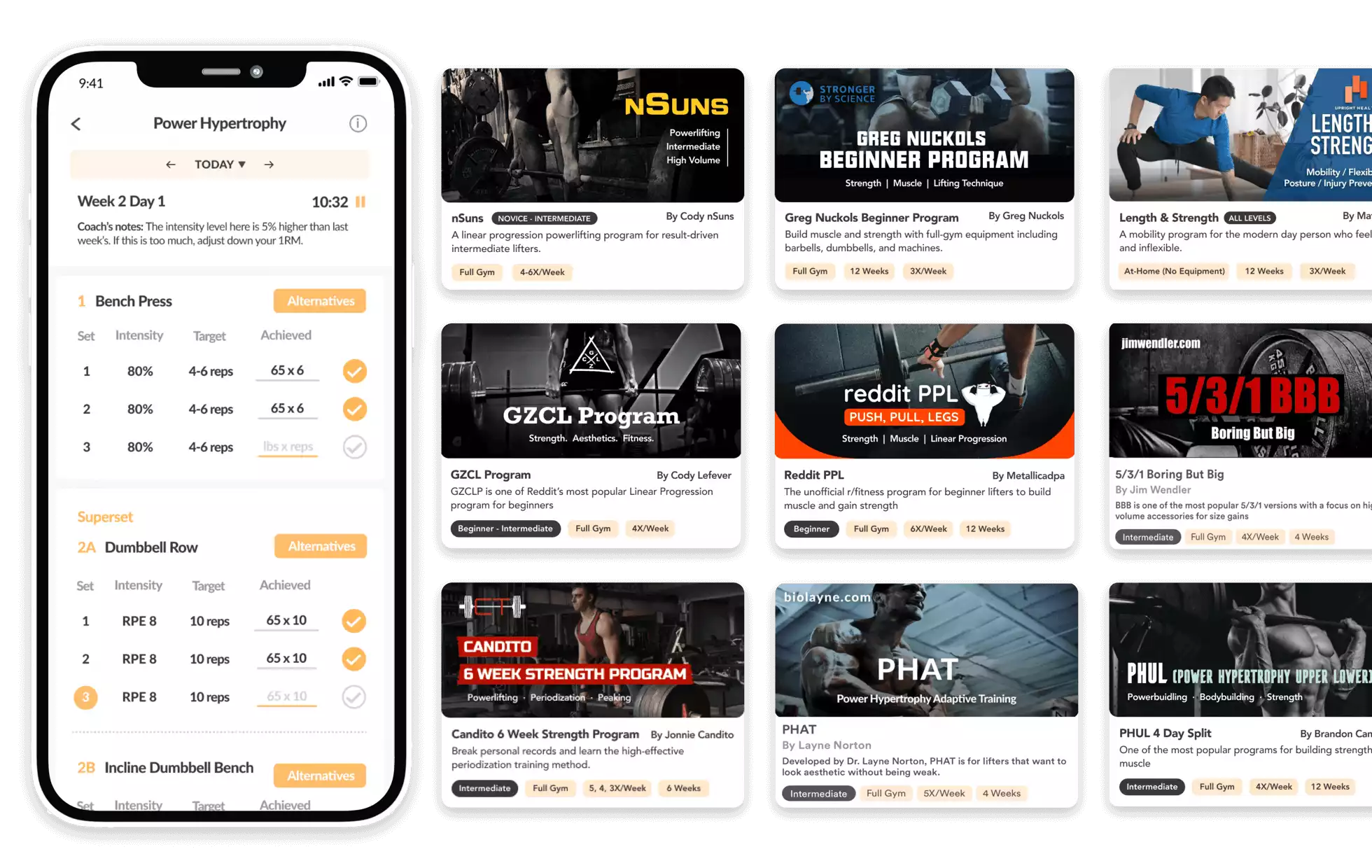 Boostcamp App
Many of the most popular programs on Lift Vault are now available on a free app!
Boostcamp lets you track progress, calculate weight/sets/reps, and discover new programs - all for free!
Improvements to New Spreadsheet
As described to me by Elliot.
Fixes
It didn't include the upper body accessories: back (horizontal + vertical) and shoulder accessories, that the original 6 week has in the program.
Not having access to low-pin and high-pin bench can be quite limiting – so added in some alternatives.
Week 4 had programmed bench day 1: 3 sets of 10, and bench day 2: 3 sets of 5-10 @80-82% (which could obviously kill a man). The reps and sets were the wrong way round.
New Features
An RPE column, as it was expected throughout you would gauge your own weight on several exercises – this leaves the weight column free so you can include your working weight to keep track of it
Throughout the routine the bench accessories, deadlift variations and upper body accessories are automatically updated based on the drop-down menus on the 'Inputs' page. The list of options for these accessories can be found in a hidden group of rows on row 29 – these can be changed if desired, I've included all the ones recommended by Candito and added a few myself.
Lists for accessory exercises that you can add your own desired exercises to – which will then show up in the routine drop-down menus for additional accessories throughout the routine.
Days and dates for each training session based on a start-date inputted in the 'Inputs' page – this was a feature in the 6-week program that I found useful.
A deload week – based on what Jonnie recommended to use as a deload week in his 6-week program – I just made a sheet for it.
A taper week, for if you wanted to test your 1rms. Admittedly, this is not Candytoe's work, but rather Bruce Krawfish's, it is the exact taper week from Calgary Barbell's 16-week program.
An updated way to calculate your projected maxes, and an input calculator to do it for you. I have to say this is just something I thought up and thought it was smart. It is essentially just based off the RPE % scale @10, so if you got 2 reps in week 5, then you are using a weight that is 96% of your true 1RM weight – therefore, you can calculate your estimated 1RM weight from this. It's not a perfect science, but it makes sense – and has more scientific backing to it than the ol' multiply by 1.03 for 2 reps, 1.06 for 3 reps, etc. (although it is almost the same thing).