This is a 17 week program for SuperTotal training designed by Brian Simmons. As a quick reminder, SuperTotal training combines the power lifts (squat, bench press, and deadlift) with Olympic lifts (snatch and clean & jerk). So it really requires well-rounded athleticism from the lifter. There's a video at the bottom of this post that discusses SuperTotal training in more depth if you're interested.
About the Program
This program has 4 training days per week. At 17 weeks long, it moves through three different training blocks: base, structure, and peaking.
Full definitions of each block are available within the spreadsheet, but here are quick summaries from the spreadsheet.
Base Block
"This is the first block of my Super Total program, and it's main focus is to increase your ability to recover between hard sets and workouts. The movements are simple, the rest times are short and there are no isolation movements, with a couple exceptions. There's a significant amount of cardio in this block, but I promise it'll be worth it and the other blocks won't have much cardio at all. If your cardio and metabolic conditioning are good, you can skip this block completely. Look at the cardio goals and compare."
Structure Block
This is the second block of my Super Total program; it's main focus is to add muscle mass and improve technique. This is the meat and potatoes of your training, and where you will make the most progress. This block has more volume and accessory work, little cardio, and no strict rest times.
Peaking Block
This is the last block of my Super Total program; it's main focus is to improve your ability to lift maximal weights. Do not run this Block unless you have ran the previous Structure Block.  This block has reduced volume, heavy weights, less accessory work and ends with a Super Total Day!  You maxed out last week at the end of the previous block, so let's just those numbers to start here.
17 Week SuperTotal Program Spreadsheet (via Brian Simmons)
A few things about the spreadsheet:
If you see "go heavier if you feel good" next to a weight, it means that if the specified weight moves very well you can increase the weight if you'd like. If you're not sure if a weight felt smooth and fast, it's probably best to not increase it and just stick to the specified weight.
Each block allows you to set new 1RM values for each lift.
There are a ton of different movements in this program. In the 1RM input section for each block you can click to expand the rows to see all lifts. You only need to set 1RM values for the lifts shown – the other lifts will inherit the 1RM of their "parent lift" (e.g. the 1RM for squat will be used for pause squat).

Because the secondary lifts are not programmed at the same intensity as the primary lifts, this usually results in reasonable weights being prescribed for secondary lifts. If you feel as if the weights should be adjusted, you can do so by expanding the rows and editing the 1RM value for the lift you want to edit.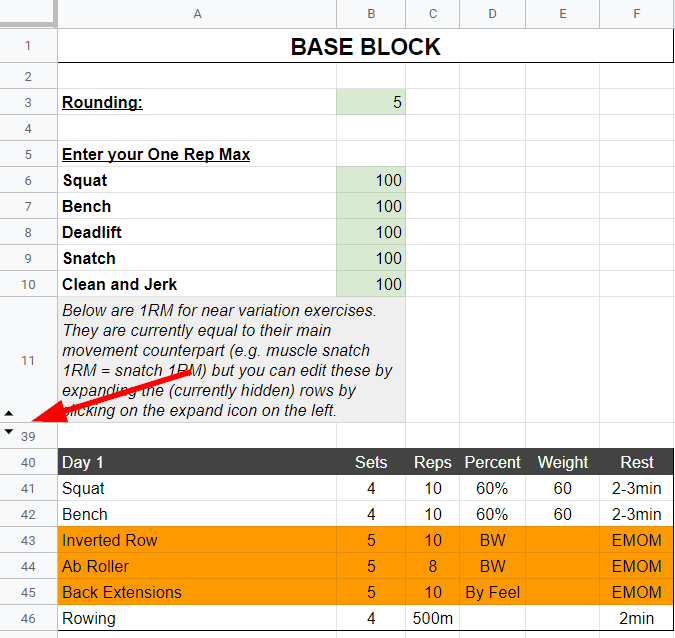 Source (edited by Lift Vault to allow for 1RM inputs)
Brian Simmons SuperTotal Program Blocks 1-3, 17 Weeks | LiftVault.com
About SuperTotal Training with Chad Wesley Smith and Max Aita
Supertotal Training | JTSstrength.com