Last Updated on
Looking for solid, well-reviewed powerlifting books to help you get stronger?
Whether you're a novice, intermediate, or advanced lifter, there is always something to learn about programming, periodization, technique, or accessory movements to help you reach your goals.
This should serve as en excellent resource for folks just starting out and also more experienced lifters that are trying to switch things up in order to break through a plateau.
Below are some of the best books available for getting stronger!
Want to read on Amazon Kindle? Start your unlimited 30 day free trial today!
Powerlifting Books for Novice Lifters
Starting Strength by Mark Rippetoe
If you purchase one book, make it this. Starting Strength is the definitive publication for anyone looking to learn about the fundamental of barbell weight training, the primary lifting movements, and basic programming.
There is a reason it is the best selling strength book of all time!

Practical Programming by Mark Rippetoe
After the foundational lessons of Starting Strength, Practical Programming explores the ins and outs of how to program for optimal strength gains. Known as the book that popularized the Texas Method, the book also contains many variations on the Texas Method template tailored to the reader's goals.
After Starting Strength, this is required reading for the intelligent lifter.

All About Powerlifting by Tim Henriques
This book goes into great detail on how to correctly perform the squat, bench, and deadlift, how to nutritionally support powerlifting training, and how to prepare for your first meet. It also contains contains interviews with renowned strength athletes for additional insight.
From beginning your first training program to competing on the powerlifting platform, this book is your A to Z stop!
5/3/1: The Simplest and Most Effective Training System for Raw Strength by Jim Wendler
Jim Wendler's 5/3/1 Program template is one of the most popular strength training programs around. Its flexible template influenced GZCL and N-Suns and made thousands of lifters stronger. This book is recommended if you are looking to try 5/3/1 but not sure which variation is correct for you.
The 2nd edition, listed here, goes into greater detail about which accessory movements best complement the primary lifts of the program as well as general nutritional guidance.
10/20/Life 2nd Edition by Brian Carroll
10/20/Life takes a lifter through cycles of 10 or 20 weeks designed to build strength by addressing the individual weakpoints of the lifter, making it perfect for athletes that have hit a plateau. This gives it a leg up over cookie-cutter programs that are better suited for novice lifters. It also includes sections on deloading, speed work, RPE, and nutrition, making it a well-rounded read for lifters.
Powerlifting Books for Intermediate & Advanced Lifters
Powerlifting by Dan Austin
While this book doesn't cover the mechanics of the squat, bench, and deadlifting, making it less useful for novices, it instead focuses on programming, strength progression, and mental toughness.
It is best suited for lifters with a bit of experience looking to improve their routines and nutrition.

Westside Barbell Book of Methods by Louie Simmons
In the world of advanced powerlifting, no name carries more weight than Louie Simmons. Founder of the legendary Westside Barbell club, an invitation-only gym where some of the strongest powerlifters in the world train, his methodical and research-based approach to powerlifting is second to none.
An accumulation of 30 years of experience, this book is well worth the $50 price tag, though it is recommended for advanced lifters only.
Westside Barbell Bench Press Manual by Louie Simmons
The Bench Press Manual provides training and technique recommendations for both raw and equipped lifters. This is a less expensive option for those looking for bench press advice from Louie Simmons.
Note: following the recommendations within the book will require the use of chains, bands, boards, etc.
Westside Barbell Squat and Deadlift Manual by Louie Simmons
Same as above, but for the squat and deadlift. Again, this is less expensive than the Westside Book of Methods while still getting the sage wisdom of Louie Simmons.
Note: following the recommendations within the book will require the use of chains, bands, boxes, etc.
High Frequency Powerlifting by Martijin Koevoets
In contrast to many beginner programs that program the minimal stimulus needed for a response, High Frequency Powerlifting provides a research-backed approach for incorporating higher volume workouts to help develop work capacity, strength, and movement prowess.
Including several different periodization models, volume/intensity pairing, and a framework for developing your own programming, High Frequency Powerlifting should breath new life into your training principles.
Powerlifting and Strength Books for Women*
The New Rules of Lifting for Women by Lou Schuler
The best selling book is packed with actionable advice for women looking to build muscle, gain strength, and look good along the way. This book treats women as athletes that require real weight training in order to get fit and lean, not baby weights and endless cardio.
That is not to say is not suitable for beginners. Instead, it assesses the current state of the reader and builds from there – all levels of lifters welcome.
Includes 6 months worth of programming and nutrition plans to set everyone up for success depending on where they are today.
Thinner Leaner Stronger: The Simple Science of Building the Ultimate Female Body by Michael Matthews
Similar to New Rules of Lifting for Women, Thinner Leaner Stronger provides workout programs and nutrition plans backed by research to help women get stronger, feel good, and be their best. No gimmicks or silver bullets – just sensible work and planning! Ideal for beginners and intermediate lifters looking to improve.
*This is not to suggest that women cannot or should not investigate the other books. These books are written for a female audience and are excellent supplements to the traditionally male-centered lifting literature. Many principles of strength training are applicable to both men and women.
Am I a Novice, Intermediate, or Advanced Lifter?
These definitions are pliable, but here is some reasonable guidance to get you started:
Below are three breakdowns from ExRx.
Other guidance of novice, intermediate, and advanced lifters worth reading: Strength Level, Strength Villain.
via ExRX: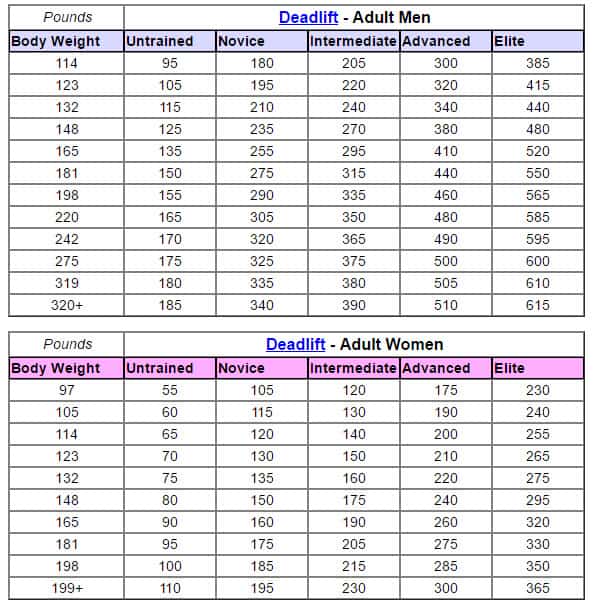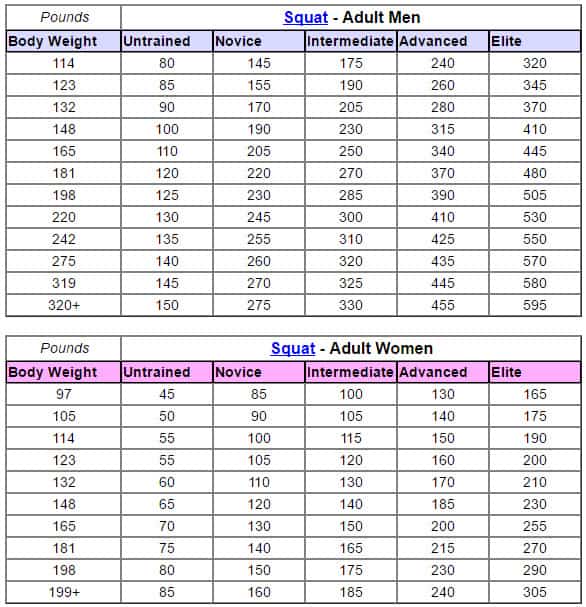 Enjoy!