nSuns 5/3/1 is a linear progression powerlifting program that was inspired by Jim Wendler's 5/3/1 strength program. It progresses on a weekly basis, making it well suited for late stage novice and early intermediate lifters. It is known for its challenging amount of volume. Those who stick with it tend to find great results from the additional work capacity.
Redditor /u/nsuns assembled a 5/3/1/ LP spreadsheet complete with 4, 5, and 6 day variants in addition to deadlift and squat specific workloads to help everyone get stronger.
Use the table of contents to jump to your desired spreadsheet or read on below to learn about which nSuns program you should run.
All credit goes to Jim Wendler and n_suns.
Recommended Reading
If you haven't already, check out Jim Wendler's classic strength books that inspired nSuns. These will help you get the most out of the program.
nSuns on Boostcamp App
Get the App Version of nSuns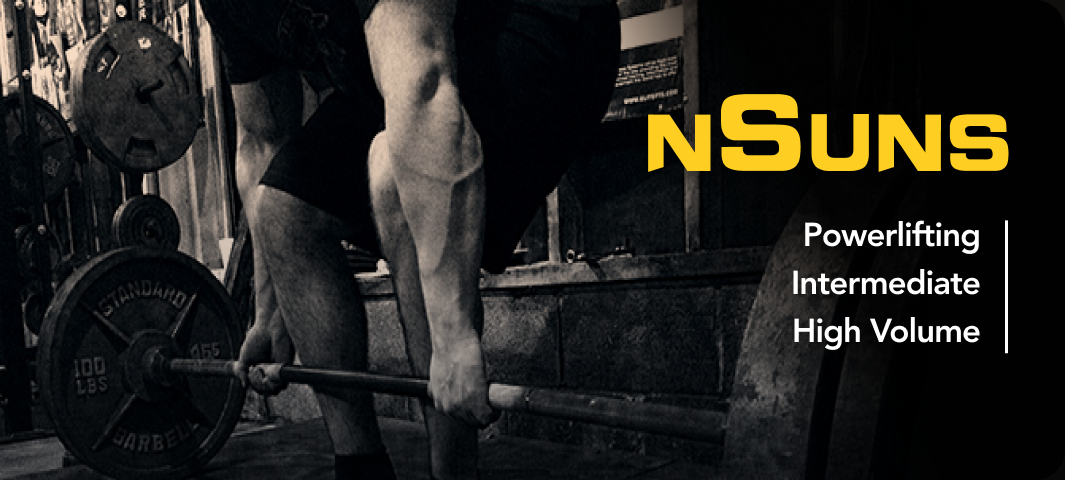 nSuns on Boostcamp App
Prefer an app to a spreadsheet? If so, you're in luck!
Boostcamp has a free app version of nSuns that you can use directly from your phone.
It tracks your progress and calculates your lifts, just like a spreadsheet.
Works on iOS and Android.
Lift Vault earns a commission if you click this link and make a purchase at no extra cost to you.
If you prefer to use an app version of nSuns 5/3/1, Boostcamp is a great option.
It has popular programs like GZCLP, Greg Nuckols Beginner Program, Candito 6-week Strength, Reddit PPL, and PHUL.
Boostcamp is free on iOS and Android.
Spreadsheets
Complete Bundle: Original nSuns LP Spreadsheet: 4 DAY, 5 DAY, 6 DAY templates with squat and deadlift specific variations
These are the original spreadsheets shared on Reddit as the nSuns 5/3/1 Linear Progression program.
You'll find four different programs in the bundle:
nSuns 4 Day LP
nSuns 5 Day LP
nSuns 6 Day LP (Squat Focus)
nSuns 6 Day LP (Deadlift Focus)
The nSuns squat and deadlift versions program the respective lift 3 times per week instead of 2 in the typical LP program (counting variations).
If you're just getting started, this collection is a great starting point.
nSuns Linear Progression (LP) Complete Bundle (4 Day, 5 Day, 6 Day squat, 6 Day deadlift) | LiftVault.com
And here are the same programs with a different design.

n_Suns 531LP (4 day, 5 day, 6 day deadlift, 6 day squat)
RoflWafflez nSuns Variant Spreadsheet
This is a high volume 5 day nSuns variation that contains warm ups, prehab/mobility work, cues for the major lifts, and much more. Even if you don't decide to run it, it's worth checking out for accessory ideas, warm up ideas, or lift cue ideas (cues are like hints to think of when doing a lift). The training days are spread across the "Upper Workouts" and "Lower Workouts" tabs on the spreadsheet.
Props to /u/RoflWafflez for the hard work on this. He ran this for 8 months, dropped 70 lbs, and has an 1,150 pound total. Not bad. (Original post and source)
nSuns Roflwafflez | LiftVault.com
nSuns LP Spreadsheet (Advanced Spreadsheet, Same Program)
This is a fancier version of the same programs you'll find above, except with more guidance on accessory exercises. This insane spreadsheet combined 4 different versions (4 day, 5 day, 6 day squat focus, and 6 day deadlift focus) with automated tracking.
It has a detailed HELP tab that describes how to use the spreadsheet. It even maintains a log of your training activity and has a macro calculator to boot. If you'd rather track your macros separately, Healthy Eater's macro calculator is a great option.
While this nSuns spreadsheet is not as simple as the others, if you want to track things in more detail it's a good pick.
Notes:
For the weights to automatically update, you must log how many reps you achieved on your AMRAP sets on the "LOG" tab.
The spreadsheet uses date and time. To correctly reflect this based on your timezone, navigate to File –> Spreadsheet Settings and set your desired timezone. This must be done on your personal copy of the spreadsheet.
via /u/Oat_Goat (they're also working on a web app for this program)
Advanced nSuns v2.1 | LiftVault.com
nSuns CAP3 (Cyclical AMRAP Progression – 3 Week Cycle)
Complete with crystal clear instructions, n-Suns collection's of 5/3/1 mutations that seems super easy to read along with and follow. In fact, all you need to to is pick your 1RM for the big 4, enter your bodyweight, and you'll be gaining strength, getting bigger, and setting PRs before you know it.
nSuns CAP3 Overview
"This is my personal program that I've been running, it is set up with the primary purpose of increasing the Squat, Bench, and Deadlift, as well as getting stronger on close variants, and getting bigger all around. I personally find that without a decently well laid out program, the progression on my lifts start to really suffer. This has kept me on track, making consistent incremental gains on all of my primary lifts, and allows enough customization to address various weakpoints as they arise.
Over the last year I've slowly combined the best parts of the various programs that I've run into this 3 week sheet, and since putting it all together this summer I have managed to increase my estimated maxes (the entire program is based on estimates) on my Squat, Bench, and Deadlift for a combined total of 85lb in only a few three-week cycles, to an estimated total that is nearing 1500lb. I have not tested any actual 1 rep maxes in a while, but after a few cycles, I am hitting my previous 1 rep maxes for 3-4 clean reps with ease. So as long as that continues, I see no reason to make any additional changes."
nSuns CAP3 Progression
Progression for Main Lifts:
You will perform a Maximum Effort, High Intensity set for each lift, only once every 3 weeks.

On these days, you will choose from one (1) of the three (3) options, (6+, 4+, or 2+), you will warm up, and then perform an AMRAP set at the corresponding weight

If you are able to complete the minimum number of reps shown, but do not set a new Estimated 1 Rep Max, add 2.5kg / 5lb to your Training max, and continue on.

If you are able to complete enough reps to set a new Estimated 1 Rep Max (use the calculator), Increase your Training Max to your new Estimated Max (Rounded Up)

If you are unable to complete at least the minimum number of reps shown, reduce your training maxes for that lift during the next cycle, and push your AMRAP and accessory work harder.

Progression for Secondary Lifts:
If you set a rep PR on a Yellow AMRAP set, adjust your TM to the new Estimated max.

If you are able to complete all of your required reps, but havent set a new rep PR by the end of the 3 week cycle, add 2.5kg / 5lb to your TM and continue on.

If you are unable to complete all of your required reps, lower your TM by ~5-10% and push those AMRAP sets MUCH harder for the next cycle.
nSuns CAP3 Spreadsheet
n-Suns' CAP3 Cyclical AMRAP Progression | LiftVault.com
nSuns 5/3/1 LP PPL + BBB Program
Note: This is not from nSuns the person – it was found somewhere on Reddit. It confused a lot of people and I cannot personally vouch for it. Still, lots of folks find it interesting so I'm leaving it up.
Combines the rep scheme of nSuns LP for the T1 (main) lift of the day with the 5/3/1 Boring But Big rep scheme for the T2 lifts (i.e. sets of 10 reps). This is a more hypertrophy focused variant of nSuns.
nSuns 5/3/1 LP PPL with BBB | LiftVault.com
nSuns 5 Day (Row Variation)
This is the standard 5 day nSuns LP but with rowing added three times per week on days 1, 3, and 5. This does not need to be any specific type of row, nor does it have to be the same row movement each day (though that will make the weight calculation less useful, as presumably your different rowing movements will have different maxes – just keep this in mind). Remember: the program is not dogma. If you want to do the same row variation 3 times per week, do that. If you want to mix it up and hit the back different throughout the week, go for it. Just keep of what you're doing so you can measure the work that has been done and track progress.
Spreadsheeet via /u/LookingForVheissu
nSuns LP 5 Day (Row Version) | LiftVault.com
nSuns Program FAQs
What is nSuns? (nSuns Explained)
nSuns is a user on Reddit that shared a popular weekly linear progression variation of 5/3/1 a few years ago. Key principles carried over from 5/3/1 include hitting the main lift of the day for a set of 5 reps, a set of 3 reps, and then a set of 1 rep, as well as the notion of using 90% of an athlete's 1RM as a TM or "training max" and calculating all main lifts as a % of the TM.
How is nSuns different from 5/3/1?
nSuns differs from 5/3/1 in that its linear progression advances weekly, whereas 5/3/1 is roughly monthly. This helps athletes advance faster vs. 5/3/1, though they will also likely stall out more quickly.
How do I get started with nSuns?
The simplest way to get started is to make a copy of the nSuns LP Complete Bundle below and figure out how many days per week you want to lift. If you're unsure, I'd recommend starting with 4 days per week and seeing how that goes for 2 or 3 months.
Resource: How to make a Google Spreadsheet copy.
Is the nSuns 5/3/1 program good for beginners?
nSuns contains a significant amount of volume. This amount of volume should not be undertaken by an athlete still learning proper lifting form. Also, nSuns LP uses weekly progression. A true novice can advance multiple times in a week and would advance more rapidly with Starting Strength, StrongLifts, or Greyskull LP.
Which version of nSuns is right for me? How many days should I do?
If it's your first time running nSuns, I'd recommend starting with the 4 day LP routine. If you're recovering well from the volume and feel like you can handle more, move up to the 5 day routine after 2 or 3 months of the 4 day routine. Weekly progression can catch up to you pretty quickly.
How do I add weight on nSuns LP? (nSuns Progession)
Progression on the main lifts with nSuns LP is pretty simple. It is based on the number of reps achieved on that day's AMRAP set, which are highlighted in yellow on the original spreadsheets and otherwise are denoted by a "+" symbol next to the rep count (e.g. "440 x1+" means 440 for as many reps as possible).
nSuns Linear Progression
Below are the number of reps achieved in the AMRAP set and the amount of weight to add for next week's training session:
0-1 reps: increased TM by 0 pounds
2-3 reps: increase TM by 5 pounds
4-5 reps: increase TM by 5 to 10 pounds
6+ reps: increase TM by 10 to 15 pounds
What accessory movements should I do for nSuns?
| Muscle Group | Accessory #1 | Accessory #2 | Accessory #3 | Accessory #4 | Accessory #5 |
| --- | --- | --- | --- | --- | --- |
| Chest | Spoto Press | Cable Crossovers | Chest Flys | | |
| Arms | Dips | Tricep Extensions | Tricep Pushdowns | Incline Dumbbell Curls | Hammer Curls |
| Back | Barbell Rows | T-bar Rows | Facepulls | Lat Pull Downs | Pull Ups |
| Abs | Hanging Leg Raises | | | | |
| Legs | Hack Squats | Leg Extensions | Hamstring Curls | Leg Press | |
This list of accessories is meant to provide you with ideas that you can plug in to your own workouts. You should pick and choose accessories based on your weak points, either strength-wise or aesthetically. You should not do all of these every workout, but you can mix it up and pick 2 or 3 each session. Rotating accessories week to week is ok, though it may make it harder to track progress (either through increase in rep count or increase in weight. When progressing accessories, always try to increase reps first. When reps get to 15 per set or so for all sets, then increase weight and aim for 8 to 12 reps per set.
If you'd like a little inspiration, here are some examples of how other people set up their nSuns accessories. This doesn't necessarily mean they will work for you, but they may serve as a helpful starting point.
nSuns 4 Day LP – Accessories Example #1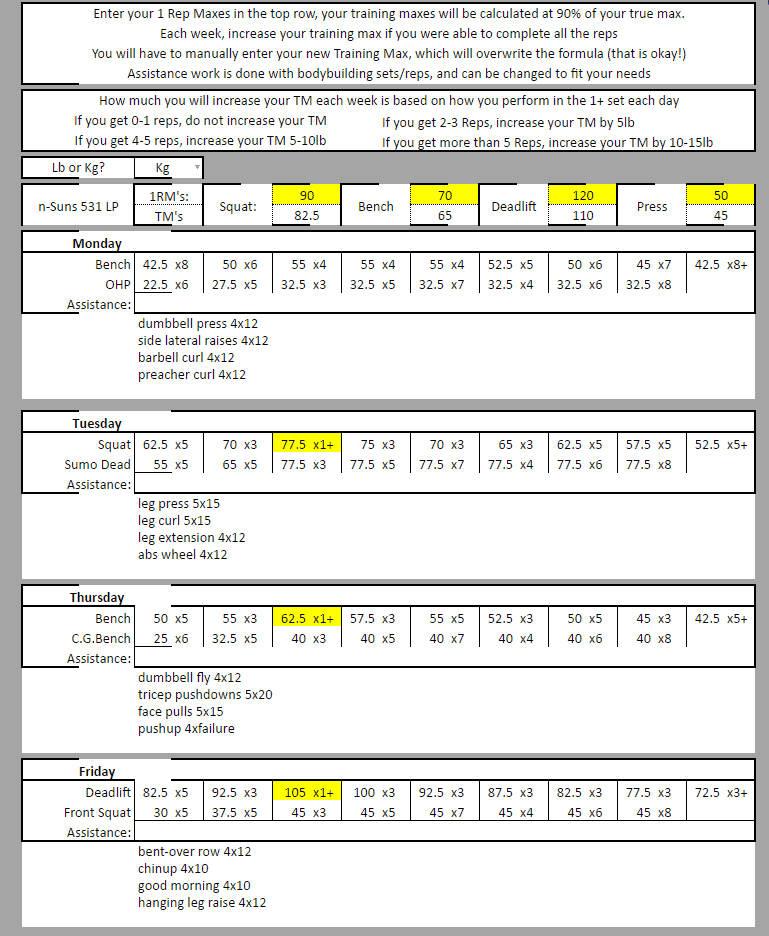 nSuns 4 Day Accessories – Example #2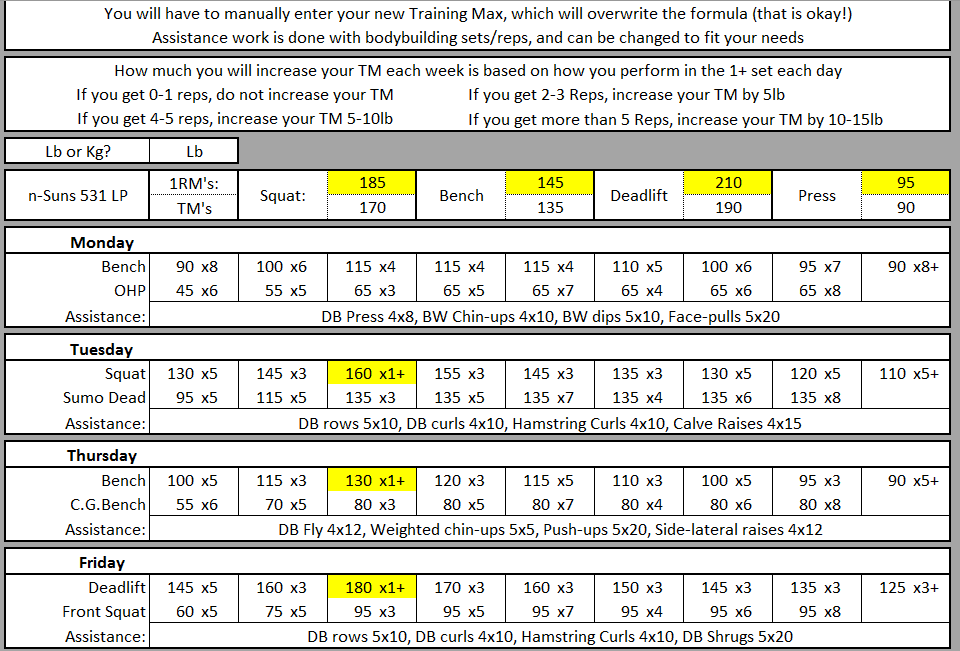 nSuns 5 Day Accessories – Example #1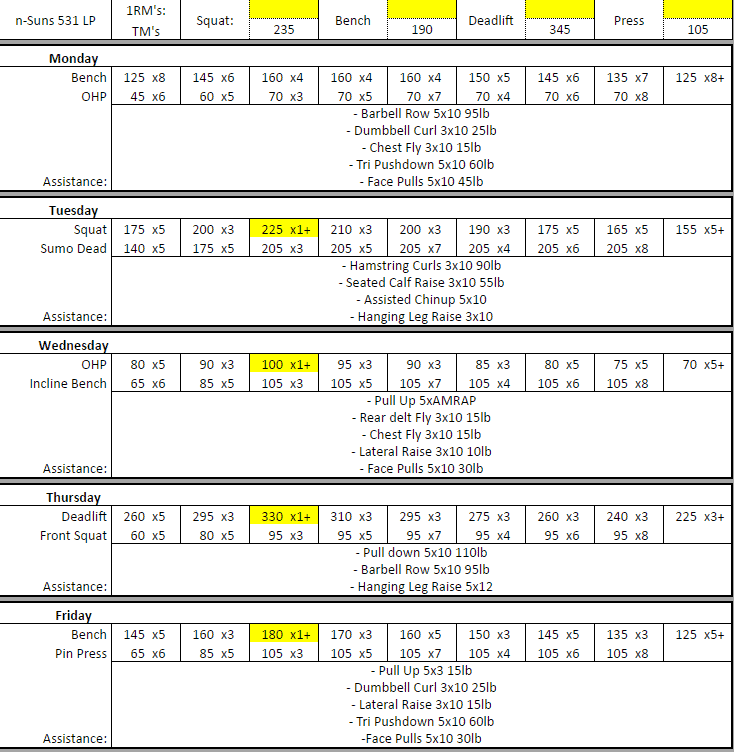 nSuns 5 Day Accessories – Example #2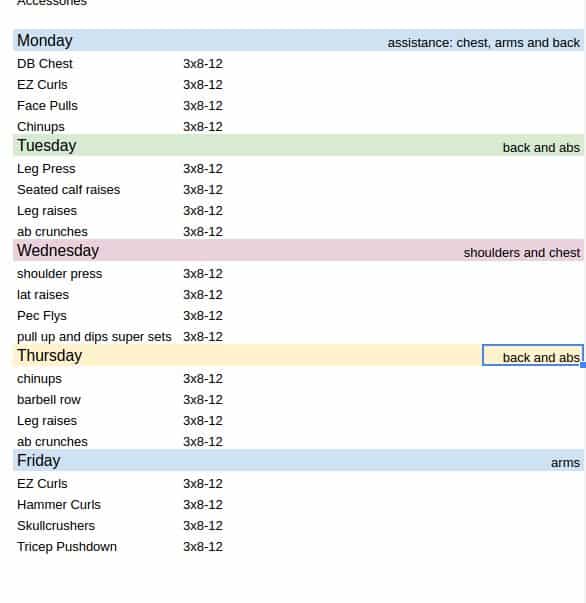 Recent Updates
December 18, 2019 – Removed links to /r/nSuns (RIP), added some screenshots of different accessory selections from the old accessory check threads.
November 8, 2019 – Updated formulas in the 5/3/1 BBB spreadsheet and (hopefully) clarified how to continually update your 1RM/TM inputs.
October 31, 2019 – Added a version of the 5 Day LP that has rows 3x weekly.
August 20, 2019 – Added /u/RoflWafflez spreadsheet, which has a ton of different accessory variations, warm up tips, and more.
June 1, 2019 – Seriously cleaned up the spreadsheets. Bundled the 4 day, 5 day, 6 day squat, and 6 day deadlift versions into one spreadsheet collection. Deleted some stuff that was duplicated. The page should be a lot easier to read and navigate now.
March 27, 2019 – Cleaned up formulas in PPL + BBB Spreadsheet
February 10, 2019 – Added PPL + BBB Spreadsheet
January 10, 2019 – Added Advanced NSuns Program Spreadsheet
NSuns Program Reviews
Here is a collection of reviews from different athletes that have run NSuns programs.
"I think this program is great for the intermediate lifter that has experienced slowed progress in the gym due to a lack in structure. I also think it is a great program for anyone that wants to try out a powerlifting program.It was my first true powerlifting program, and it pulled me into the powerlifting scene and even gotten me excited about the idea of doing a meet in the future. The downsides of the program are the lack of direct back work, the awkward split (which works for a while) and the CNS exhaustion. Sure, all of these are dependent on what you do on top of the 2 main lifts each day, but I believe my time has come to shift my focus."
"I think this is a great "off-season" program. I had a ton of fun on it, put in a lot of hard work, and made great progress. As with any off-the-shelf program, you'll have to make some changes to suit your own goals/preferences, but overall it provides an excellent framework."