Edit September 17, 2019: Added a better spreadsheet for GZCLP.
There are so many powerlifting programs available that it can be confusing for a novice lifter to determine which program is right for them.
Here are some of the most popular powerlifting programs for beginners. The following programs are chosen for their intelligent exercise choice, flexibility for the novice athlete to incorporate accessory exercises they enjoy, and building preparedness for later powerlifting programs.

Powerlifting Workout Programs for Beginners
TSA 9 Week Beginner Program (4 day)
GZCL Linear Progression Program (aka GZCLP) (3 day or 4 day)
5/3/1 N-Suns Linear Progression Program (5 day)
Candito Linear Program (4 day)
Ivysaur 4-4-8 Program (3 day)
These beginner programs were chosen for three primary reasons:
Focus on the big three competition lifts,
Emphasis on weekly linear progression, and
Providing adequate frequency for each of the lifts.
Some popular beginner strength programs like Strong Lifts 5×5, Starting Strength, or Ice Cream Fitness only call for the athlete to bench 1-2x weekly and do not program enough deadlift volume, which will result in earlier strength plateaus (i.e. not getting stronger). While they are great choices for folks looking to learn about programming, add muscle, lose fat, and get stronger, they're not ideal for powerlifting.
TSA 9 Week Beginner Program
The Strength Athlete (TSA) is a well respected group and their beginner powerlifting routine comes highly recommended.
The program can be run two ways: 5 weeks or 9 weeks. The 9 week version is the same as the 5 week version, but with a 4 week peak attached for a meet (5 weeks + 4 weeks = 9 total weeks).
If there is no meet to prepare for, then the lifter can repeat the program after the first 5 weeks have been completed and not do the last 4 weeks.
More program info: TSA 9 Week Beginner Program

TSA Beginner Approach | LiftVault.com
GZCLP Linear Progression Program
GZCLP is the linear progression version of GZCL. It's a solid, well laid out program available in 3 day and 4 day versions. Both versions are in the spreadsheet below.
GZCL is based on the following training structure, which applies to GZCLP as well.
More loads of program info and spreadsheet variations: GZCLP Linear Progression Program

v4_06 GZCLP 3-4 Day 12 Week Program | LiftVault.com
2 Suns 5/3/1 Linear Progression (5 day)
The 2 Suns 5 Day Linear Progression version of 5/3/1 template is great for beginners because it immediately gets them accustomed to higher training frequency, whereas many novice programs only call for 3x weekly training. The novice trainer is unique in that they are able to rapidly recover from training sessions, so 5x weekly is not necessarily an issue for beginners. If you'd prefer to train 4 or 6 days per week, those variations are also included in the spreadsheet linked below.
Recommended because:
2x weekly benching
2x weekly squatting (counting the front squat variation)
2x weekly deadlifting (counting the alternate stance variation)
Plenty of room to add accessories that address weaknesses
My only recommendation would be to add in some upper back work as an accessory, as the primary lifts programmed here don't hit it especially hard.

nSuns Linear Progression (LP) Complete Bundle (4 Day, 5 Day, 6 Day squat, 6 Day deadlift) | LiftVault.com
Candito Linear Novice Program
The Candito Linear Program appears in three flavors: hypertrophy, control, and power.
The "Control" variation is recommended for most beginners and anyone seeking to make strength gains.
The "Hypertrophy" variation uses the highest degree of volume and in order to develop muscular size.
The "Power" variation is similar to the "Control" version, but focuses more on developing explosiveness and exposing the athletes's CNS to near-maximal weights.
Recommended because:
2x weekly benching
2x weekly squatting
Plenty of exposure to accessory movements, especially in the "Hypertrophy" and "Control" variants
If you plan on running one of Jonnie's programs, I highly recommend reading the free guides on his site.

Candito Linear Program
Ivysaur 4-4-8 Beginner Program
The Ivysaur 4-4-8 Beginner Program is structured as follows: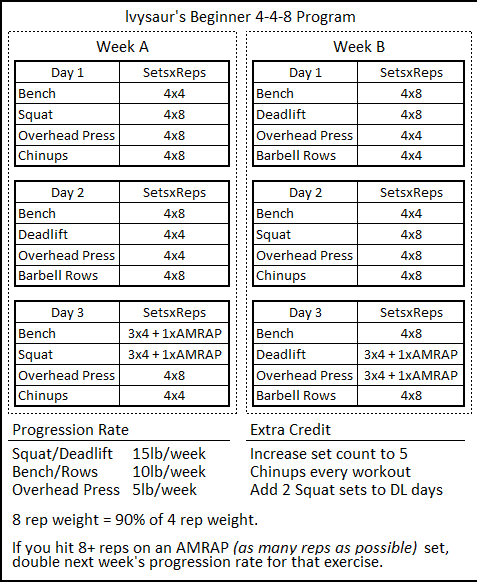 While the Ivysaur 4-4-8 program is laid out in a 3x weekly format similar to Starting Strength, Strong Lifts, etc., there are some things I like about it:
2x weekly benching
Significant deadlift volume
Incorporation of AMRAP sets to help build out work capacity and keep challenging the lifter
This keeps the lifter on a crisp linear progression cycle while still incorporating enough volume and back work to transition into intermediate programs. If you can't swing a 4x or 5x weekly program, give Ivysaur 4-4-8 a shot.

lvysaur 4-4-8 Program Spreadsheet - LiftVault.com