Strong Lifts is a cornerstore beginner strength 5x5 workout program based upon Bill Starr's old school 5x5 program. If you're just starting out, this is a fantastic way to build muscle, lose fat, and get stronger. Using Google Spreadsheets, the program becomes even easier to follow along. LB and KG versions are included below.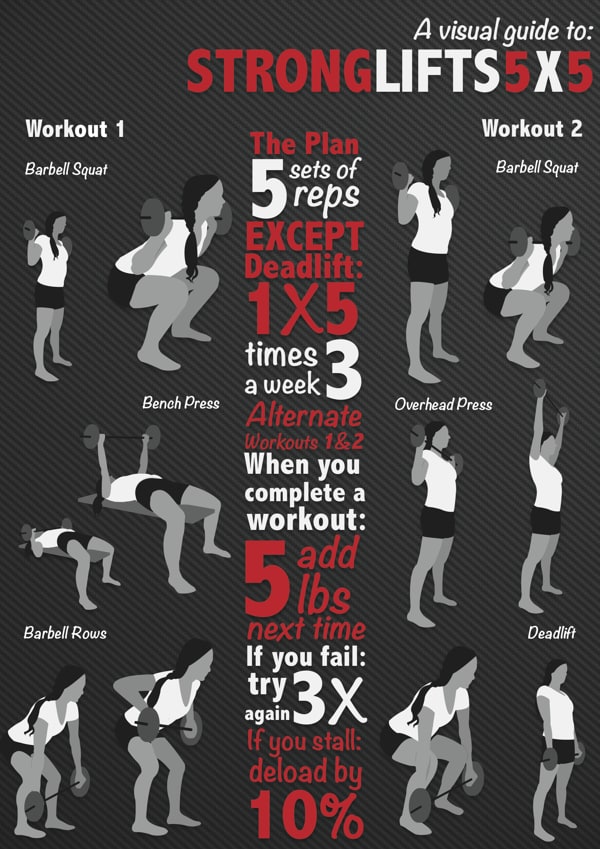 Get the Apps for Android and iOS
StrongLifts 5x5 Workout Program Spreadsheet (LB)


stronglifts-5x5-lb.xls
StrongLifts 5x5 Workout Program Spreadsheet (KG)

stronglifts-5x5 (kg) | LiftVault.com
Video: Strong Lifts 5x5 vs. Other Novice & Intermediate Programs
Here Alan Thrall does a quick comparison between Starting Strength, StrongLifts, Texas Method, and 5/3/1. I should note that Texas Method and 5/3/1 are better suited for intermediate lifters that are no longer progressing several times each week, which is how Starting Strength and StrongLifts are programmed.
PROGRAM REVIEW part 1: Starting Strength/StrongLifts, Texas Method, 5/3/1
Frequently Asked Questions about Strong Lifts 5x5
Does StrongLifts 5x5 work?
Yes, StrongLifts is an effective strength training program for novices. It's based on sound principles of stress, recovery, and adaptation. Because the novice lifter is able to both be stressed easily (since they are assumed to have never engaged in a serious strength training program before) as well as recovery rapidly, they have the ability to gain strength quickly. Strong Lifts, as well as programs like Starting Strength and GreySkull LP, all take advantage of this.
Does StrongLifts build muscle?
Yes, StrongLifts will build muscle in novice lifters. Sets of 5 can build strength and induce hypertrophy in the novice lifter.
How long should you run StrongLifts?
StrongLifts should be run for as long as progress can be made on it.
What happens when I stall on StrongLifts?
When the lifter begins to fail reps in their 5x5 sets, they should keep the weight the same, switch to a 5 sets of 3 reps, and then continue to add weight from workout to workout. So if a lifter misses a squat rep at 300 lbs, they should end their workout and do 5 sets of 3 reps at 300 lbs in their next workout. Assuming this is achieved (and it should be, assuming the athlete was able to lift 295 for 5 sets of 5), they will do 5 sets of 3 reps at 305 lbs in their next training session. You only need to do this for the lifts you've plateaued on. Other lifts can stay on the 5x5 scheme. Afters plateauing on 5 sets of 3 reps, you can move to 5 sets of singles or start using different rep schemes for the first, second, and third training session each week. This is a bit outside of the scope of this answer, but this is handled for you automatically by GZCLP, so switching to that program after plateauing on 5 sets of 3 reps would likely be a good switch to keep the gains rolling and introduce more periodization in your programming. Texas Method would also be a good program to graduate to after Strong Lifts. Greg Nuckols writes in much greater depth on this very subject.