Texas Method Routine Overview
The Texas Method is a strength program that focuses on training 3 days a week and hitting a new PR each week, making it ideal for intermediate lifters that can still progress on a weekly basis. Each training week represents one cycle: Monday is volume day, Wednesday is an active recovery day, and Friday is an intensity day where a new PR is set.
It was popularized by Glenn Pendlay at the Wichita Falls Athletic Club. While the relatively low bench press and deadlift volume makes it better for general strength than powerlifting, the exercise frequency can be tweaked to meet specific needs.
Texas Method Program Summary
| Program Name | Texas Method |
| --- | --- |
| Training Style | Strength |
| Training Days Per Week | 3 Days |
| Intensity (% of 1RM) | 63% to 88% |
| Periodization | Block |
| Mesocycle Length | 1 Week |
| Experience Level | Late Beginner, Intermediate |
Just plug your 1RM into this spreadsheet and the initial workouts will automatically be calculated. Based upon training progress inputs, additional workouts will be calculated as you go. The program has 2 week microcycles and 6 week mesocycles.
Texas Method Program Spreadsheet

Texas Method Google Spreadsheet
Popular Programs via App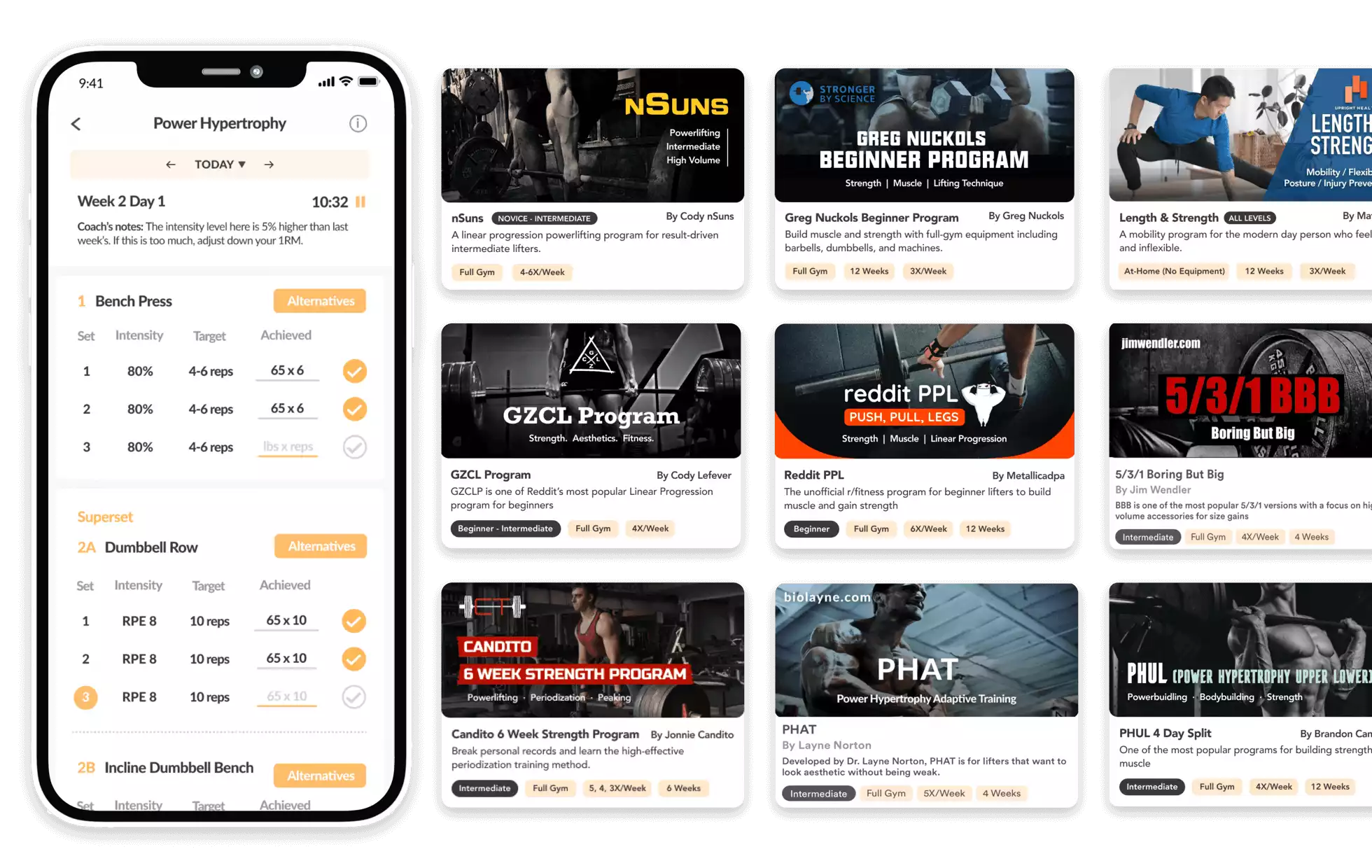 Boostcamp App
Many of the most popular programs on Lift Vault are now available on a free app!
Boostcamp lets you track progress, calculate weight/sets/reps, and discover new programs - all for free!
Recommended Reading: Practical Programming
It is highly recommended that you read Mark Rippetoe's Practical Programming prior to starting Texas Method in order to customize it to best fit your goals and make the most gains. The book discusses many variations of the Texas Method template, including those best suited for powerlifting.
There are 11 programs laid out in Practical Programming, many similar to the basic Texas Method you'll find on Lift Vault.
Texas Method Program Instructions
From the spreadsheet:
This spreadsheet is best suited for athletes that have run Starting Strength (NOTE: or similar programs like Strong Lifts or GreySkull LP )and are now prepared to graduate to the next phase of training.
For the power cleans (Note: you can do other back work instead of power cleans, such as barbell rows), it is best if you just put your 5×3 weight and 3 reps down, as there is no need to complete heavy singles.
For deadlifts, you can input your latest weight and reps.
Squats will be a little different, in that you'll go back to 5×5 and 1×5 training. If you're not in a rush (and unless you have a specific reason, you shouldn't be), just put the last weight you did at 3×5. Don't worry if things seems light the first few weeks; progression will ramp up quickly.
Bench Press and Overhead Press have some interesting variation to them. Your 1RM will be calculated and will be the goal weight on the first workout. Two weeks later you'll go for 2 reps of your previous 1RM weight, and then you'll go for 3 reps two weeks after that (week 5). At this point, you'll have three choices. All three will have the 1RM calculated from the 3RM, and have your 2 week increment added. "Let 'er rip" will use this weight, or the adjusted weight if you didn't complete at least 3 reps. "Limit" will use the smaller of the "Let 'er rip" figure and the previous cycle's 1RM plus three two-week increments. "Slow-roll" is similar as "Limit", but uses two two-week increments.
If things have felt good and the reps have felt smooth, go for "let 'er rip." If things have been grindy or reps have been missed, "limit" or "slow roll" may be better options. Be realistic: just 'cause you program it in a spreadsheet doesn't mean the strength is there. Be patient.
Frequently Asked Questions about Texas Method
What is the Texas Method workout program?
The Texas Method is a strength training program based around sets of 5. It is an intermediate program that is best run by graduates of Starting Strength, Strong Lifts, or GreySkull LP. It uses linear progression on a weekly basis and is for lifters that can no longer progress multiple times within a week. It uses a "volume day" to generate stimulus overload, a "recovery day" to allow for recovery from the volume day, and an "intensity day" where new strength gains can be realized and demonstrated by hitting a new weekly PR.
Does Texas Method have enough volume?
Well, that depends on what enough means. If your primary goal is to get stronger and set new PRs each week, then yes, Texas Method's "Volume Day" has enough volume for lifters moving from the novice phase to the intermediate phase. As weights get heavier, it becomes more difficult for the lifter to adequately recover from each workout, which is why Texas Method provides a recovery day and why the intensity day doesn't have as much volume, which allows the athlete to feel fresh going into the next week's difficult volume day.
Who created Texas Method?
The Texas Method is credited to Glenn Pendlay, who was a strength coach at the Witchita Falls Athletic Club in Texas. In an interview with Glenn, he explained that one of his athletes made him a proposition: if the athlete could hit a new PR set of 5 reps, could they only do 1 set for that training session instead of 5 sets? Glenn agreed, and the Texas Method was born. Mark Rippetoe, who owned the Witchita Falls Athletic Club, claims it was based on a version of the Hepburn Method, which was explained to him by his mentor Bill Starr (arguably the godfather of the 5×5 method).
So which version is true? I don't know – probably all of them. Like music, there's rarely anything new under the sun in the world of strength training. Instead, there's collaboration, borrowing from those who came first, and synthesizing of ideas.
What happens if I miss reps on Texas Method?
If the athlete cannot complete all programmed reps, a reduction in volume is usually needed. This is assuming that the athlete is eating and resting enough. This is important. If recovery is not addressed, then this will naturally limit progress in strength, regardless of the actual programming. Make sure diet and sleep are in check.
When reps are missed (or if a 5 rep set becomes extremely difficult, resulting nearly missing a rep) this usually occurs on Friday's intensity day. When this happens, programming 2 sets of 3 reps at the same weight (if 5 reps could not be achieved) or 5 lbs heavier (if 5 reps were achieved in the previous week with much difficulty) can usually yield a few more weeks of progress. As progress within the 3 rep range stalls, the athlete can do 2 sets of 2 reps at the same or heavier weight. This may yield another couple weeks of progress. As this stalls, the athlete can finally move to 5 sets of 1 rep (i.e. singles), then, once this becomes very difficult to achieve, 3 sets of 1 rep.
Once 3 sets of singles stalls out, the athlete can use that weight as their "1RM" and begin a new cycle of 5 rep sets. After another attempted cycle of Texas Method, more advanced variation needs to occur on the Friday intensity day. This is explained in depth in Practical Programming and is outside the scope of this post.
Video Overview of Texas Method
Don't mind the clickbait title. It's a useful overview of the Texas Method program.