The PHAT (Power Hypertrophy Adaptive Training) workout routine is a 5 day powerbuilding program for athletes seeking strength and hypertrophy development.
Developed by Dr. Layne Norton, the PHAT workout routine blends power and hypertrophy work, making it ideal for bodybuilders looking to gain size and lifters that want to look aesthetic without being weak.
PHAT Program Overview
PHAT Workout Program Summary
| Program Name | PHAT (Power Hypertrophy Adaptive Training) |
| --- | --- |
| Program Goal | Hypertrophy |
| Days per Week | 5 Days |
| Program Length | 4 Weeks |
| Training Style | Split, PPL |
| Experience Level | Intermediate, Advanced |
Each PHAT training session is centered around a major compound movement (squat, bench press, deadlift, dumbbell press). A training week has 5 sessions: 2 power sessions and 3 hypertrophy sessions.
PHAT Routine Schedule
Day 1: Upper Body Power Training
Day 2: Lower Body Power Training
Day 3: Rest
Day 4: Back & Shoulders Hypertrophy Training
Day 5: Lower Body Hypertrophy Training
Day 6: Chest & Arms Hypertrophy Training
Day 7: Rest
Power training days call for 3 sets of 3 – 5 reps. This weight is up to the lifter, but 70-80% of a movement's 1RM is probably a good starting point.
Each hypertrophy training day will repeat the primary movement of that week's power day. For example, the lower hypertrophy day calls for squats, just like the lower power day. The primary difference is that the weight will be lower, 70% of what was squatted earlier in the week, for 6 sets of 3. These should be speed movements, as the weight is light. Rest between sets should be limited to 1-2 minutes. When starting out, stop at 1 to 2 reps short of failure, or else you will very likely burn out and not be able to recover between training sessions.
As this is a lot of accessory volume, weights should be kept light as the body adjusts. Layne recommends deloading every 6 to 12 weeks, with the deload lasting for 1 to 3 weeks at 60-70% of normal weights.
Program Summary by Layne Norton
PHAT on Boostcamp App
If you prefer to use a free app version, Boostcamp is a good option.
App Version of PHAT Program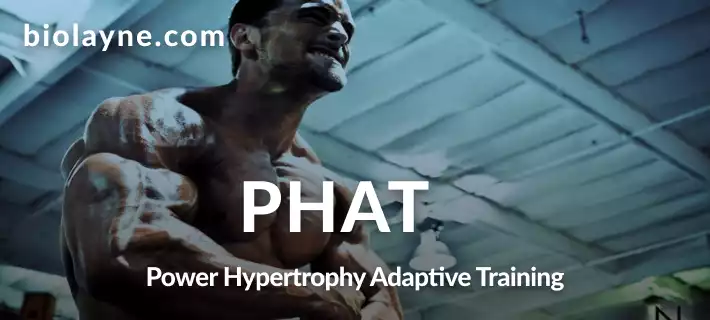 PHAT Workout Program - Boostcamp App
Prefer an app to a spreadsheet? If so, you're in luck!
Boostcamp has a free app version of the PHAT Program that you can use directly from your phone.
It tracks your progress and calculates your lifts, just like a spreadsheet.
Works on iOS and Android.
Get PHAT App
Lift Vault earns a commission if you click this link and make a purchase at no extra cost to you.
PHAT Workout Program Spreadsheet

PHAT Workout Log TEMPLATE
PHAT Frequently Asked Questions (FAQs)
What is PHAT?
PHAT stands for Power Hypertrophy Adaptive Training. The PHAT workout is a strength and hypertrophy program developed by Dr. Layne Norton for athletes looking to make gains in both size and power. This is accomplished through hypertrophy focused training days and power focused training days. It has 5 training sessions per week and lasts for a total of 12 weeks, comprised of four 3 week cycles (2 weeks training, 1 week deload). The frequent deloads are due to the high volume and intensity of the training weeks.
Who should run PHAT?
Anyone looking to build strength and muscle mass is welcome to try PHAT, but due to the high volume, high intensity, and wide array of prescribed exercises, it's hard to recommend this program for beginners. Plus, beginners would make faster progress on a linear progression program like the Candito Linear Program.
Deloading every third week is a waste of time for beginner strength athletes (Permanent Disclaimer About Deloads on Any Program: assuming the athlete is still making gains and is not feeling rundown). For pure aesthetic goals, this is a fine program to run as soon as you are comfortable with the exercises.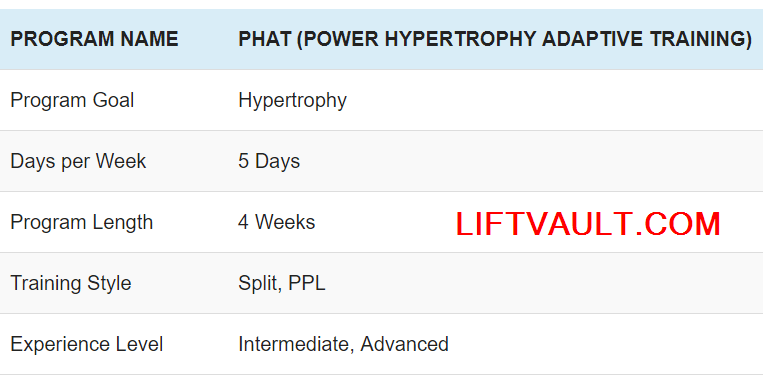 Updates:
October 28, 2019: Fixed the squat calculation in the spreadsheet thanks to a user that reported an issue using the contact form.