Aventador is a pre workout supplement by Diamondtech Performance Supplements known for containing the stimulants DMAA and DMHA. It also contains some other ingredients rarely seen in pre workouts like Tribulus and NMDA.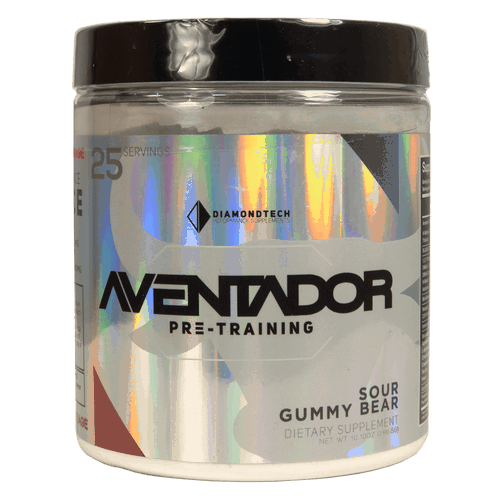 It has been receiving a growing amount of attention in back half of 2020 and 2 Day Supps was kind enough to send over a sample for me to try out.
Unfortunately, I didn't love Aventador. For me, it didn't provide the focus and motivation I was looking for in the gym. It also didn't stand out for other areas like euphoria or energy. It was just okay, not really remarkable. Having recently tried 1'3 Volt, Hooligan, and Shockwave, it really didn't stand up to those pre workouts head to head.
With that said, it comes in a pretty decent price point of $40 from Muscle Players, so if you'd like to give it a try I'd recommend picking it up from there. Use promo code LIFTVAULT to save 15%.
Value Pick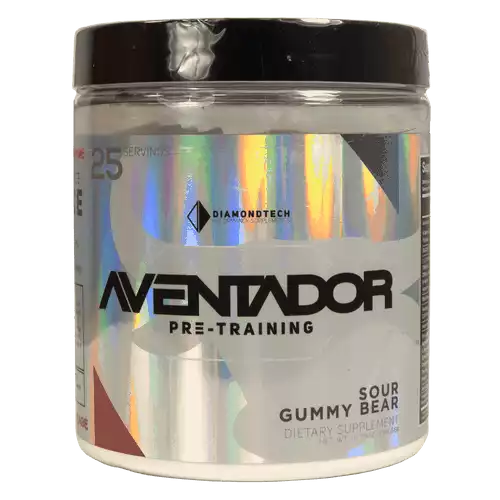 Aventador Pre Workout - Diamondtech Performance
One of the new kids on the block in 2020 for DMAA pre workout supplements. Not the strongest DMAA pre workout, but one of the least expensive.
Sold out.
Check out the strongest pre workouts below for the best alternatives to Aventador.
See Strongest Pre Workouts
Lift Vault earns a commission if you click this link and make a purchase at no extra cost to you.
My Experience
I took Aventador after breakfast about 30 minutes before my morning workout. This is a pretty typical pre workout routine for me – nothing unusual here.
As expected, I started to feel the 400 mg caffeine kick in pretty quickly, followed by the 3 grams of beta alanine.
After that… not much! There was a bit of focus and motivation, but it was all very mild. I took this the day before trying Shockwave and that pre workout had noticeable DMHA effects, but I wasn't really picking up on much from Aventador.
If you're interested in trying out higher stim pre workouts, I'd recommend starting out with something like Brain Blitz as a starting point.
If you're looking for the strongest pre workout around – well, this is a subjective matter. With that said, I'd stake my reputation on Assassin pre workout impressing you. 1'3 Volt was also impressive, but skewed more toward motivation + mood enhancement vs. the Hulk Mode that Assassin engages.
Where to Buy Aventador Pre Workout
You can buy Aventador at the following retailers:
Aventador Ingredients List
Aventador's ingredient label was clearly designed to turn heads, so let's oblige and give it a look.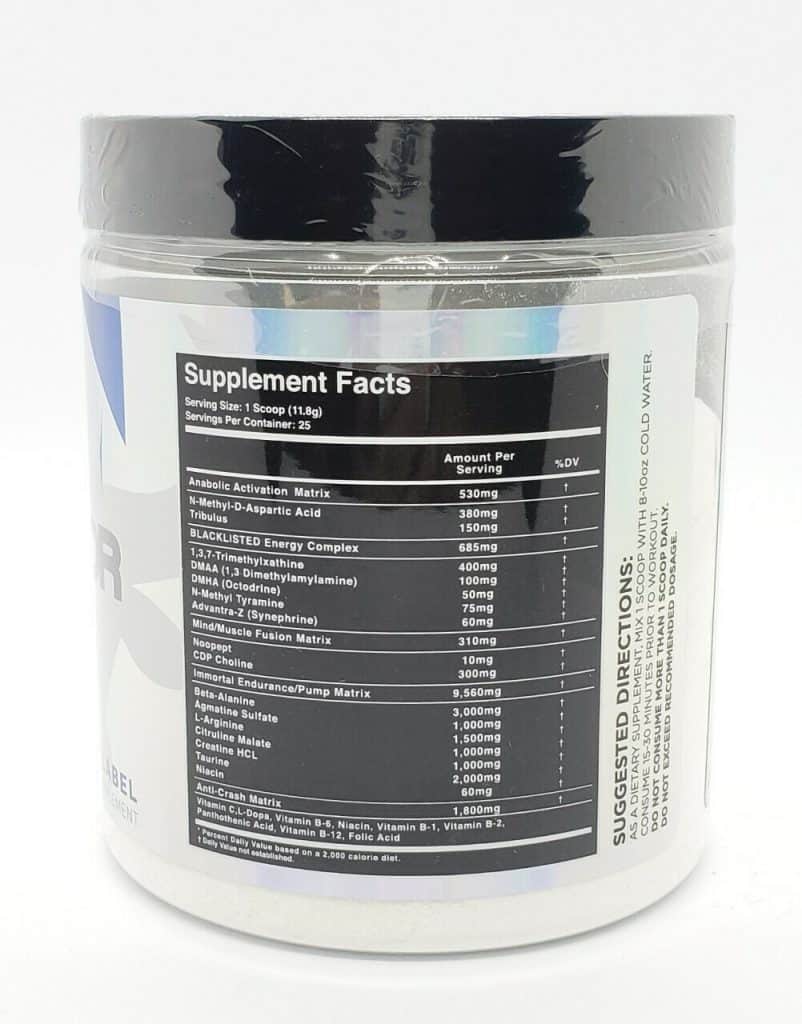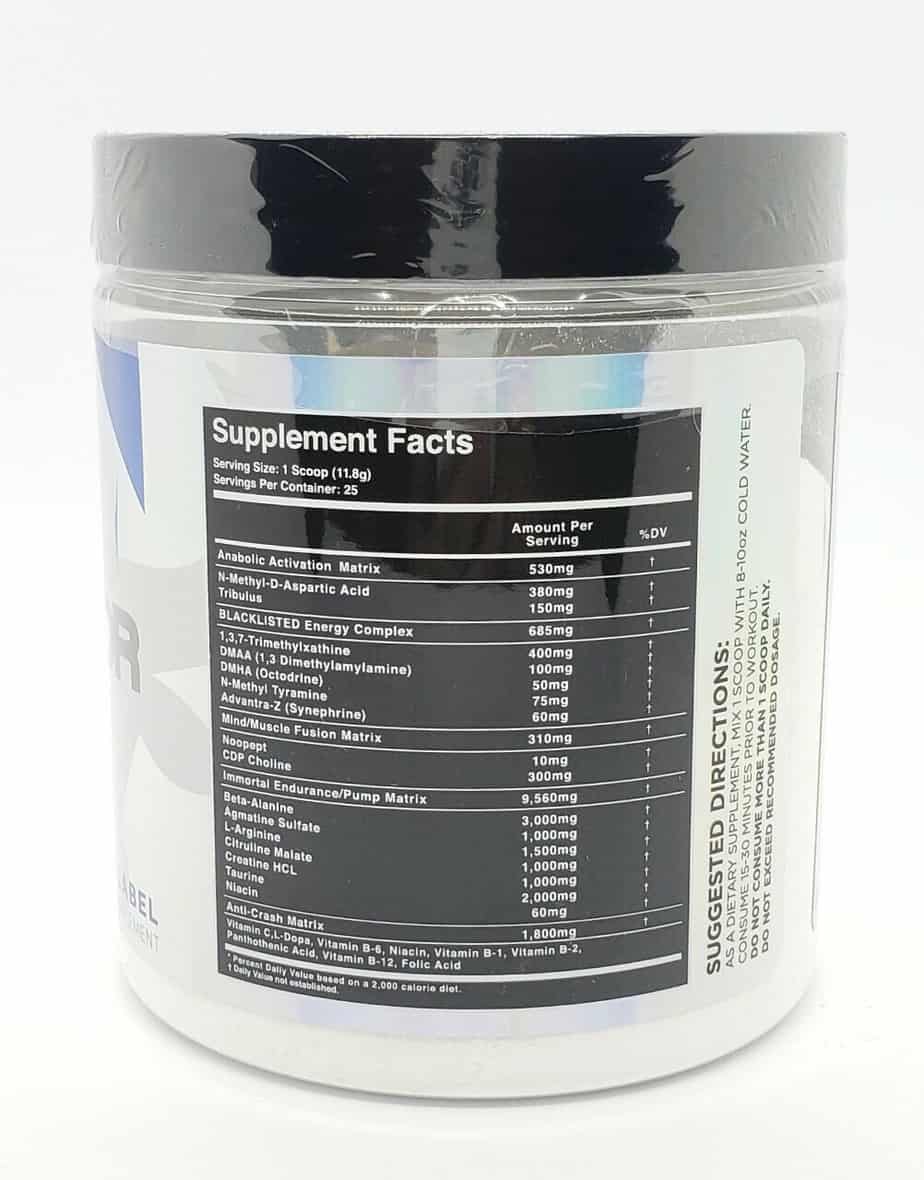 N-Methyl-D-Aspartic Acid – 380 mg
N-Methyl-D-Aspartic Acid is an amino acid that mimicks the actions of glutamate, acting as an agonist at the NMDA receptor.
NMDA has not been shown to increase muscle growth during resistance training (source), though it seems to be marketed as a muscle mass enhancer and testosterone booster.
Standard dosage is between 2 grams and 3 grams, so this is not a clinical dosage (Examine).
Tribulus – 150 mg
Tribulus is an herb commonly taken for enhancing libido and reducing blood pressure. It does not have any impact on testosterone production.
150 mg is not a significant dose, which commonly ranges from 5 grams to 6 grams (Examine).
1,3,7 Trimethylxathine – 400 mg
This is just caffeine anhydrous. I guess they're just trying to make it seem more exotic?
400 mg is a very solid dose of caffeine.
DMAA – 100 mg
DMAA is a stimulant known for providing energy, focus, and euphoria by increasing concentrations of the neurotransmitters dopamine and epinephrine.
100 mg is a very strong dosage. It is more commonly seen in ranges from 45 mg to 65 mg.
Note: Based on how I felt after taking this pre workout, I do not think it has 100 mg of DMAA in it. This is purely my own opinion based on my own experience.
Related: DMAA pre workouts, Where to Buy DMAA Powder Online
DMHA – 50 mg
DMHA is also a stimulant, similar to DMAA. It can boost energy, motivation, and provide euphoric effects as well. It also acts on neurotransmitters like dopamine and epinephrine and should be used sparingly, if at all. It became a more popular ingredient as DMAA faced increasing amounts of scrutiny from regulatory agencies like the FDA.
50 mg is a relatively small dosage for a pre workout, which usually have between 150 mg and 250 mg when DMAA is included.
Related: DMHA pre workouts, Where to Buy DMHA Powder Online
N-Methyl Tyramine – 75 mg
NMT is a stimulant, typically included at a dosage around 200 mg in supplements.
Advantra-Z (Synephrine) – 60 mg
Synephrine is a stimulant, also known as bitter orange extract.
60 mg is a solid dosage of synephrine.
Noopept – 10 mg
Noopept is a synthetic nootropic ingredient with cognitive boosting and psychostimulatory effects.
10 mg is a somewhat light dose. Many supplements containing Noopept include 20 mg to 30 mg.
CDP Choline – 300 mg
CDP choline is a cognition enhancer, though it has only been studied to a limited extent.
300 mg is within the 250 mg to 500 mg range shown to increase attention in adult women and is likely an effective dose in Aventador pre workout.
Beta Alanine – 3 g
Regular usage of beta alanine has been shown to increase power output. That means it must be taken daily, not just with a pre workout. Nonetheless, 3 grams is a solid dosage.
3 grams to 4 grams is a clinical dosage for beta alanine, so Aventador is okay here.
Agmatine Sulfate – 1 g
One gram of agmatine sulfate is an good dosage for helping boost nitric oxide in the bloodstream, helping with pumps.
L-Arginine – 1,500 mg
Arginine is required to create nitric oxide in the body, but interestingly it has performed unreliably in studies when measuring blood flow increases. This is thought to be due to poorer bioavailability of L-Arginine vs. other supplements like L-Citrulline, which is processed in the kidneys and turned into arginine there.
The standard dosage for L-Arginine is 3 grams to 6 grams, so this falls short of a clinical dosage (Examine).
Citrulline Malate – 1,000 mg
Citrulline malate is included as a pump and power ingredient, helping improve endurance, reduce fatigue, and increase production of nitric oxide.
1 gram is way lower than the recommended dose, which is in the 6 gram to 8 gram range. This is highly unusual, as most pre workouts nail this ingredient, rarely going below 5 grams of citrulline malate. I'm curious why Aventador decided to go with 1 gram here.
Creatine HCL – 1,000 mg
Creatine HCL has higher bioavailability than creatine monohydrate (i.e. it gets absorbed more easily by the body), so you need to ingest less of it to achieve similar effects. Like creatine monohydrate, creatine HCL helps the body create more ATP, allowing the muscles to create more power output.
1 gram is the clinical dosage of creatine HCL. It should be taken daily in order to be effective, so I typically don't look for creatine in my pre workouts – I take it separately, usually mixed in with a protein shake.
Taurine – 2,000 mg
One of the star ingredients of Red Bull so many years ago, taurine achieves a number of different effects on the body.
Taurine is kind of a "miscellaneous" pre workout ingredient with a range of potential, albeit limited, physical benefits. It can aid in blood flow, reduce cramping, and act as a booster to anti-oxidant defense systems (Examine). It's a pretty insignificant ingredient in pre workout compared to other ingredients, but doesn't hurt anything either.
2 grams is a solid dosage of taurine to achieve any effects it has to offer.
Niacin – 60 mg
Niacin, also known as vitamin B-3, has a wide array of benefits ranging from increasing HDL cholesterol (the "good" cholesterol) concentrations, reducing LDL cholesterol concentrations, and reducing the concentration of triglycerides.
Neat! So… why is it in a pre workout? I can't say for sure, but it's probably because there is some research showing that niacin can increase blood flow through a variety of mechanisms. It's worth noting that the research around this effect is limited and conflicted, which is probably why niacin is rarely included in pre workouts.
Anti Crash Matrix – 1,800 mg
Aventador's anti crash matrix consists of vitamin C, L-Dopa, vitamin B-6, Niacin (again! for good measure, I guess?), Vitamin B-1, Vitamin B-2, Panthothenic Acid, Vitamin B-12, and Folic Acid.
Aventador Pre Workout Review
Aventador Pre Workout Review
Aventador didn't meet my expectations for a pre workout claiming to contain both DMAA and DMHA. It felt alright, but wasn't really anything special. I was expecting more focus, motivation, euphoria… but felt like it was pretty flat. 
Pros
No crash side effects
Decent energy boost
Under $40
Cons
Effects were too subtle
I don't think the ingredient label is accurate (just saying…)
Lack of significant focus, motivation, and euphoria