This pre workout has been discontinued as a result of 2021 DMAA crackdown.
Once it's gone, it's gone forever.
Links where you can find it:
Check out other DMAA pre workouts, DMHA pre workouts, or my list of the strongest pre workouts.
Static Labz got a lot of attention in 2020 with the release of 1'3 Volt and Shockwave, two high stim pre workouts that I am a fan of.
As we head into 2021 there's a new kid on the block: Electro.
Why should you care? Electro has not one, but two types of DMAA in it: 1'3 DMAA and the relatively uncommon 1'4 DMAA. As DMAA pre workout supplements continue to make a minor come back, this pushes the envelope even more.
My pals at Muscle Players sent me over a tub to review for you, my loyal readers.
Because let's face it: anyone can slap "DMAA" on the ingredient label. What really matters are the effects, regardless of whatever may or may not be inside the tub.
Two Types of DMAA!!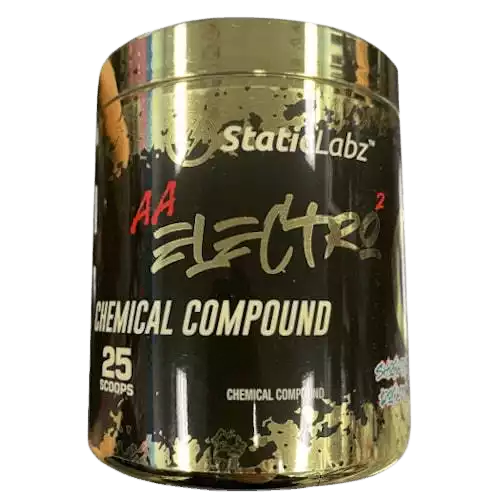 Where to Buy Electro + Discount Codes
You can find Electro at the following retailers:
My Experience
Electro will feel familiar those who have experienced with 1'3 Volt and Shockwave. Of course you'll want to know which is better and honestly it's hard to say. I really liked 1'3 Volt and Shockwave – accordingly, I like Electro too.
Shockwave gave me a slight dip in energy/mood after taking it and I think I felt less of that with Electro. I think Electro has a bit more focus than 1'3 Volt, but again, they're really similar.
If you didn't like 1'3 Volt or Shockwave, you probably won't like Electro. If you want a bit more energy than Dark Energy gives, you will probably like Electro.
If you think Dark Energy provides unparalleled happiness and mood elevation, I don't think Electro is going to change your mind. In that case, stick with Dark Energy.
Effects
The first time I tried Electro I was tired. I tried it again two days later after I got more rest. Results were similar both times: smooth energy, increased motivation, some mood elevation but nothing crazy.
I took a full serving (12 grams) of Electro along with my normal breakfast shake (oatmeal, banana, protein powder, egg, peanut butter powder, and milk).
Given the amount of stimulants in Electro, the effects are surprisingly smooth. It kind of sneaks up on you, gradually ramping up the energy, focus, and motivation without feeling too intense.
It's kind of hard to describe the exact effects. I didn't feel a crazy rush, but all of a sudden I noticed that I wasn't tired anymore. I easily moved from workout to workout, maintaining my focus.
Mood-wise, I felt my tired grumpiness go away and I was happy to be training at the gym. It's say it has low to medium mood elevation, but it's definitely not an intense or aggressive feel. Assassin remains undefeated there.
This has a nice, long-lasting effect. For me this easily lasts four to five hours and keeps me going after my workout.
I took Shockwave again to remember how it feels and I'd say Electro is very similar to Shockwave. Great energy and focus with a nice boost in mood too.
Compared to Dark Energy, Electro has a "higher stim" feel and a bit more focus. Dark Energy never did a ton for me with respect to mood elevation, but I might still give it a slight edge over Electro in that department.
Scoop Size
A full serving of Electro is 12 grams, which equates to a little bit less than a full, level scoop.
If you use a perfectly level scoop, that weights about 13 grams. It'd probably be fine to take 13 grams instead of 12 grams, but you will have lose two or three servings per tub.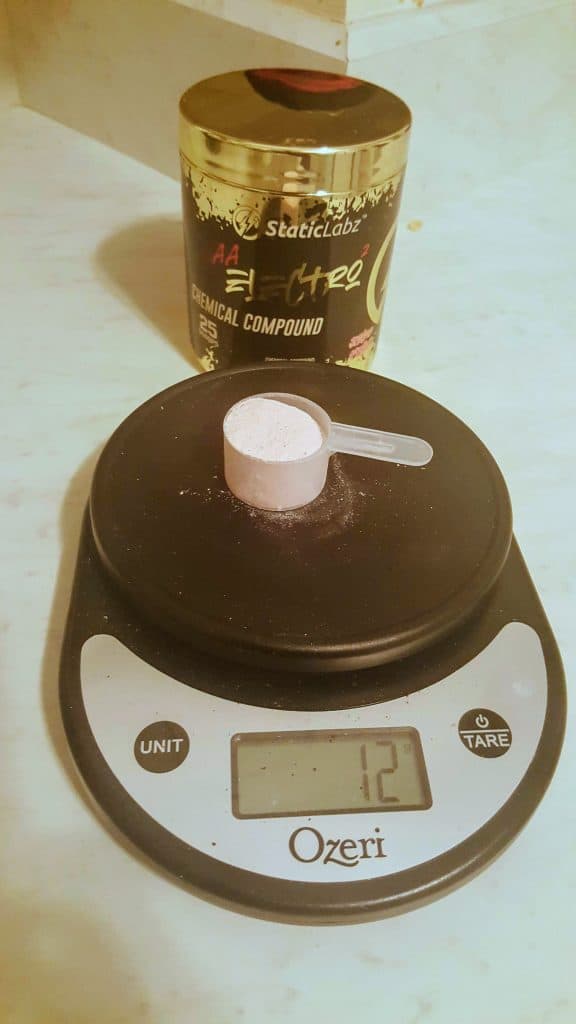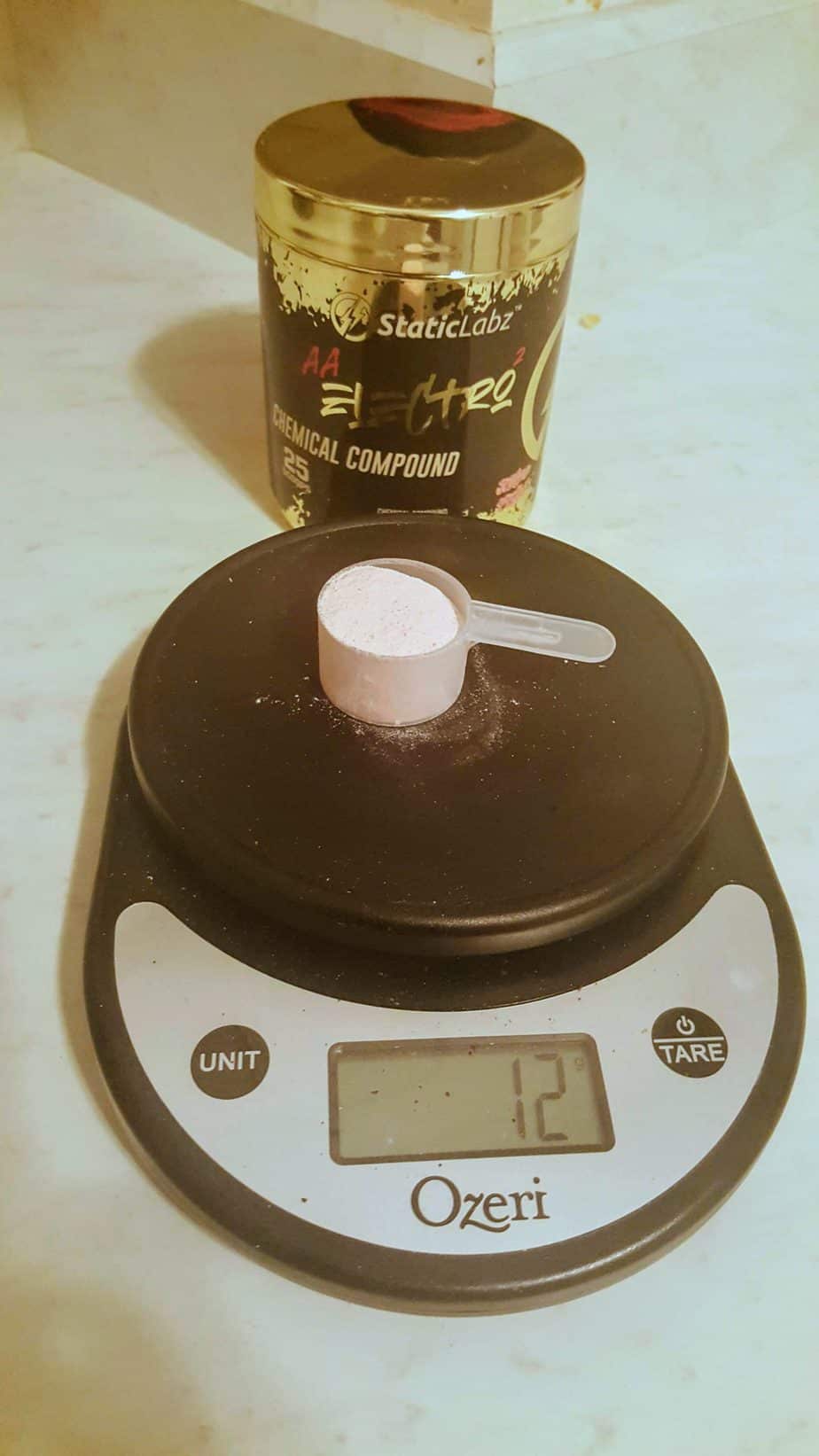 Flavor
I tried the "Juiced Punch" flavor.
It's pretty light and very easy to drink. I would not classify it as tasty, but it's not offensive at all.
It's fine. I wouldn't worry about the flavor.
Side Effects
I really didn't notice any negative side effects from Electro. This is a huge plus for me.
Electro Ingredients Label
Here's the ingredients label for Electro pre workout.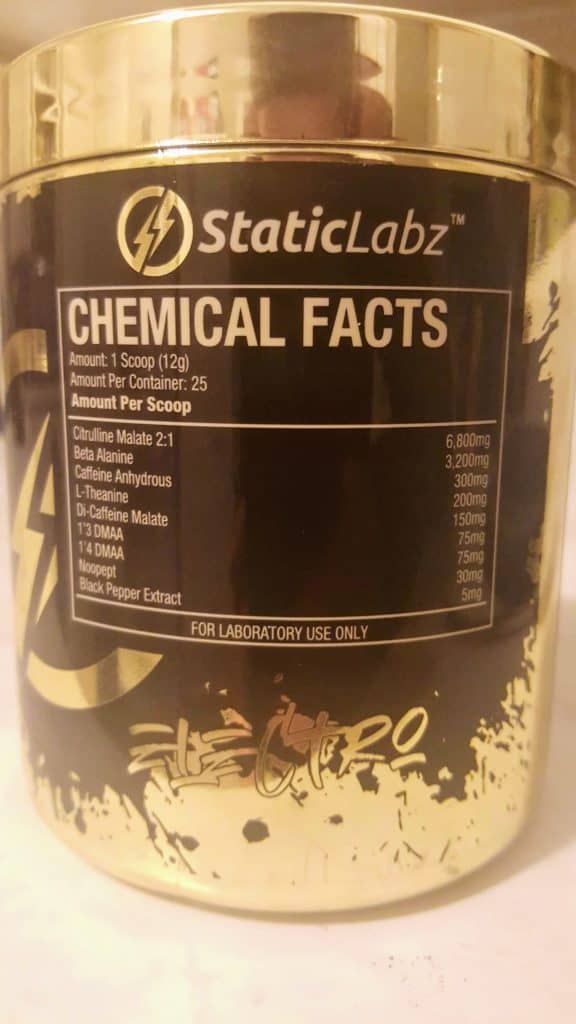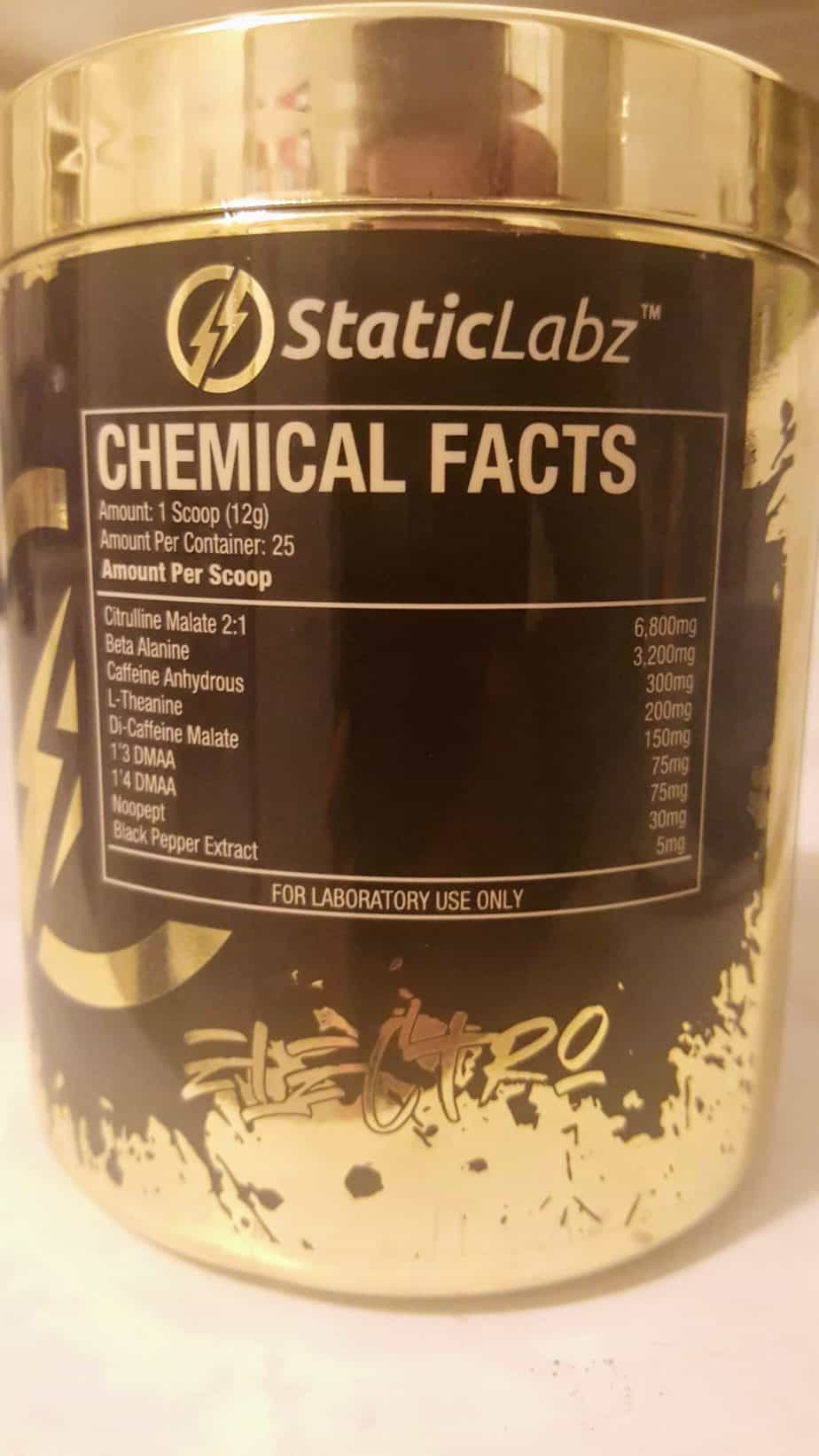 Citrulline Malate 2:1 – 6,800 mg
Citrulline Malate is a combination of L-Citrulline and malic acid. This is one of the most popular athletic supplements and has consistent evidence supporting its ability to increase nitric oxide production, endurance, and power output.
A clinical dosage of citrulline malate 2:1 is 6 grams, so Electro delivers a great dosage.
Beta Alanine – 3,200 mg
Beta alanine is the ingredient that creates a tingling sensation after taking pre workout. When taken daily, it has been shown to significantly increase power output.
3.2 grams is a clinical dosage of beta alanine.
Caffeine Anhydrous – 300 mg
Caffeine anhydrous is the standard form of caffeine. It's the one we all know and love.
300 mg is a decent dosage, but when combined with the 122 mg effective yield of the di-caffeine malate we get to 422 mg of caffeine. That's great!
L-Theanine – 250 mg
L-Theanine is an amino acid that is often combined with caffeine to help "take the edge off" and provide relaxing effects.
Di-Caffeine Malate – 150 mg
Di-caffeine malate is the extended release version of caffeine. It is typically 75% caffeine anhydrous and 25% malic acid, which means 150 mg would yield 122 mg of caffeine anhydrous.
1'3 DMAA – 75 mg
1'3 DMAA is the "standard" form of DMAA that is most commonly seen in pre workout supplements. It is a stimulant known for its focus, energy, motivation, and euphoria.
75 mg is a strong dosage of 1'3 DMAA.
1'4 DMAA – 75 mg
1'4 DMAA is another form of DMAA and is similar to 1'3 DMAA. There really is not sufficient evidence available to fully understand the differences between 1'3 DMAA and 1'4 DMAA, especially with respect to athletic performance.
Noopept – 30 mg
Noopept, also known as N-Phenylacetyl-L-prolyglycine ethyl ester, is a synthetic nootropic ingredient with cognitive boosting and psychostimulatory effects.
30 mg is a very solid dose of noopept.
Black Pepper Extract – 5 mg
Black pepper extract helps with absorption of supplements.
5 mg is a standard dosage.
Second Opinions
While I personally enjoyed this pre workout, everyone is different! Here are some other reviews of Electro to help you decide if it's right for you.
Fitness Deal News
Muscle Players
Two Types of DMAA!!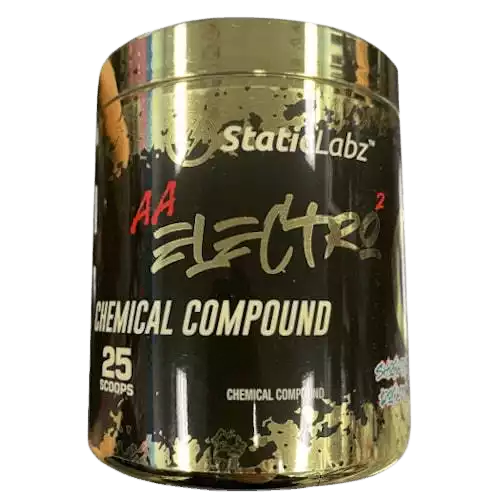 Electro Pre Workout Review
Summary
Electro pre workout by Static Labz is another winner for me. The smooth energy, long-lasting effects, and lack of crash are all key features. It makes me feel good, focused, and ready to get work done in the gym. I don't think it has changed the pre workout game, but it's another solid product from Static Labz.
Pros
Clean energy
Long lasting (4-5 hours)
No crash