The 6 day PPL program known as the "Reddit PPL" or "Metallicadpa PPL" is a great workout routine for those looking to increase strength and gain size. Several different spreadsheets have been created for this program, which I go into a bit below. I'm bringing forth a new and improved version here after being frustrated by the shortcomings of past efforts.
It's the same program, just more user-friendly.
I'm posting this as a separate post because so many people search for the "Reddit PPL" and end up finding an old, not-so-great spreadsheet. This same spreadsheet will be posted on the Metallicadpa PPL page as well.
Reddit PPL Program Overview
It combines three workouts: a push workout, a pull workout, and a legs workout – run twice each week. That's six days per week. This allows for high workout frequency and a full body split workout while still allowing each muscle group adequate recovery time.
Deadlift 1x per week
Bench Press 2x per week
Squat 2x per week
Barbell row 1x per week
There are also lots of accessory movements, including overhead press, incline dumbbell press, tricep pushdowns, Romanian deadlifts, etc.
Don't be intimidated.
If you don't know a movement already, you'll learn it. You need to start light and work your way up. There's a lot of volume in this program, so starting light is key.
The Improved Reddit PPL Routine – Why It's Better
There are five key changes to this version of the spreadsheet that make it easier to use:
It tracks up to 12 weeks at a time. (The old 1RM version of the program didn't do this.)
It automatically calculates your progression based on the number of reps you achieve.
You can slow down or speed up progression rates for each lift based on your own preferences.
You can customize which exercises you do for the push, pull, and leg days.
You can customize the intensity for each rep range (if you'd like – but you shouldn't need to).
Reddit PPL on Boostcamp App
Reddit PPL App Version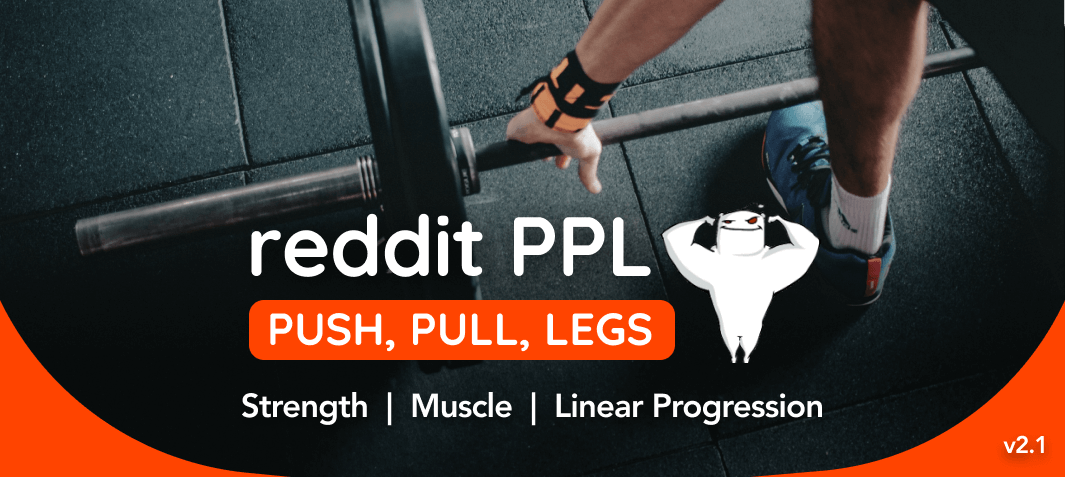 Reddit PPL - Boostcamp App
Prefer an app to a spreadsheet? If so, you're in luck!
Boostcamp has a free app version of the Reddit PPL Program that you can use directly from your phone.
It tracks your progress and calculates your lifts, just like a spreadsheet.
Works on iOS and Android.
Lift Vault earns a commission if you click this link and make a purchase at no extra cost to you.
Reddit PPL / Metallicadpa v3.03 Routine Spreadsheet
Prefer an app version? This program is available on the Boostcamp App.
Updated 6/29/20 to link to v3.03, which switches barbell rows from 3×5 to 5×5 (last set AMRAP). This is a correction and aligns the program with the original version posted on Reddit. Thanks to a Lift Vault reader for pointing it out!
Metallicadpa v3.03 - Beginner PPL Template (1RM inputs + Progression) | LiftVault.com
The Original Reddit PPL Recommended Routine Spreadsheet (Old Version)
Inspired by a post on /r/fitness, this is the "recommended routine" on /r/fitness. It is also known as the Metallicadpa PPL. Several versions of this spreadsheet exist (same program, different spreadsheets).
The Original Reddit PPL (6 Day) | LiftVault.com
Edit Notes
2/9/20 Edit:
I fixed an error in the progression formula for, at least, DB curls. This issue should now be resolved.
Thank you to the helpful user that contacted me about the issue.
1/23/20 Edit:
I reduced the intensities slightly. If you think a weight is way too light, you can either increase your 1RM inputs, increase the progression rate, or allow yourself an easy week or two before things get heavier. Up to you.
1/20/20 Edit:
I changed the compound lift rep ranges from 8/8+ to 5/5+.
A helpful reader noticed that the rep range for the major compound lifts were originally 5/5+, then got switched to 8/8+ somewhere along the way when the initial Metallicadpa 1RM input spreadsheet was shared several years ago (2016 or earlier). You can see this in the "original" Reddit PPL spreadsheet. I have changed the Reddit PPL v2.2 spreadsheet to reflect this in v3.0. If you want to keep the 8/8+ rep range, simply change the cells in column D. The weights will update automatically and progression will work normally.
Shoot me a note if anything else looks wonky. Thanks!
——-