The Power Pre Workout, also known as the Russian pre workout, is a high stim pre workout supplement from Badass Labz. It has been hyped up by Uncle Eddie for the last several months and is finally available from Muscle Players.
It promises "strong af" energy and focus with "no weird side effects."
So how does it feel?
It feels great.
It's up there with Wrecked Extreme and Flame for me as some of my favorite DMHA pre workouts available right now. It hits hard, last a long time, kept me 100% dialed in at the gym, and delivered on its promise of no negative side effects.
If you're looking for a new stim junkie pre workout, this is worth checking out.
If you want to try it out yourself, check out the link below and don't forget to use LIFTVAULT10 to save some cash!
A++ DMHA Focus & Energy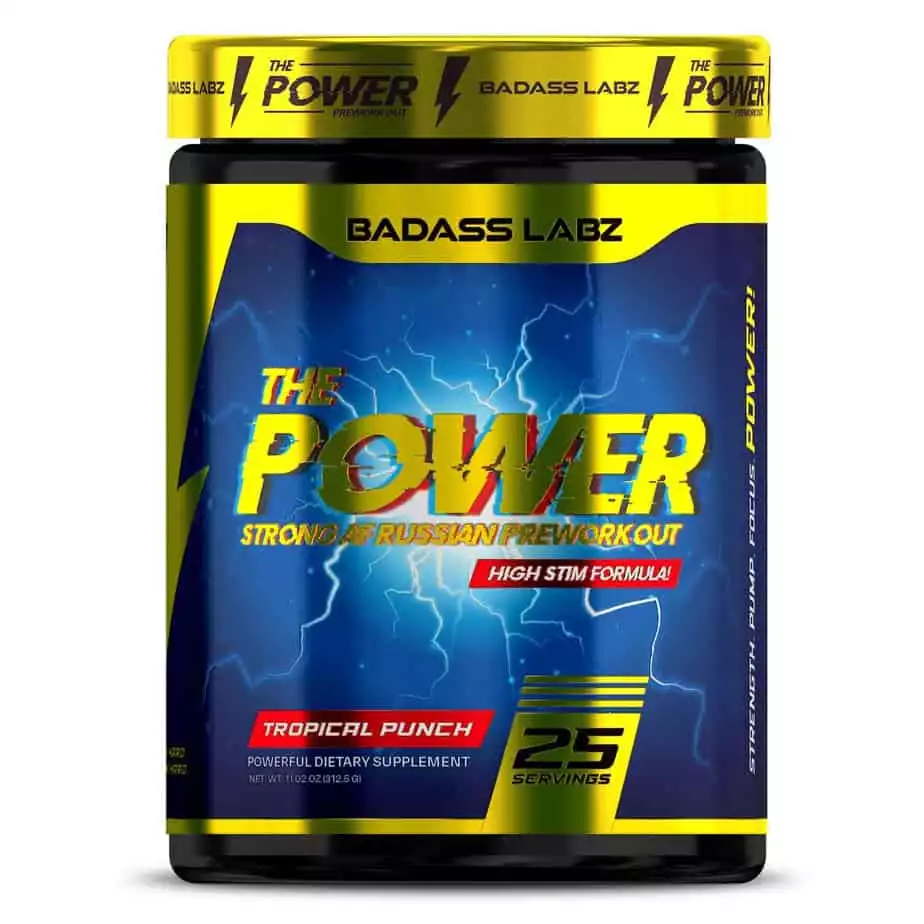 The "Russian" Power Pre Workout - Badass Labz
Brand spanking new DMHA pre workout for stim junkies from Russia with love.
MASSIVE energy, focus, and motivation without negative side effects.
LIFTVAULT10 = 10% off at Muscle Players
LIFTVAULT15 = 15% off at Supp Kingz
Caffeine: 400 mg
DMHA: Amount unconfirmed
Shop Supp Kingz
Shop Muscle Players
Lift Vault earns a commission if you click this link and make a purchase at no extra cost to you.
Where to Buy Russian Power Pre Workout
Power pre workout (aka Russian Pre Workout) is available from a variety of retailers, including:
My Experience
I just got done in the gym and I have to say that The Power pre workout absolutely delivers. Sometimes I need to try a pre workout a few times to figure out how I feel about it, but every so often I know it's a winner straight away. This is a winner.
At this point, the next question is always "how does this pre workout compare to Crack or Excelsior or Assassin or (insert pre workout of choice here)."
And while I get where these questions are coming from, I'm not sure they're as helpful as people suspect they are. The reason for this is simply that people react differently to various pre workout supplements.
But still, in vain, I'll try to relay my personal experience:
There's more focus/energy than Crack. Less euphoria/mood lift.
I don't mess with Excelsior. I took it once, it felt like amphetamines, and I crashed hard. The Power Pre Workout is nothing like that.
It's not as aggressive as Assassin.
It deserves the same level of attention as Flame, Crack, Assassin, Wrecked Extreme, Pre Phase, etc. I suspect different people will all have their own favorite, but it's up there with some of the best pre workouts available at the moment.
Effects
The main effects here are energy, urgency, and focus. I felt super dialed in and ready to do work in the gym.
My heart wasn't beating out of my chest and I didn't need to take extra rest between sets due to high stimulant doses. Everything was ordinary there.
There's definitely a thermogenic aspect to the effect profile of this pre workout. This could be the alpha yohimbine. I'd guess there's 1 mg, maybe 1.5 mg, of alpha yohimbine per serving. There are minimal chills, etc. Unless you're incredibly sensitive to alpha yohimbine, you should be fine.
I had a great mind/muscle connection with this pre workout due to the enhanced focus.
This pre workout kicks in pretty quickly and then just keeps you at a 9/10 or 10/10 for a good 2 or 3 hours. Even now, 5 hours later, I'm feeling energized and focused. Make no mistake: this is a strong pre workout.
I didn't experience any noticeable side effects, which is super important to me. I have enough effective supplements already, why would I take something that makes me feel bad?
Flavor
As far as I know, the Power Pre Workout is only available in one flavor: fruit punch. It's actually nice. It won't win any awards, but it gets a thumbs up from me.
Scoop Size
A full serving is 12.5 grams. This equates to slightly less than a full, level scoop.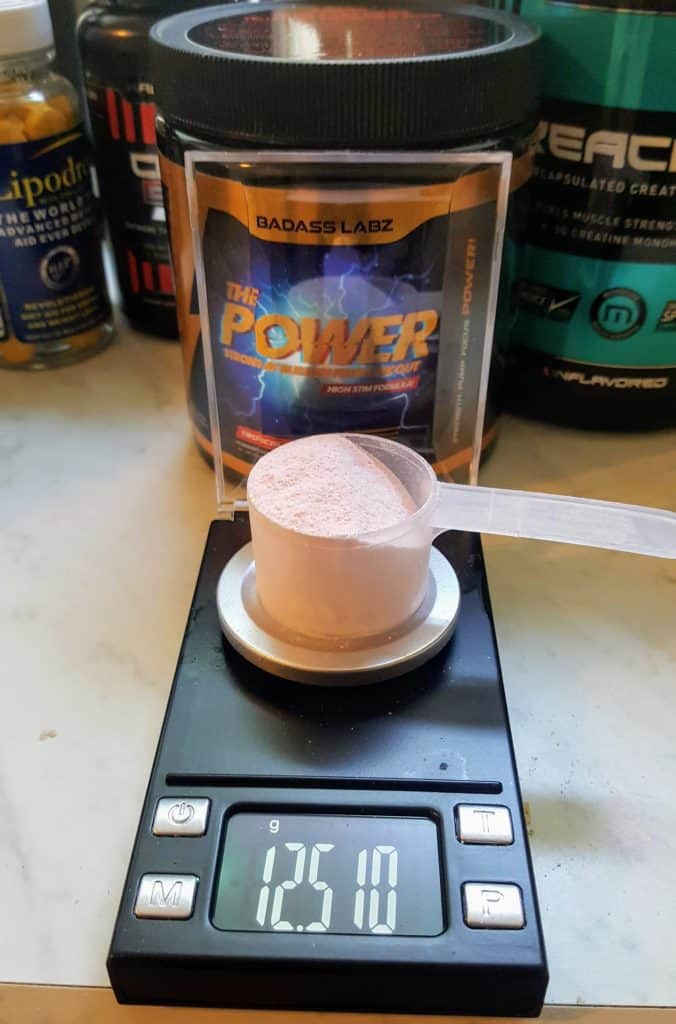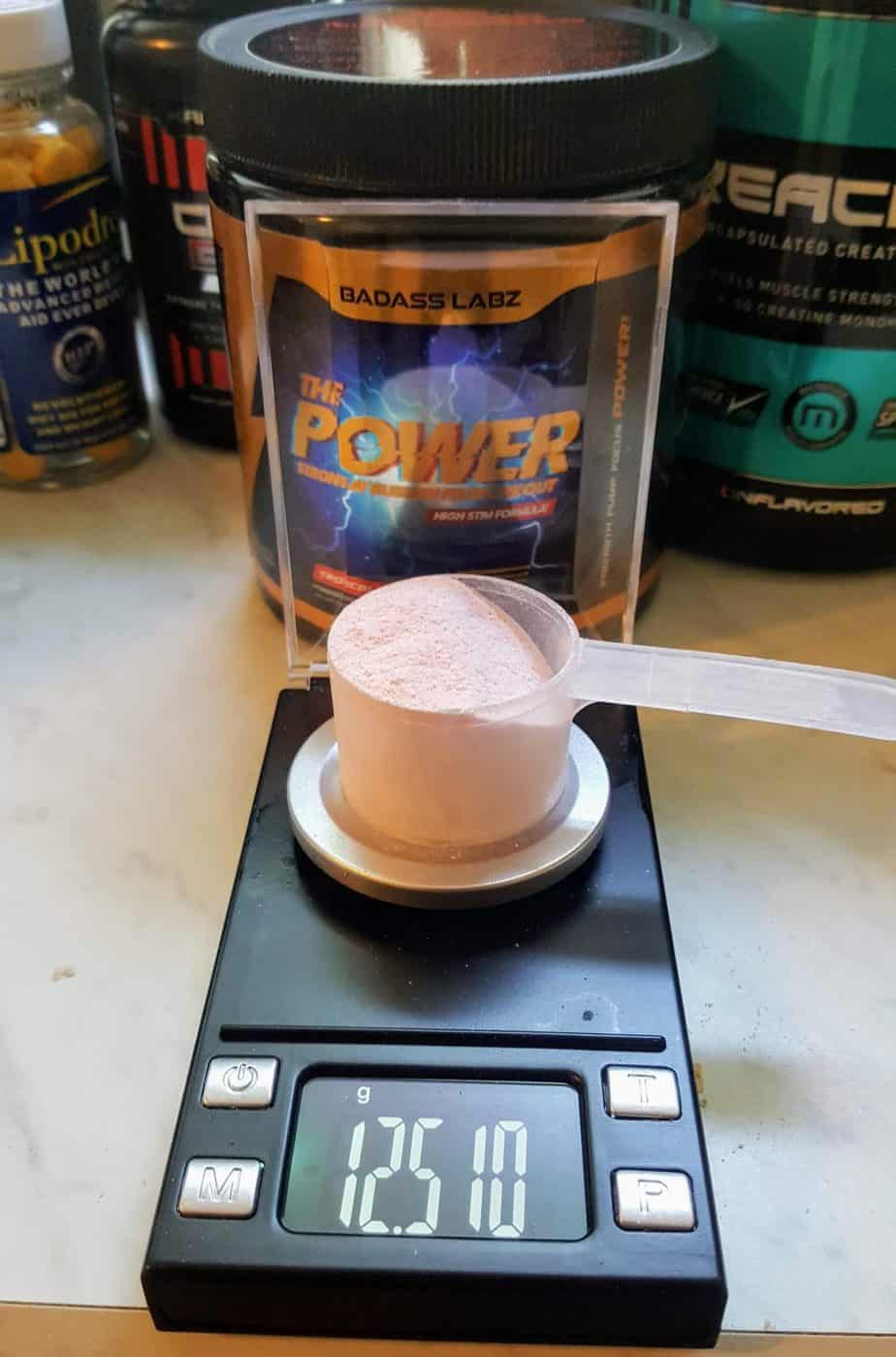 Warning Label
The Power Pre Workout comes with an interesting warning label on the lid.
Here's a photo of the warning label: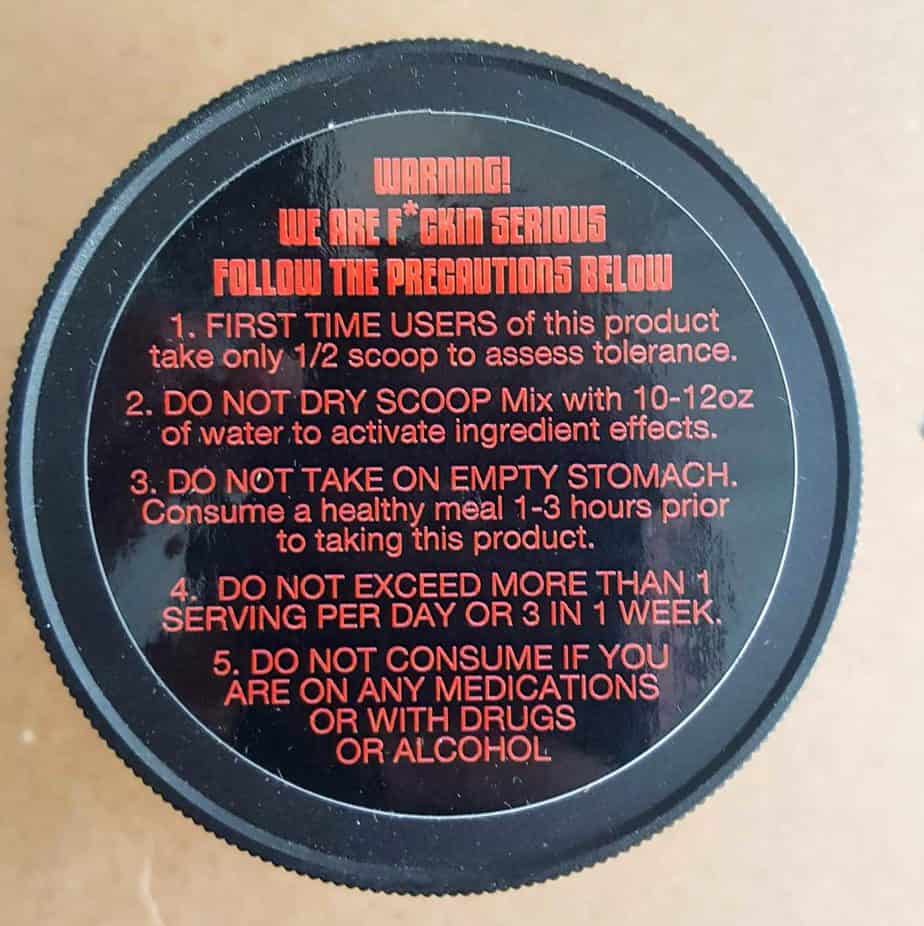 It reads:
"Warning! We are f*cking serious. Follow the precautions below.
First time users of this product take only 1/2 scoop to assess tolerance.
Do not dry scoop – mix with 10-12 oz of water to activate ingredient effects.
Do not take on empty stomach. Consume a healthy meal 1-3 hours prior to taking this product.
Do not exceed more than 1 serving per day or 3 in 1 week.
Do not consume if you are on any medications or with drugs or alcohol."
I suspect this label is more for marketing purposes than legitimate advice. Still, if you're not used to high stim pre workouts then it would absolutely be in your best interest to start with a half scoop.
"Russian" Power Pre Workout Ingredients Label
Power Pre Workout uses a proprietary blend, which means we do not know how much of each ingredient is contained in a serving. Sometimes this is done by manufacturers to under-dose, or "pixie dust" ingredients. Other times this is used as a legitimate practice for protecting trade secrets.
I always prefer fully disclosed, 100% transparent labels, but sometimes proprietary blends can deliver the goods and fully disclosed labels can feel weak. So you never know, which is why we test…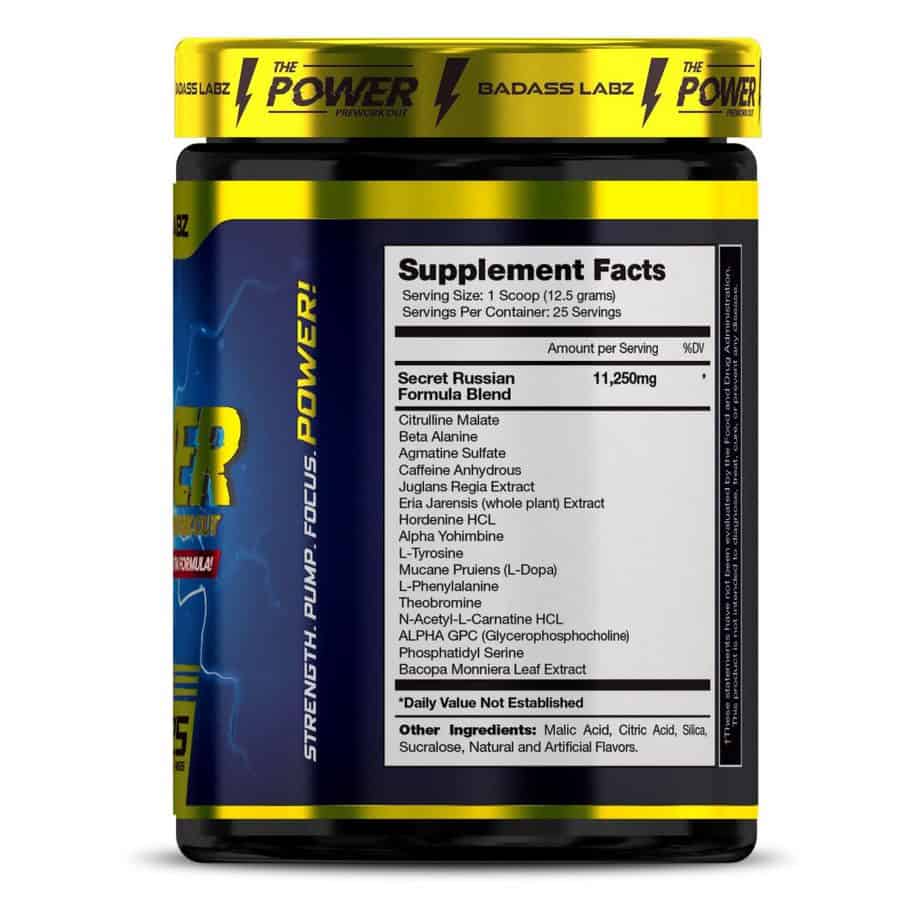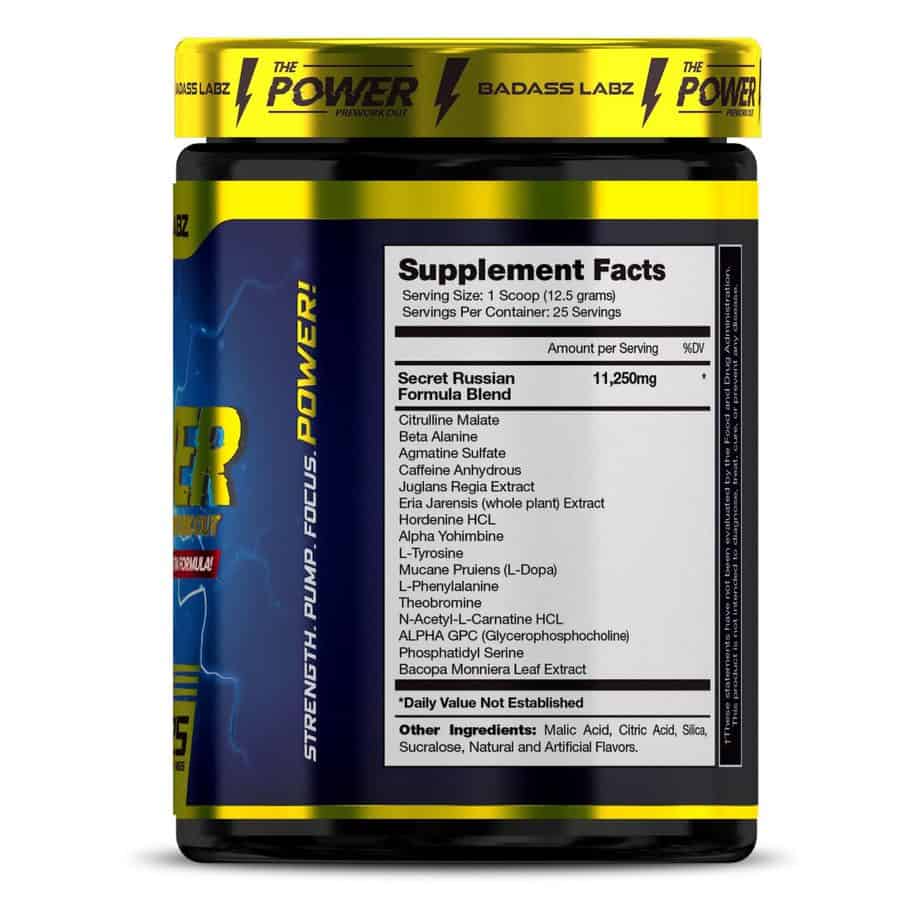 Citrulline Malate
L-Citrulline Malate is one of the most common pre workout ingredients. It has extensive evidence supporting its effects on increasing nitric oxide production, power output, and endurance.
Unfortunately, we do not know how much citrulline malate is in each serving of Power pre workout because of the proprietary blend. I doubt anyone cares very much, as this isn't really advertised as a pump pre workout.
Beta Alanine
Beta Alanine has been repeatedly shown to increase maximal strength levels when taken regularly. Like Citrulline Malate, it is one of the most common and best researched pre workout ingredients on the market today.
And yes, beta alanine is also the "tingling" ingredient. I personally didn't notice a ton of beta alanine tingling from The Power Pre Workout, but to me it doesn't really matter.
Agmatine Sulfate
Agmatine is often included in pre workout supplements as a pump ingredient, but more research is needed to understand how reliable these claims are.
As it can increase endothelial nitric oxide, theoretically agmatine can help boost nitric oxide in the body.
Caffeine Anhydrous
Caffeine anhydrous is the standard form of caffeine, known for increasing energy, alertness, motivation, and mood.
I connected with the guys at Muscle Players and they were able to confirm that a full serving contains 400 mg of caffeine.
Juglans Regia Extract (DMHA)
2-Amino-6-Methyl Heptane HCL, more commonly referred to as DMHA, is a hard hitting stimulant known for providing energy, euphoria, and motivation.
DMHA is quite similar to DMAA in terms of effects, it just requires a larger dosage. This made it a popular pre workout ingredient for replacing DMAA, giving rise to the popularity of DMHA pre workout supplements.
Eria Jarensis (whole plant) Extract
Eria Jarensis (N-Phenethyl Dimethylamine) is a stimulant that is becoming a popular alternative to DMAA or DMHA. Sometimes you'll see those ingredients combined, like with Pre Phase or Flame pre workout. It increases levels of dopamine and noradrenaline in the user and can enhance mood, increase motivation, and dial in concentration.
Hordenine HCL
Hordenine (N,N-dimethyltyramine) is a stimulant that is often included in recent "nootropic" products. It is not widely researched, so much of the information available comes from anecdotal accounts.
Alpha Yohimbine
Also known simply as Alpha Yohimbine or "Alpha Yo," rauwolscine is a "love it or hate it" stimulant.
Some folks are particularly sensitive to alpha yohimbine and will always avoid any pre workout supplement containing it.
Common negative side effects can include anxiety, headaches, chills, sweating, frequent urination, and increased blood pressure.
Badass Labz has confirmed that the Russian Pre Workout contains 1 mg of alpha yohimbine per serving.
L-Tyrosine
L-Tyrosine helps "smooth out" some of the harsher effects of stimulants and increase focus. Some limited research also shows it can act as a cognitive booster in stressful environments.
Mucana Pruriens (L-Dopa)
Also known as Velvet Bean, mucuna pruriens extract is a traditional herbal supplement with minor dopamine increasing and cortisol reducing effects, among other things.
One of the more reliable effects it has is a noticeable reduction in Parkinson's Disease symptoms, though that is not relevant here.
L-Phenylalanine
L-phenylalanine is one of the nine essential amino acids. It helps assist with the production of tyrosine, epinephrine, norepinephrine, and dopamine.
Theobromine
Theobromine is a compound, structurally similar to caffeine, naturally found in dark chocolate, coffee beans, and guarana berries. It lowers blood pressure, acts as a milder, longer lasting stimulant than caffeine, and may positive impact mood (source, source).
N-Acetyl-L-Carnitine HCL
L-Carnitine is a compound made in the body, composed of lysine and methionine. Once acetylated, it becomes Acetyl-L-Carnitine and is able to cross the blood-brain barrier much more easily.
While it is often included in fat burner products, like Herolean or Superhuman Burn, the research around its fat burning efficacy is mixed, with some positive effects shown for weight loss in obese subjects.
Acetyl-L-Carnitine also has potential in other areas, such as reducing depression, reducing fatigue in older adults, and helping with recovery from exercise.
Alpha GPC
Alpha GPC is a cholinergic compound that is produced within the body. It is used for enhancing cognition and increasing power output.
Phosphatidylserine
Phosphatidylserine is a phospholipid (fatty substance) that covers the cells within the body. It is produced within the body and can also be found naturally in liver, egg yolks, and soybeans. There is not much research available on how supplementing with phosphatidylserine can benefit humans. Limited research suggests it can provide a boost to exercise capacity and overall athletic performance.
Bacopa Monnieri Leaf Extract
Bacopa monnieri is an herb that may reduce stress & anxiety as well as improve brain function. While there is some interesting research around its usage as a supplement, further research is needed to better understand its effects.
Second Opinions
TJ over at Fitness Deal News gives us an exclusive first review of the Power pre workout on his channel. Check it out!
The Power Pre Workout (Badass Labz) Review
Summary
The Power Pre Workout (aka Russian Pre Workout) is a hard-hitting, focus-enhancing pre workout supplement that delivers the goods. Packing 400 mg of caffeine, DMHA, and Eria Jarensis, it hits that sweet spot of delivering exceptional drive and motivation without going overboard. Recommended, but only for experienced users.
Pros
Exceptional focus
Long-lasting energy (4+ hours)
No negative side effects
Cons
I think my only real complaint is that it's 25 servings per tub instead of 30