Vaso PMP is a pump pre-workout supplement from First Choice Supplements. It features a slew of ingredients to improve blood flow and increase nitric oxide production, including 8 g L-Citrulline, 5 g GlycerPump, 1 g Himalayan Pink Salt, and 600 mg VASO-6.
Simply put: Vaso PMP gives you pure pumps, and those pumps are glorious.
I've tried Vaso PMP twice, and both times the effects were a very swollen feel and looked with significant muscular contractions.
I could recommend this for anyone looking for a perfect pump or a late-night product to get a good pump. Beginners could easily take this and get great pumps as well.
Read on for additional details of my experience, the best prices for the Vaso PMP pump pre-workout, and a breakdown of its ingredient label.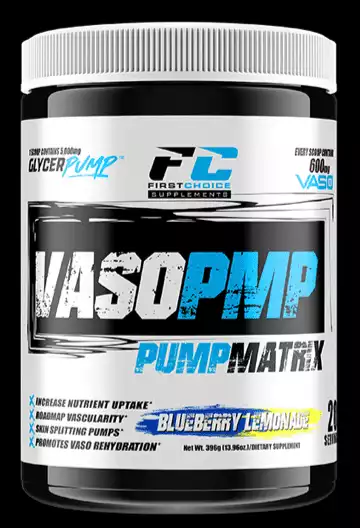 Where to Buy
You can buy Vaso PMP Pre Workout at the following retailers:
My Experience
I took Vaso PMP two times, with different stimulants and focus ingredients.
It doesn't matter what stims or focus agents you take; these pumps are outstanding.
With Vaso PMP, you're simply getting pumps on pumps on pumps. In fact, it has made our list of the best pump pre-workout supplements.
Effects:
As this is a pure pump product, you are just getting pumps. With incredible doses of L-Citrulline, GlycerPump, Pink Salt, VASO-6, the pumps are stunning.
Flavor:
The flavor I tried was Blueberry Lemonade, it wasn't terrible, but it was pretty chalky and bland. Not very sweet or sour as you'd expect from lemonade or blueberry. Out of 10, I'd say 5.
Only one other flavor is available for Vaso PMP, Blue Razz.
Scoop Size:
A whole serving is 19.8 grams, but if you look at the level scoop, it is only 12.47 grams which come out to only 63% of an entire serving.
To get the whole actual serving, you need two scoops at roughly 80%, as shown below, which comes out to almost exactly 9.9 grams per scoop.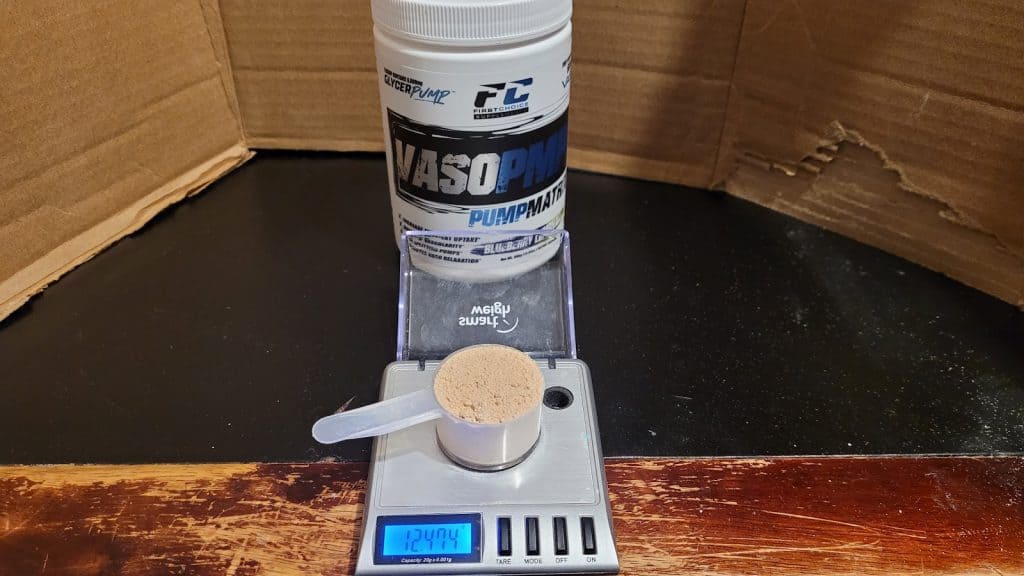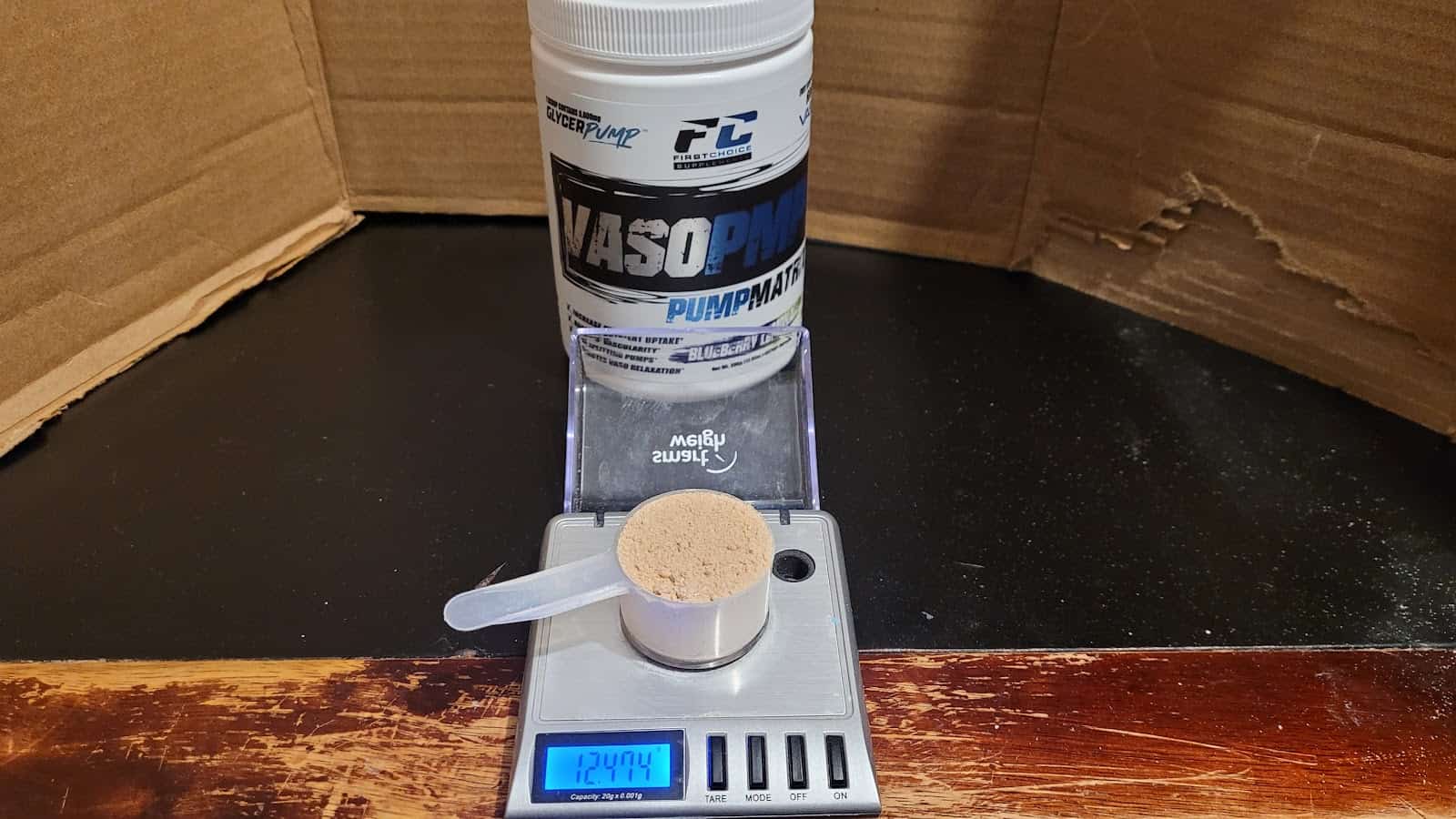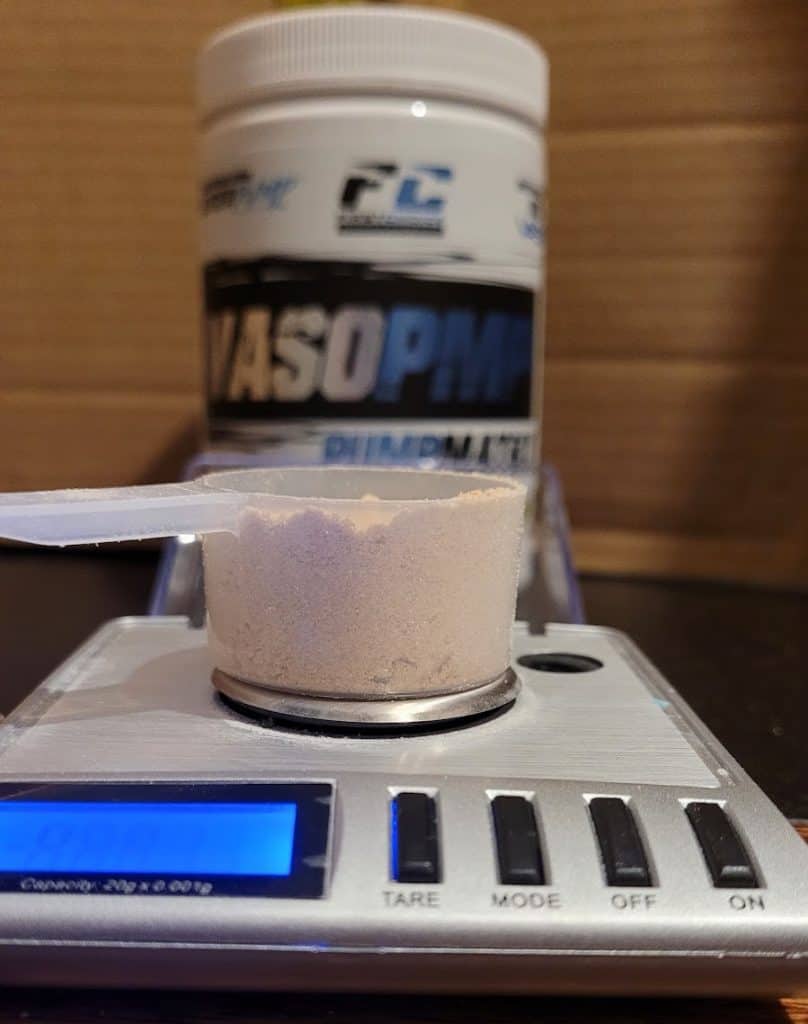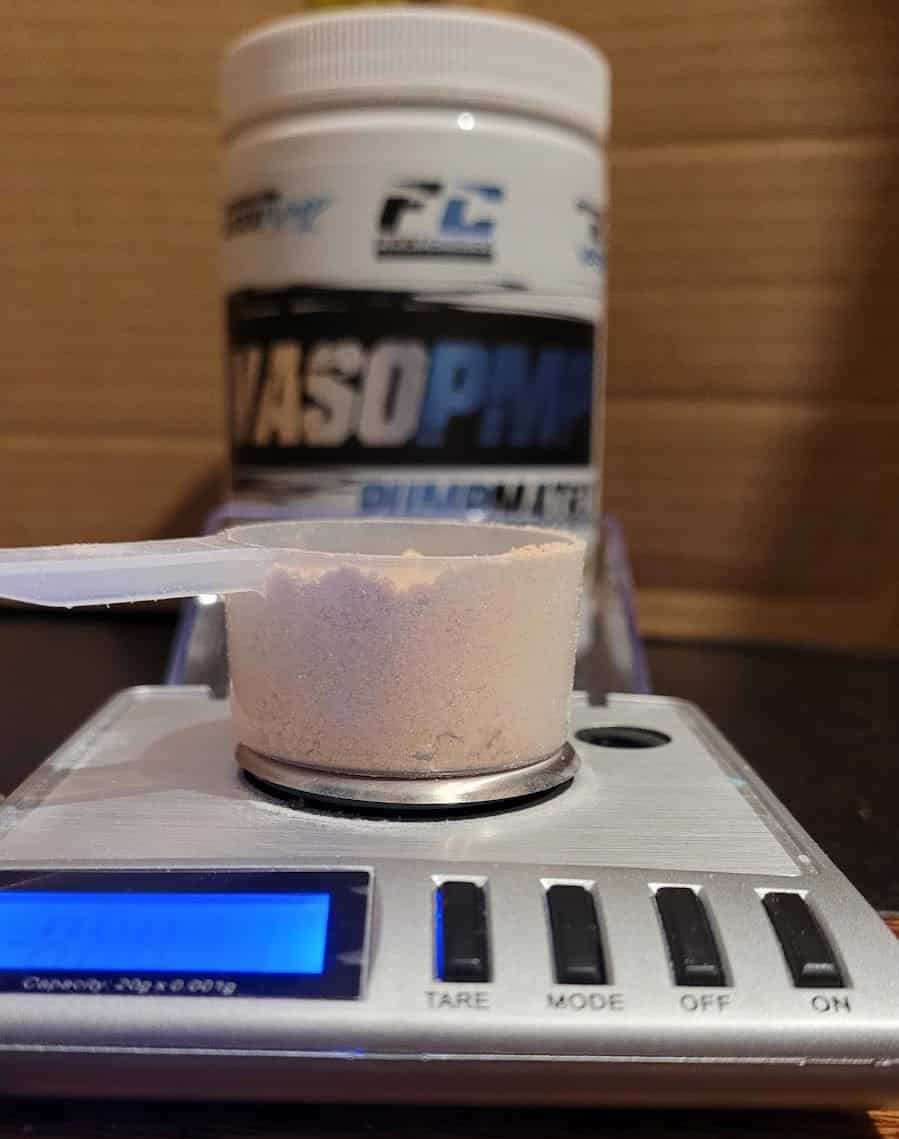 Ingredients
Below you'll find the VASO PMP ingredients, along with a breakdown of each ingredient.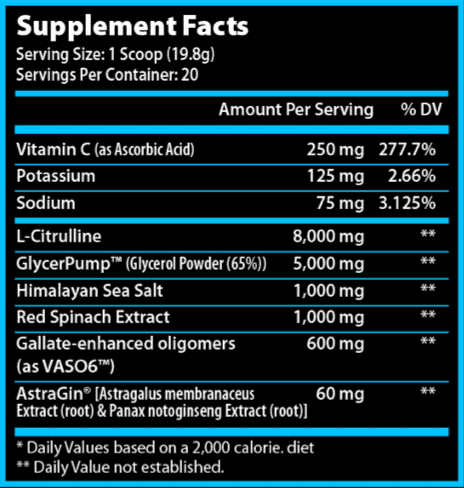 L-Citrulline – 8,000 mg
L-Citrulline is one of the most common pre-workout ingredients. It has extensive evidence supporting its effects on increasing nitric oxide production, power output, and endurance, making it an essential pump pre-workout ingredient.
Four grams is the clinical dosage of l-citrulline, so you are getting double the dose in Vaso PMP.
GlycerPump – 5,000 mg
GlycerPump is a patented form of glycerol powder. Glycerol powder assists with hydration and allows the body to absorb more water than it usually would. This helps stave off dehydration and can have mild improvements in endurance.
But the real reason it is often included in pre-workout supplements is that all of this extra water absorption can help your muscles swell up, giving you a "swole" look.
Five grams is an incredible dosage for GlycerPump. It usually ranges from 2 to 3 grams per serving in good supplements, giving you far and above the normal range.
One slight side-effect of glycerol is clumping inside the tub, and thankfully it's not clumping too severely.
Himalayan Pink Salt – 1,000 mg
Salt helps retain water, enabling you to achieve a swole look during your workout.
1,000 mg is another incredible dosage for this ingredient (For comparison FSU Dyehard has 300 mg and Hooligan Bare Knuckle has 250 mg).
It also contains essential electrolytes! (More info: Supplements in Review)
Red Spinach Extract – 1,000 mg
From a clinical trial, Red spinach extract is beneficial in performance, albeit mostly in aerobic exercise. In a previous study in our lab, dietary nitrate consumption resulted in significantly greater isometric force production in teenage males.
However, currently, there is little known regarding the effects of dietary nitrate supplementation on isometric strength, resistance exercise, and cognitive performance.
From NutriGardens, studies conducted thus far on red spinach have shown that it significantly improves time to exhaustion. It takes about 400 mg to see this phenomenon.
At 1,000 mg, this is 2.5x more than the dose in the study.
VASO-6 – 600 mg
Short for vasorelaxant peak G6, VASO6 is a nitric oxide booster and vasodilation supplement. It increases blood flow and relaxes the blood vessel walls, allowing them to grow.
For most supplements, 300 mg is the going rate for VASO-6 dosing, meaning Vaso PMP gives you double the standard dose.
Astragin – 50 mg
Astragin (from Astragalus membranaceus Extract (from root) and Panax notoginseng Extract (from root)) is an absorption aid, which assists your body in digesting all of the ingredients in Sueno. 50 mg is a solid dosage.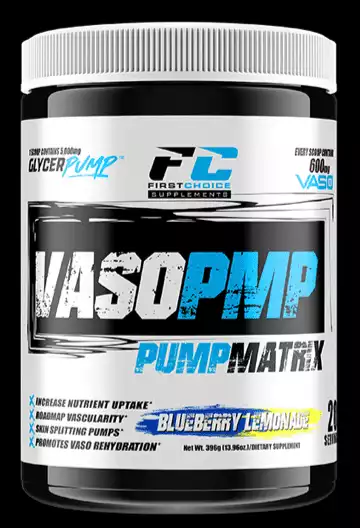 Vaso PMP Pre Workout Review (First Choice Supplements)
Summary
Vaso PMP by First Choice Supplements is a surprising product. Surprisingly, the other products from First Choice have been underwhelming, but Vaso PMP has some of the best pumps I've ever had.  Everything in Vaso PMP is highly dosed, from the 8 g L-Citrulline, 5 g GlycerPump, 1 g Red Spinach Extract, 1 g Pink Salt, and 600 mg VASO-6.  I happily recommend this for anyone who wanted a pure pump product: no nootropics, stims, or even Beta-Alanine.
Pros
Open-label

Intense pumps

High-dosed ingredients (no pixie-dusting)

Simple label
Cons
No focus ingredients

No Beta-Alanine

Only 20 servings