Prison workouts are typically bodyweight workouts that can be performed using no equipment and minimal space. In this way, they are also great to use as hotel workouts, home workouts, and other areas with limited room to move around.
Below you'll find some of the most popular prison style workouts, many of which have been popularized by Jailhouse Strong. If you enjoy what you see below, definitely checkout the Jailhouse Strong  book by Josh Bryant (on Kindle + paperback).
Alright, let's get into the workouts!
Prison Workout Spreadsheet Bundle
While all of the below exercise routines described below are pretty straightforward, sometimes it can be hard to remember them. I have captured all of them, along with some light instruction, in this spreadsheet.
All credit for the prison workout routines go to the cited creators: Jailhouse Strong and Art of Manliness.
Prison Workout Bundle | LiftVault
Juarez method for push ups, dips
Deck of Pain
Greasing the Groove
Tyson Squat Workout
Juarez Valley Method for Dips and Push Ups
This is a popular rep scheme for dips or push ups, allegedly from there Cereso Prison in Juarez, Mexico. It alternates between high and low rep sets, sort of the opposite of a pyramid rep scheme.
For example, a Juarez Valley 10 would be the following:
Set 1: 10 reps
Set 2: 1 rep
Set 3: 9 reps
Set 4: 2 reps
Set 5: 8 reps
Set 6: 3 reps
Set 7: 7 reps
Set 8: 4 reps
Set 9: 6 reps
Set 10: 5 reps
https://www.instagram.com/p/BxxBo3nh1K1/
Deck of Pain
The deck of pain rep scheme uses a deck of cards for a random order of rep counts, according to Jailhouse Strong.
To perform the workout, you simply shuffle a deck of cards, flip over a card, and perform the number of reps on the card (face cards are 10, aces are 11). If you can't do a full deck, try to start with half deck.
A full deck of pain prison workout will consist of 236 reps across 52 sets (one set per card). A half deck will consist of about 118 reps across 36 sets, though exact rep count will depend on how your cards are shuffled.
This workout is best suited for high rep exercises like bodyweight squats, push ups, dips, or lunges.
Tyson Squat Prison Workout
While in prison, Mike Tyson allegedly used this squat workout to keep his legs in shape. It also involves cards, but you don't really need to use the cards to understand how it works. Still, if you're interested in learning more, a video from Josh Bryant is below.
Ultimately, the sets and reps will look like this:
Set 1: 1 rep
Set 2: 1 rep
Set 3: 2 reps
Set 4: 2 reps
Set 5: 3 reps
Set 6: 3 reps
Set 7: 4 reps
Set 8: 4 reps
Set 9: 5 reps
Set 10: 5 reps
Set 11: 6 reps
Set 12: 6 reps
Set 13: 7 reps
Set 14: 7 reps
Set 15: 8 reps
Set 16: 8 reps
Set 17: 9 reps
Set 18 9 reps
Set 19: 10 reps
Total reps: 100
Hotel Workout - Tyson Squats
Jailhouse Method
The Jailhouse Method is a simple descending rep scheme. You start with a certain number of reps, say 20, and perform one fewer rep each set until you get down to zero.
While this is simple, it results in a seriously high volume workout. A "Jailhouse 20" is 210 reps, while a "Jailhouse 30" is 465 reps. Brutal.
Lower Body Isometrics Workout
This prison-friendly workout combines isometrics with functional movement by alternating squats and wall sits for a deep lower body burn. Endurance is the name of the game here. How many sets can you do?
Starting workout is:
20 bodyweight squats
20 second wall sit
5 bodyweight squats
This is performed for an indefinite number of sets. If this becomes too easy, you can increase the number of squats and the duration of the wall sit for each set.
https://www.instagram.com/p/B-3lGqkhcUX/
Total Repetition Method
The total repetition method seeks to perform some number of goal reps, whether that be 100 reps, 200 reps, or 500 reps, for as few sets as possible. This can be done for any exercise and is a great way to build strength through increasing the density of your training (more/same count of reps for fewer sets = more training density).
https://www.instagram.com/p/B-1BlOShzAF/
Explosive Internal Training
The explosive interval training method seeks to perform as many circuits as possible in an increasingly longer time span over the course of 4 weeks. This makes it different from many of the other training methods described here, as it is a bit more prescriptive in how it can progress.
Starting at 5 minutes, you are tasked with performing the following:
5 burpees
10 steps, walking in place
10 mountain climbers
10 steps, walking in place
The above will be performed as many times as possible in the allotted time. By week 2, the time has doubled to 10 minutes. By week 3, the amount of work in each set increases. By week 4, the amount of time and the amount of work in each set increases. Woof.
You can perform the workout more than once each week. A PR tracker is provided so that you can keep track of your 5 minute, 10 minute, and 15 minute max set PRs.
https://www.instagram.com/p/B-qX8WyhThk/
Burpee & Pull Up Pyramids
These are pretty classic pyramid rep schemes. While they can be applied to any exercise, here they're recommended for the pull up and the 4 count burpee. The 4 count burpee is a bit different from other burpee variations, as it doesn't involve a jumping component. See the video below for a demonstration of how to perform a 4 count burpee.
https://www.instagram.com/p/B-v3iZRHUKf/
Pull Up Pyramid Workout
More from Jailhouse Strong….
https://www.instagram.com/p/B-geRpNnUFf/
We also have an excellent article covering the muscles worked by pull ups.
Greasing the Groove
Greasing the Groove is a method of training described by Art of Manliness. It involves performing submaximal sets several times throughout the day. And they really mean submaximal, recommending that you start by performing an exercise for about 40% of your max rep count for each set.
For example, if you can perform a maximum of 10 pull ups, 40% would be 4 reps. Therefore you'd perform sets of 4 reps several times throughout the day. How many? Up to you, really. Art of Manliness mentions 5 sets, but that seems way too low to me, especially at these intensity levels. I'd say shoot for 8-10 sets per day to start and work up from there, but be sure to listen to your body. You'll be increasing volume over time, so you really don't want to start off with too much volume right away. Let the first week or two be easy.
Every week or two, add 5% more intensity to your reps per set (this is all included in the spreadsheet). Screenshot below.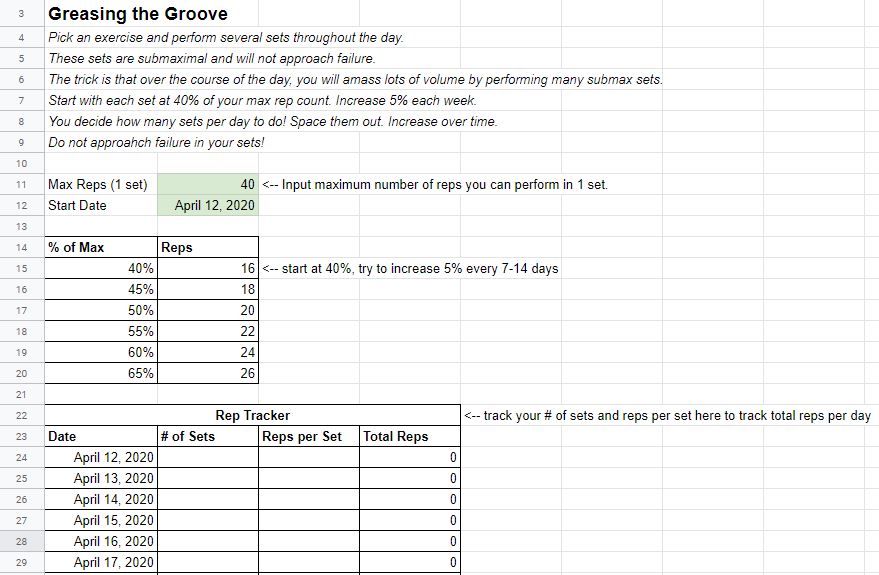 Benefits of Bodyweight Exercises
Bodyweight exercises are effective training methods when space and equipment are limited. This makes them a popular choice for prison workout routines.
As it is difficult to increase the load of bodyweight exercises, other variables need to be manipulated in order to increase difficulty, such as body position, rep count, and rest time.
For example, adjusting the hand position while doing a push up will change the primary muscles utilized in the movement. Hand position can also be adjusted for pull ups, chin ups, and other common upper body exercises.