With COVID-19 turning the entire world on its head, forcing the closure of schools, businesses, and, yes, gyms, lots of folks are finding their workout options limited. For individuals not used to working out at home, the prospect of working out during the quarantine can seem daunting. Luckily there are tons of options for how to workout at home.
I'll be updating this page on an ongoing basis to highlight different resources being made available for home workout ideas.
If you would like to recommend I add a particular resource, please shoot me a message!
Before I get to the fitness resources, here are some quick general health COVID-19 resources in case you need them.
Stay safe & healthy. Flatten the curve!
All the best,
Kyle @ Lift Vault
Stronger by Science: How to Make Gains Without a Gym (Article & Podcast)
Greg Nuckols, the super strong & smart person behind Stronger by Science recently published an article and podcast on the timely subject of how to make gains without a gym.
You can check out the article and podcast here:
Home Workout Equipment
While many of the workouts below do not require any special equipment, having a few pieces of equipment on hand can exponentially increase the effectiveness and flexibility of your workout programs.
Resistance Bands
Resistance bands are generally a loop that come in varying thicknesses. Thicker = more resistance, thinner = less resistance.
Elite FTS has a short band pack for $73. This might be a bit steep, but these are high quality bands and should cover all of your needs. They are also the bands used in the John Meadows resistance band workout below.
Another set of resistance bands that are pretty cool are the Resibands from From Home Fitness. These can be wedged in between your door and the door frame to act as a pivot point. If you decide to go with these, use VAULT10 for 10% off your order. I
personally went with Resibands and am waiting for them to arrive in the mail.
Best Resistance Bands, Loops & Ankle Straps I've Ever Used! - Exercises Included
Sandbags
Sandbags can be used for a ton of different strength and conditioning exercises. Rogue Fitness makes excellent bags, but you pay for the quality.
Another solid option are sandbags from Rep Fitness, which is what I went with. I'm also waiting for them to arrive and will update y'all when they arrive.
To help give you an idea of some possible training ideas for sandbags, here's a word from Brian Alsruhe:
SANDBAG TRAINING - Is it Worth it or Not?
Dumbbells
If you can find them, a set of "light" and "medium" dumbbells can help you add resistance for a variety of upper body movements. I personally did not purchase any dumbbells since I figured I'd be covered by the resistance bands.
Places you can check for dumbbells:
Quarantine Home Workout Programs + Ideas
The below workouts are best suited for individuals that feel comfortable working out alone and guiding their own workouts.
Home Workouts with Some Equipment
If you have access to dumbbells, resistance bands, and sandbags, you can have a pretty rigorous strength training workout. Here's a collection of different gyms and coaches that have published some guidance on how to get a great workout in with limited equipment.
John Meadows "8" Resistance Band Workout (Push/Pull/Legs Split)
At Home "8" Exercise High Intensity Band Push Workout
John Meadows posted an at-home workout using only resistance bands. He recommends using Elite FTS bands.
Animal "Homegrown" Home Workout
Animal posted this their Homegrown program that can be run with just bands and bodyweight. It features two different volume levels to help make the workout easier/harder depending on your current fitness levels. It is split up as a 6 day PPL.
Thank you to reader Marc-André for submitting this program via the program submission form.
Osborn Performance Systems (Workouts Posted M/W/F/Sat)
Osborn Performance Systems, where Redditor /u/BigCoachD coaches, is posting home workouts each Monday, Wednesday, Friday, and Saturday. These make use of some very minimal equipment (e.g. a table or chair you can lean against, a rock you can throw, etc.).
Stacy Burr (@bamaburr) Home Workout Spreadsheet
Powerlifter, gym owner, and coach Stacy Burr has posted a spreadsheet of a home workout routine you can use with just bands, or kettle bells and other resistance implements could be added if available.

At Home Trainer by Stacy Burr | LiftVault.com
Westside Barbell Home Workouts
The folks over at Westside Barbell have provided a full blog post full of Westside-approved home workouts.
Bodyweight Home Workouts (No Equipment)
Arnold Schwarzenegger Bodyweight Home Workout
Arnold Schwarzenegger shared an old bodyweight workout he used to do that can be performed out of the home using only bodyweight exercises like push ups, pull ups, and air squats.
Check out the full details and spreadsheet: Arnold Schwarzenegger Bodyweight Home Workout.
Armstrong Pull Up Program
The Armstrong Pull Up Program (spreadsheet included) is a great way to build strength in the back and shoulders. Click the link for more details and an accompanying spreadsheet.
Reddit's Recommended Bodyweight Workout Routine
Reddit has a dedicated bodyweight fitness community (/r/bodyweightfitness) that has a standard recommended routine you can follow.
Full details and spreadsheet available here: Reddit Recommended Bodyweight Workout Routine.
Juggernaut Training Systems Bodyweight Workout
Coronamania: At Home Training Ideas | JTSstrength.com
From the video description:
Example Sessions
A
1a-Depth Jumps from 12-24" 5x3
1b-Clapping Pushups 5x3-5
2a-Pushups 5x20 seconds. Add weight with backpack if you can Rest 10 Seconds
2b-Air Squats 5x20 seconds-Add weight if you can with a backpack, zercher holding something heavy (a child possibly) Rest 40 Seconds
3a-Reverse Lunge 3x10 each leg
3b-Side Plank w/ Rotation 3x10-15 each side
3c-Front Plank w/ Reach-3x10-15 each side
B
1a-Squat Jump 5x5
1b-Hand Switch Pushups 5x2-3 each way
2-Closegrip Push-up Mechanical Drop Set 3xAMRAP. Each set goes Feet Up to 3RIR, Flat to 1-2RIR, Hands Elevated to 0RIR. Rest 2-3 minutes b/t sets
3-Lunge Matrix 3x5 each way/each leg. Fwd, Lateral, Reverse
4a-Deadbugs 3x10 each side
4b-Copenhagen Plank 3x20-30 each side
4c-Bear Crawl Birddogs 3x10 each side
Bodyweight PPL Routine, Conditioning Programs, and Total Body Workouts (Ben Pollack)
Ben Pollack (powerbuilding training programs at Myoplasmic) has shared a number of different resources for at home bodyweight training, including two different PPL routines, a conditioning program, and two total body workout routines.
All of these are available here, most with a downloadable spreadsheet (use the left hand nav to look at different programs).
Here's a sneak peak of what one of the PPL routines looks like: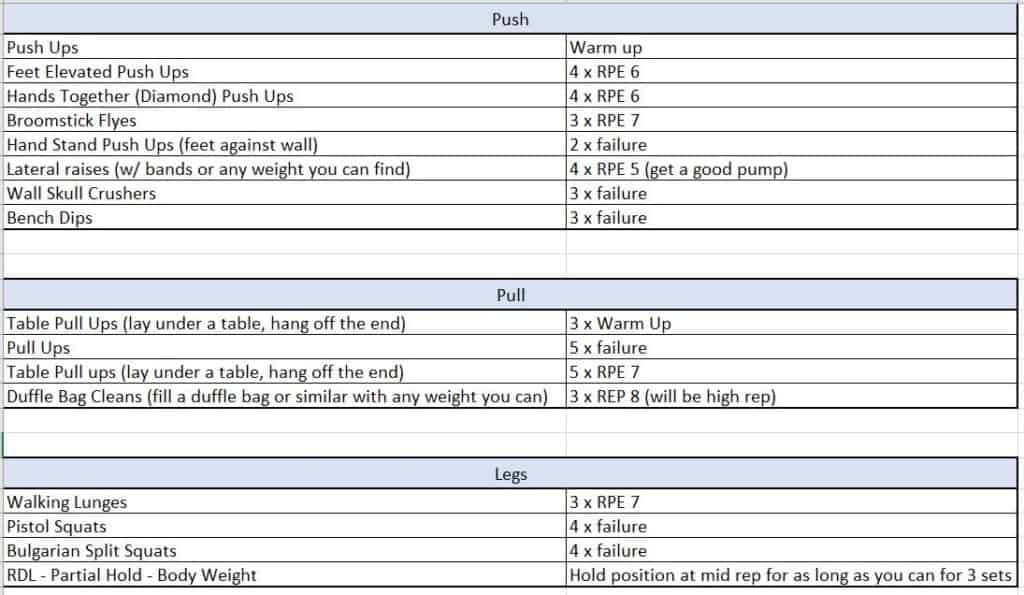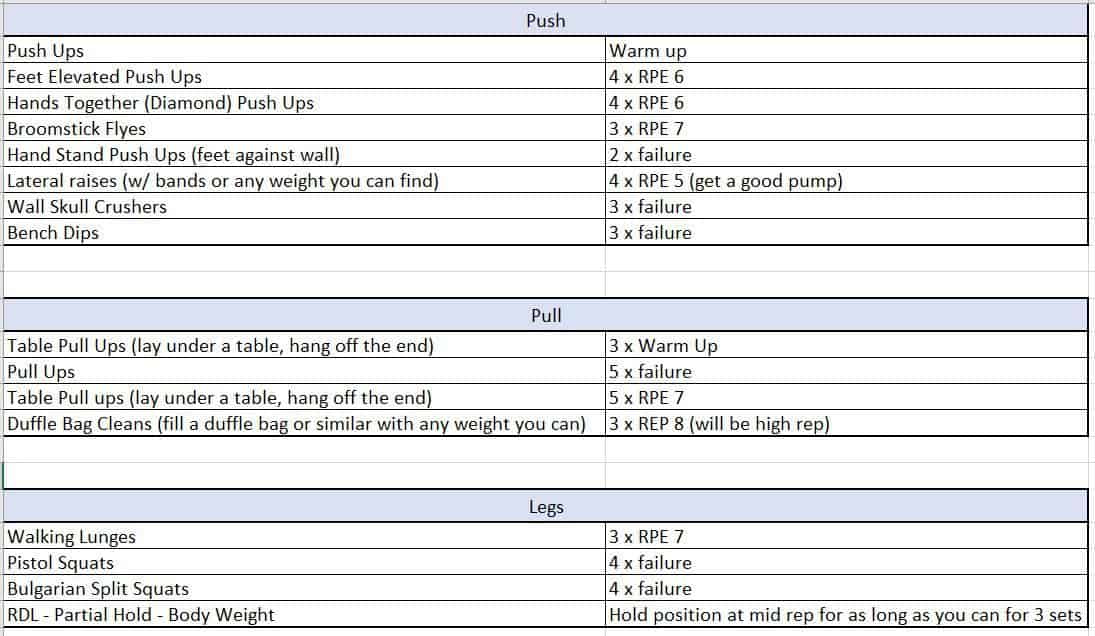 Core Overhaul Program by Stacy Burr
Stacy Burr (@bamaburr) shared this core strengthening program to complement her at home training workout, which is also available in this collection.

Core Overhaul by Stacy Burr | LiftVault.com
Push Ups
Push ups are a great exercise for building muscle and maintaining strength in the chest, triceps, and shoulders. For a program with built in progression, check out 100 Pushups. It uses an initial test to gauge your current strength levels and recommends you a starting point within the program based on your results. This makes it approachable for beginners and more advanced strength trainers.
Another fun (or masochistic) push up workout comes from Josh Bryant over at @JailhouseStrong, The Juarez Method.
Planks
Planks are a great way to develop and maintain core strength. Check out the 30 day plank challenge for a variety of different plank exercises you can do every day to keep your core strong.
Squats
Squatting without a barbell might feel weird, but that doesn't mean you can't incorporate some air squats into your daily bodyweight routine to keep limber. Lift Vault has a spreadsheet for a 30 day squat challenge to give you some ideas and help you stay on track.
Abs
If you prefer more than planks for keeping your core muscles strong, check out the 30 day ab challenge.
Online Fitness Classes & Yoga Instruction
The below resources run the gamut from yoga to aerobic workout classes. These are for people that prefer the direction of an instructor or enjoy the more social atmosphere of a group class.
Online Yoga & Meditation
A number of different yoga instructors and studios are providing free online classes during the quarantine period. I've included several below, but please let me know if there are any I missed.
Online Fitness Classes
Other fitness providers are hosting free online cardio and strength training classes. Some are offered on demand, while others are hosted live at a given time each day.
Good luck, have fun, and stay safe!