To best understand Sheiko's training methodology, Lift Vault highly recommends you read or listen to his interview with Omar Isuf.
Boris Sheiko, legendary Russian powerlifting coach, is renowned for the success of his athletes and the volume of his programs. More of a loose working template than a strict program, many different variations of Sheiko powerlifting programs have been circulating Internet forums for years.
Here is an attempt at gathering all of the most useful Sheiko spreadsheets in one place – all on Google spreadsheets. Whether you're a novice, intermediate, or advanced lifter, there is a Sheiko program to help build strength for you.
Sheiko Program Apps (iOS + Android)
To make following the Sheiko training programs ridiculously simple, definitely just get the app. At $12.99, it's a steal and officially maintained by Boris Sheiko.
Available on iOS and Android:


Sheiko Lifter Classification
Determining which set of Sheiko programs to utilize relies upon the current skill level of the athlete.
To check your lifter classification, use this Ukranian IPF chart  for raw men and women lifters (in kg):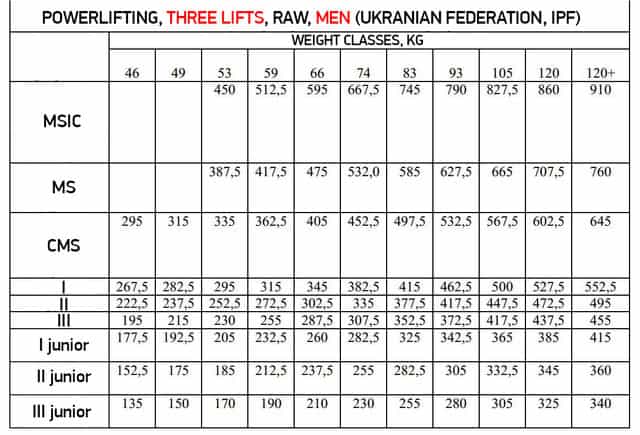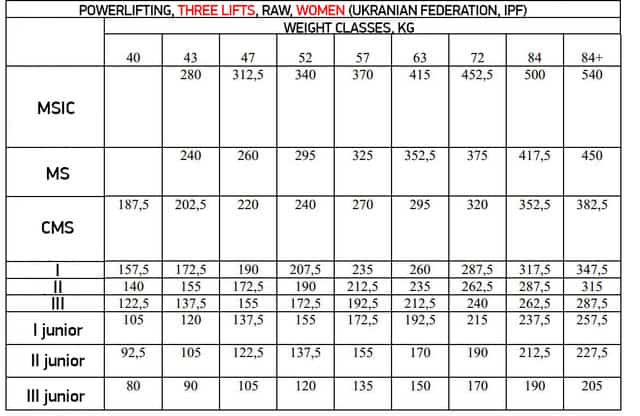 For equipped lifters, a Russian powerlifting lifter classification chart can also be referenced: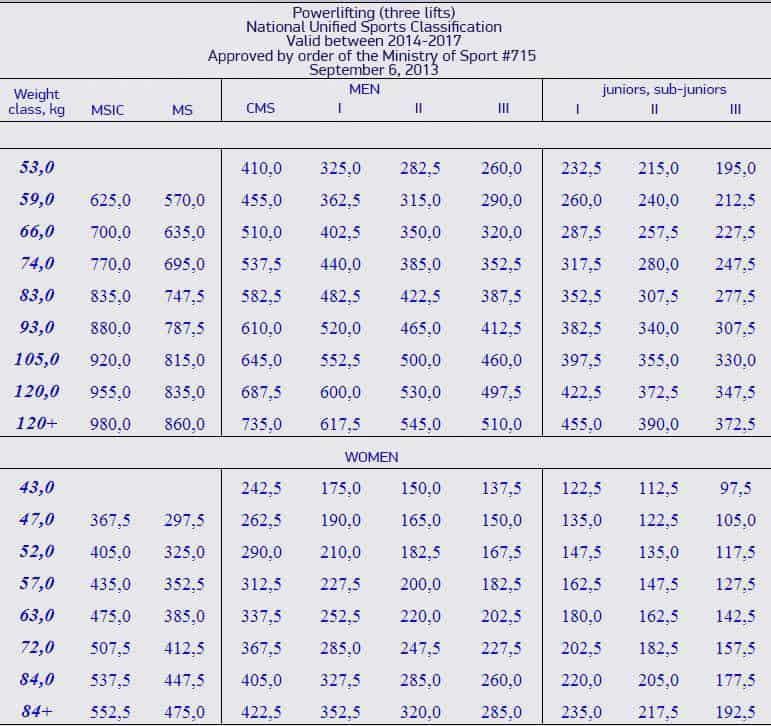 The Ukranian and Russian classification charts are from the Sheiko forums.
Sheiko Program Reviews
Review of Sheiko Programs #29, #30, #31, #32:
"Sheiko is one of the best cookie cutter programs that a powerlifter can run. Of all the copy/paste programs we've looked at thus far, Sheiko is easily the best… but it is still sub-optimal. Cookie cutter programs can never produce top results. They can produce excellent results, but there will always be room for improvement through individualization and autoregulation.
If you're a late stage intermediate trainee, or an advanced trainee, Sheiko is not a bad way to go at all. The programs have proven incredibly successful for a variety of top raw powerlifters across the globe. You can always move on to the MSIC programs or contact Sheiko for personal coaching when the numbered routines stop working."
Lift Vault note: Sheiko never intended for these programs to be used widely on the Internet. They were written for individuals, not a general audience.
Sheiko Program #31, #32, #37 Review:
"I think Sheiko has provided a series of great templates. They do need to be modified to meet individual needs, and I don't think they are appropriate year round, but they certainly have a place. I am personally fond of Sheiko, as it was doing Sheiko #32 I first squatted double my body weight. I wouldn't be surprised if 5 by 3 at 80% was my go-to rep scheme for the rest of my lifting career.
My TLDR of Sheiko's templates – they have a time and a place, and in that time and place I love them. Sheiko will grind you down over the course of weeks and rebuild you as a (probably very tired and annoyed) better powerlifter."
Sheiko Training Collection
This spreadsheet collects 14 different training "collections" all in one place. While not strictly programs, lifters can still benefit from following the training laid out in the spreadsheets. And while 99% of you WILL NOT need MSIC programming, it's still interesting to consider how Sheiko would train these athletes.
Included are the popular #29, #30, #31, #32, #37, #39, and #40 templates, all generated automatically based on 1 Rep Max (1RM) inputs.
If you use one Sheiko spreadsheet, this should probably be it.

Sheiko Program Spreadsheets
Sheiko 3 Day Under 80kg Program
As the name suggests, this is a 3x lifting program designed for lifters under 80 kg (175 lbs).  For significant discussion on this spreadsheet, I recommend reading this thread on Sheiko's forum.
Lifter over 80kg are encouraged to try the spreadsheet below.

SHEIKO 3DAY UNDER 80KG
Sheiko 3 Day Over 80 kg Program
Similar as above, except for lifters over 80 kg / 175 lbs.

Sheiko 3 Day Program - Over 80kg / 175lbs