El Jefe Guerilla is the daily driver brother of the original El Jefe. The former features patented ingredients to give you great focus, pumps, and endurance in the gym without any exotic stimulants. Thank you, Jake, with Nutricartel, for providing this product for my review! I enjoyed running this product, as it gave me good endurance, focus, and helped me feel prepared for the gym. 
Improved Endurance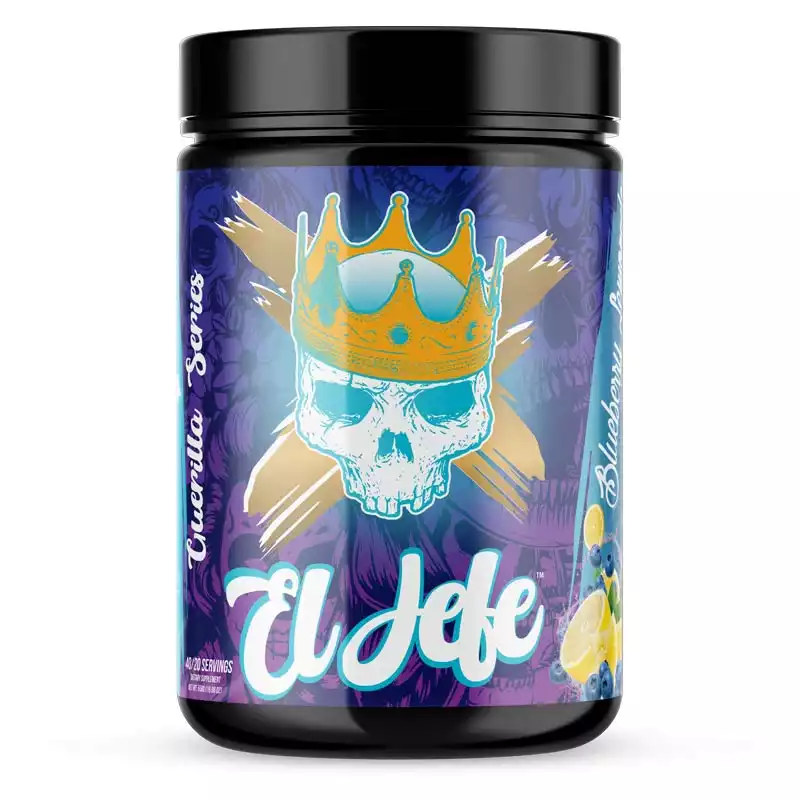 El Jefe Guerilla Preworkout Review
I would recommend this particular product for those looking for a high stimulant (caffeine-driven) pre-workout without anything elicit or exotic that might have side effects.
Discount codes
LIFTVAULT = 15% off Nutri Cartel
Caffeine Anhydrous: 300 mg
Theobromine: 400 mg
L-Tyrosine: 3 g
Shop Nutri Cartel
Lift Vault earns a commission if you click this link and make a purchase at no extra cost to you.
Where to Buy
You can buy El Jefe Guerilla at the following retailers:
Experience
The effectiveness of this product was very consistent. Minutes after consumption, I felt energy start to creep in, likely due to the caffeine citrate. Beta-Alanine tingles started at around 12 minutes in and were moderate around the crown of my head, eyebrows, and face before transitioning to my neck and down my spine. This is always a pleasant feeling to me, as it starts to give you that amped-up feeling that seems to be heightened during winter.
The energy continued to grow over the first 40 minutes and peaked around the 1-hour mark. I didn't feel my heart rate elevate over my baseline, even with cardio. As I started pushing hard into my routines, I felt a focus and drive come in at a solid level. I would rate it a 6 out of 10 at the hour mark. This feeling continued to grow for me and became almost euphoric, which was closer to a happier positivity and a head buzz type of feeling. I'd rate this aspect a 3 out of 10. The feeling hit much differently in this area compared to the Tyrosine/Alpha GPC setup in Sicario. I mention this because that had a good feeling of focus for a non-stimulant product formulated similarly.
This product gave me great endurance and helped me push past my baseline for stamina. I felt more powerful with the product. However, as you push more reps in your workout, the power can be from this cause and effect. Pumps were improved for me, but different from other Vasodrive-featured pre-workouts that I have used in the past. Overall, the energy and focus lasted several hours past the peak levels felt during training, which made it suitable for morning workouts since there was no midday crash.
I have compared this product closely to Sicario as they are under the same brand and closely formulated, but one last comparison is that the 3D pumps were much better with Sicario. I didn't have a chance to stack more pumps with this product, as I mostly didn't want to digest too many similar focus or endurance ingredients.
Side Effects
I experienced no negative side effects while using this product.
Flavor
The directions suggest 8-14 ounces and I found 12 ounces of water was adequate. I received the Blueberry Lemonade flavor, but I didn't find it too appealing. It had a strong blueberry taste without the tartness that usually comes with this type of flavor. It wasn't horrible, but it was something I would drink more quickly. Of course, the taste is always subjective and not a true negative, and it isn't one of those products where you need to brush your teeth due to the lingering taste.
Dose/Scoop Size
I only utilized this product at a 2-scoop dosage, which comes out to a hefty 27.9 grams. The powder was very fine, quite different from Sicario, as the serving size was slightly rounded above flat here, as shown in 1-scoop.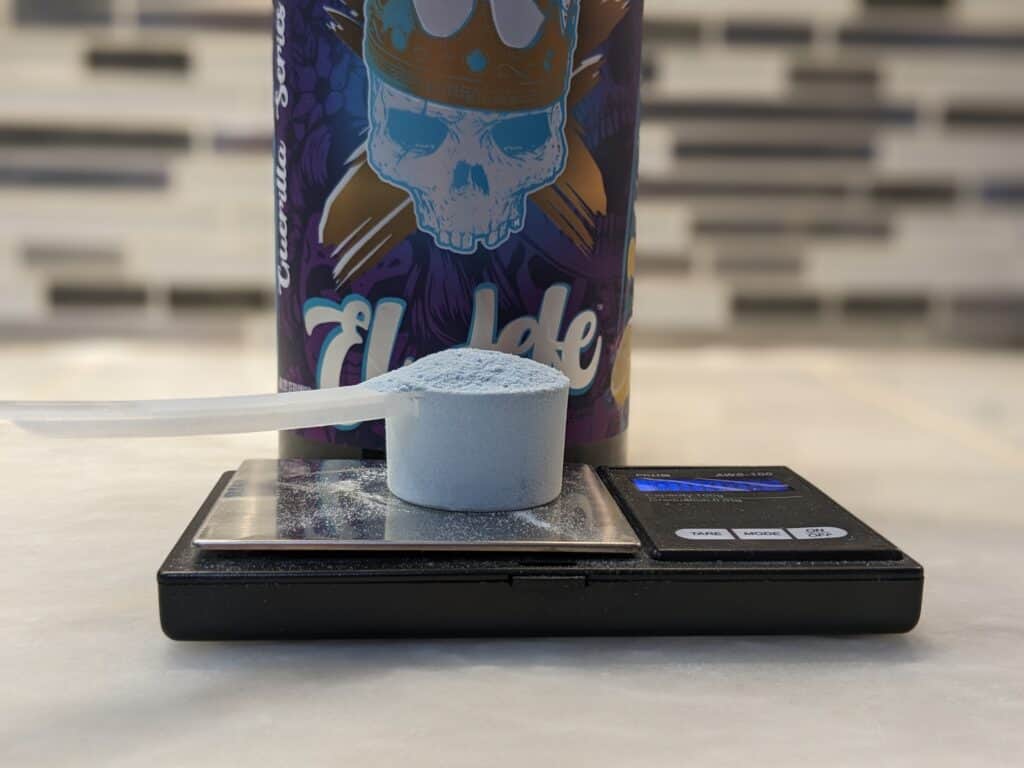 Ingredients
The listing of ingredients below is for the suggested 2-scoop variant dosing. Although the caffeine content looks high in the 500s, it comes out to around 462.5 mg based on ratios. I like the formula of El Jefe Guerilla, as it isn't just a carbon copy of their other variants. It is unique in its own approach and differs from Sicario, which I recently had the pleasure of reviewing. While this product was formulated to be more of a daily driver pre-workout, it still contains solid dosages of focus and energy ingredients. This product is more pump-centric than the other versions, where the true El Jefe is the focus. I wouldn't change this formula on paper as it looks excellent; however, the Sicario pumps were much improved with the 3D pump vs. VasoDrive-AP.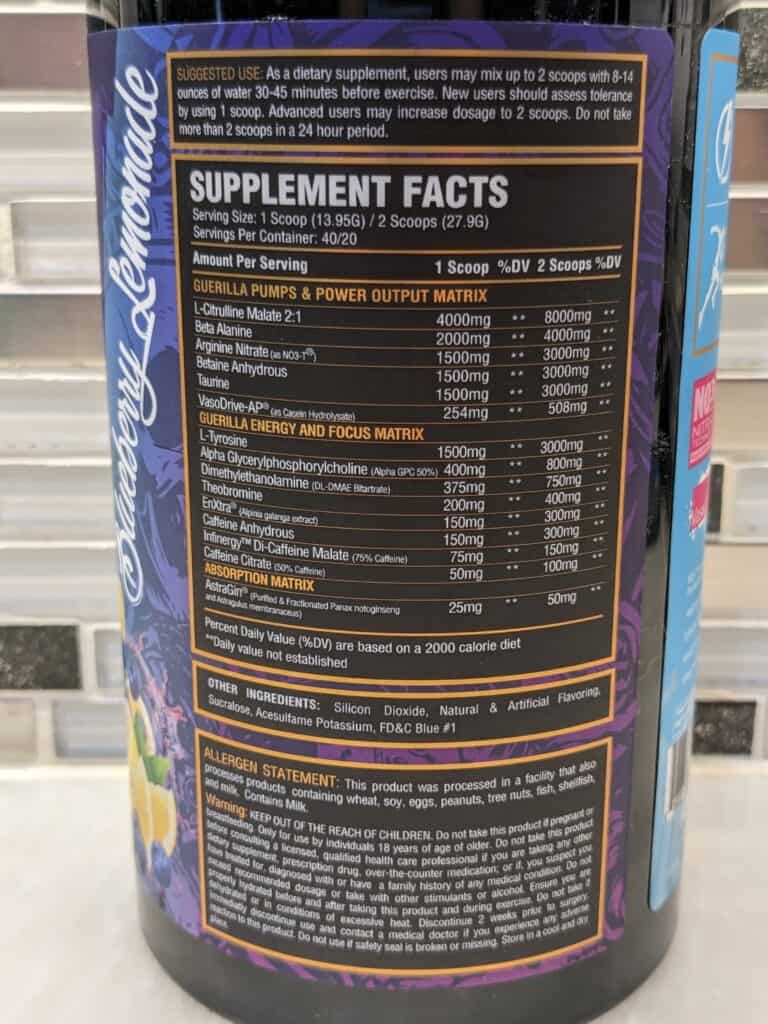 L-Citrulline Malate 2:1 – 8 g
L-Citrulline Malate is one of the most common pre-workout ingredients. Extensive evidence supports its ability to increase nitric oxide production, power output, pumps, blood flow, and endurance.
The standard ratio is 2:1 malate acid. The clinically studied dosage would be 6-8 grams of L-Citrulline Malate in a 2:1 ratio, providing nearly 4-6 grams of L-Citrulline, which meets the high-end range of this product.
Beta-Alanine – 4 g
Beta-Alanine has been shown to support muscular endurance and act as a lactic acid buffer. Depending on the source of this ingredient, you may feel the paresthesias intensify. This feeling is often desirable in the sports community, as it does make you feel the intensity after ingestion and as you start training. This effect may be negated by diet and intake of beta-alanine.
Beta-alanine requires regular intake to be effective, akin to creatine. Daily supplementation of beta-alanine is recommended, with a loading period of three to five weeks, to become effective.
3 to 4 grams is the recommended daily dosage for beta-alanine, putting El Jefe in the standard clinical dose range.
Arginine Nitrate (as NO3-T®) – 3 g
Nitrate (NO3–T) is a small molecule produced in the body in limited amounts (as a byproduct of nitric oxide). It is obtainable via vegetables, particularly beetroot, other low-calorie tuber vegetables such as turnips, and leafy green vegetables such as spinach or rocket.
According to Examine, noted benefits of nitrates are reduced blood pressure, improved blood flow and vasodilation, reduced oxygen cost of exercise (allowing you to go longer), and kidney protection. The typical range is between 1,500-3,000 for efficient dosing, placing Stim Shady on the high end.
Betaine Anhydrous – 3 g
Betaine is included to help increase your power output. However, research is inconsistent around this claim. The typical range for Betaine is between 1.5 g and 5 g.
L-Taurine – 3 g
Taurine is a common ingredient with many positive effects, such as enhanced physical performance, improved DOMS (delayed onset muscle soreness), improved blood pressure via higher cardiac output, possible reduction of cholesterol and triglyceride levels, increased uptake of glycogen to mitochondria for energy utilization (Examine).
Taurine supplementation might block the uptake of Beta-Alanine as they are antagonistic, which wouldn't be an issue if used aside from pre-workout. It is not commonly known that Beta-Alanine/Carnosine is a taurine-depleting antagonist (Examine). A 3 g Taurine dose is very good (1-6 grams per day in studies).
VasoDrive-AP (Casein Hydrolysate) – 508 mg
VasoDrive-AP helps decrease blood pressure, increase nitric oxide production, increase blood flow, and enhance muscle pumps. Check out this video to learn more about VasoDrive-AP.
L-Tyrosine – 3 g
L-Tyrosine boosts cognitive performance in stressful environments. It is included in pre-workouts as a focus ingredient.
3,000 mg is a massive dosage of L-Tyrosine that should also help achieve its anti-stress effects. It exceeds the range of the typical dosage range (500 mg to 2,000 mg) for exercise.
Alpha Glycerylphosphorylcholine (Alpha GPC) – 800 mg
Alpha GPC is a cholinergic compound that is produced within the body. It enhances cognition and increases power output. Based on several studies, Alpha GPC dosages should be between 300 and 600 mg. At 800 mg, El Jefe wonderfully exceeds the dosage.
Dimethylethanolamine (DMAE) – 750 mg
DMAE is a choline molecule used to treat cognitive decline in elderly patients. It is included in pre-workouts to promote focus and feelings of well-being. Dosing guidance for performance enhancement needs to be better understood.
For reference, Chemix pre-workout contains 400 mg of DMAE, while Dark Energy and Assassin V6 contain 750 mg.
Theobromine – 400 mg
Theobromine is a "caffeine light" stimulant ingredient found in chocolate, some tea plants, and the Kola Nut. Its name means "Food of the Gods." Greek "theo" means gods, and "broma" means food.
Some anecdotal evidence suggests that Theobromine can contribute to mood elevation, focus, and stimulation. Most doses range from 100-400 mg, so this is again exceeded by El Jefe's formula.
EnXtra (Alpinia galanga extract) – 300 mg
EnXtra is an exciting ingredient I haven't seen in any pre-workout. EnXtra is a proprietary extract of Alpinia galanga shown in multiple human studies to significantly increase alertness for several hours. There is not much dosage information for this ingredient, but typical doses are 200 and 400 mg, putting El Jefe right in the middle.
Caffeine Anhydrous – 300 mg
Caffeine anhydrous is the standard form of caffeine, known for increasing energy, alertness, motivation, and mood. The caffeine content varies for each product. The 350-450 range is the typical dosage for sports supplements on the market today. Often, products list several forms of caffeine, which release faster or slower, so please see below for more caffeine content, as it is over 300 mg.
Infinergy™ (Dicaffeine Malate) – 150 mg
Di-Caffeine malate is the "extended-release" version of caffeine. Combined with caffeine anhydrous, di-caffeine malate extends the effects of a pre-workout and offsets crash effects of high caffeine doses.
DECIM8 uses "Infinergy," a patented form of di-caffeine malate. In theory, this should give you more confidence that it is a high-quality ingredient.
Di-Caffeine Malate yields 75% of actual caffeine, meaning you get 112.5 mg of caffeine from this source.
Caffeine Citrate – 100 mg
Caffeine citrate is a faster-acting version of caffeine when compared to caffeine anhydrous. It's not common in supplements. Some popular pre-workouts, like Wrecked Extreme and M2, include this ingredient. Caffeine Citrate is usually 50% Caffeine and 50% Citric Acid.
AstraGin – 50 mg
Like Bioperine (a black pepper extract), AstraGin helps absorb nutrients. 50 mg is the standard dosage for this ingredient.
Improved Endurance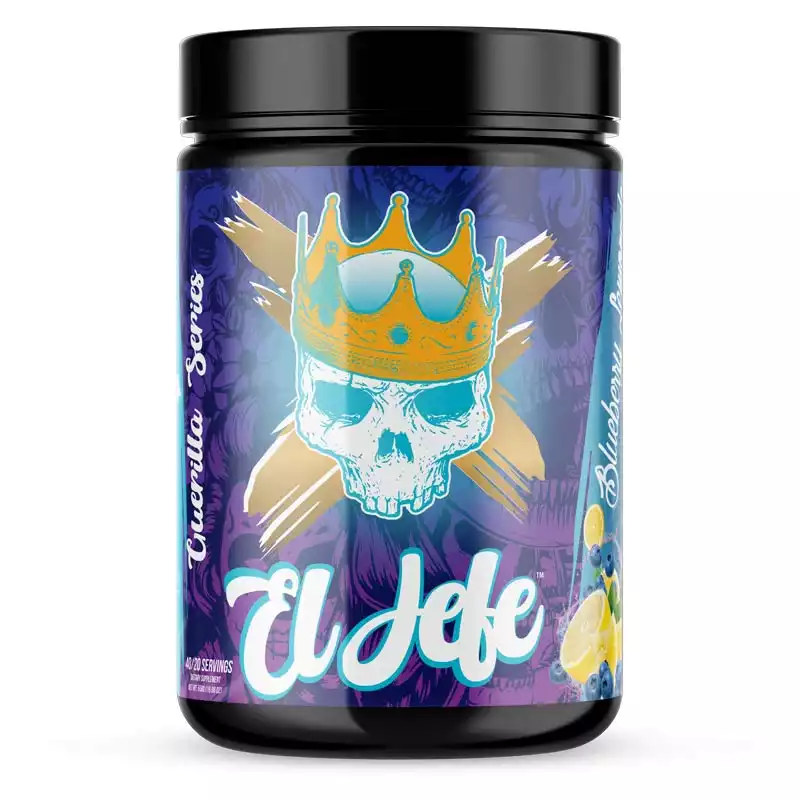 El Jefe Guerilla Preworkout Review
I would recommend this particular product for those looking for a high stimulant (caffeine-driven) pre-workout without anything elicit or exotic that might have side effects.
Discount codes
LIFTVAULT = 15% off Nutri Cartel
Caffeine Anhydrous: 300 mg
Theobromine: 400 mg
L-Tyrosine: 3 g
Shop Nutri Cartel
Lift Vault earns a commission if you click this link and make a purchase at no extra cost to you.
El Jefe Guerilla
El Jefe Guerilla
El Jefe Guerilla Edition by ASC Supplements: 4.4 / 5
I would recommend this particular product for those looking for a high stimulant (caffeine-driven) pre-workout without anything elicit or exotic that might have side effects. This is a pure daily driver approach product. While the caffeine might be on the higher end, it is a great product to use without feeling abused.
Pros
Improved endurance

Great focus

Head buzz-like feelings

Crash-free energy and focus

Slightly euphoric

Unique, comprehensive formula with patented ingredients

Good daily driver formulation

No banned ingredients

Veteran-owned and supported

GMP Certified