Enjoy the Ride v69 is a pre-workout supplement from The Nutrition Store. Fueled by 4 g L-Citrulline, 3.2 g Beta-Alanine, 1 g HydroMax, 1 g L-Tyrosine, a whopping 750 mg Himalayan Pink Salt, 350 mg Caffeine, and 150 mg DMHA, Enjoy the Ride will give you the pumps, energy, and focus needed to power through nearly any workout.
I took Enjoy the Ride two different times to make sure the effects were the same both times.
Because of the reasonably loaded label and DMHA, I'd recommend this for intermediate users who've used higher stim pre-workouts before.
Read on for additional details of my experience, the best prices for the Enjoy the Ride v69 pre-workout, and a breakdown of its ingredient label.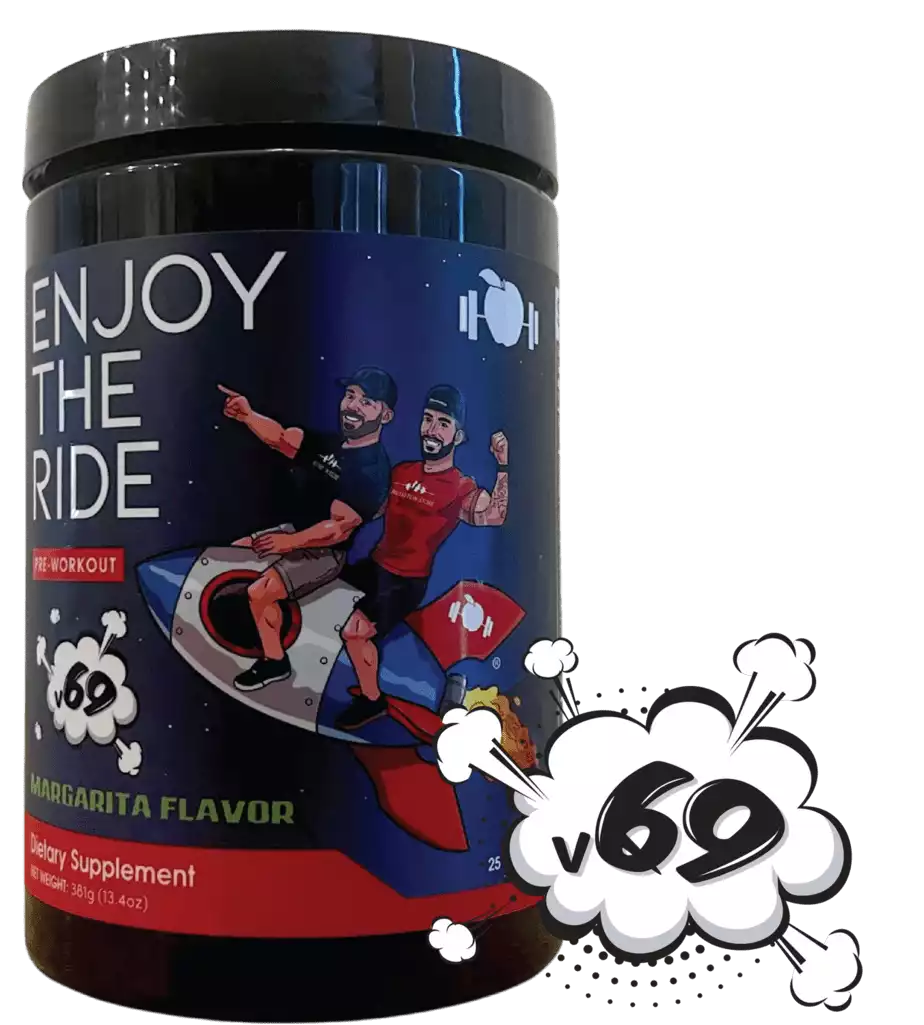 Where to Buy
You can buy Enjoy the Ride v69 Pre Workout at the following retailers:
My Experience
I took Enjoy the Ride v69 twice. Like always, I train fasted in the morning before the sun comes up and lift compound movements for 3-5 hours.
Enjoy the Ride gave me the energy, focus, pumps, and even mood to power through those workouts.
Effects
The energy came in first after about 10 minutes. It was smooth but lasted an enjoyable 3-4 hours.
After 15 minutes, the Beta-Alanine tingles came in though not very strong. They only lasted about 15 minutes, and the intensity was only about a 5 or 6 out of 10.
Right about when the tingles came in, a strong sense of focus came over me.
After 25 minutes, a pleasant sense of happiness came over me. It wasn't overly euphoric like others, but I felt a nice feeling.
Pumps were tight and vascular. The 750 mg of Pink Salt was the most I've had in a product, and it was easily noted as the contractions were tight.
There were no apparent added thermogenic effects.
I didn't experience any adverse side effects either.
Enjoy the Ride v69 vs Enjoy the Insanity
Compared to its sister product, Enjoy the Insanity, Enjoy the Ride v69 has a little less euphoria from the lower DMHA dosage, more upfront energy thanks to the higher caffeine dosage, and more pumps.
Both are excellent pre workout supplements! In fact, both are included on our list of the best DMHA pre-workouts.
Flavor
The flavor I tried was "Pink Llamacorn," it was pretty chalky inconsistency but sweet and had no chemical, bitter taste, or even a salty taste (due to the pink salt). It also had quite a bit of foam. Out of 10, I'd give the flavor a 7.
Other flavors include Margarita and "Isaac's Mango Margarita."
Scoop Size
A whole serving is a 15.24-gram scoop. With the scooper included, it is a beyond-heaping scoop, as shown below. A half serving is about 2/3rd of a scoop.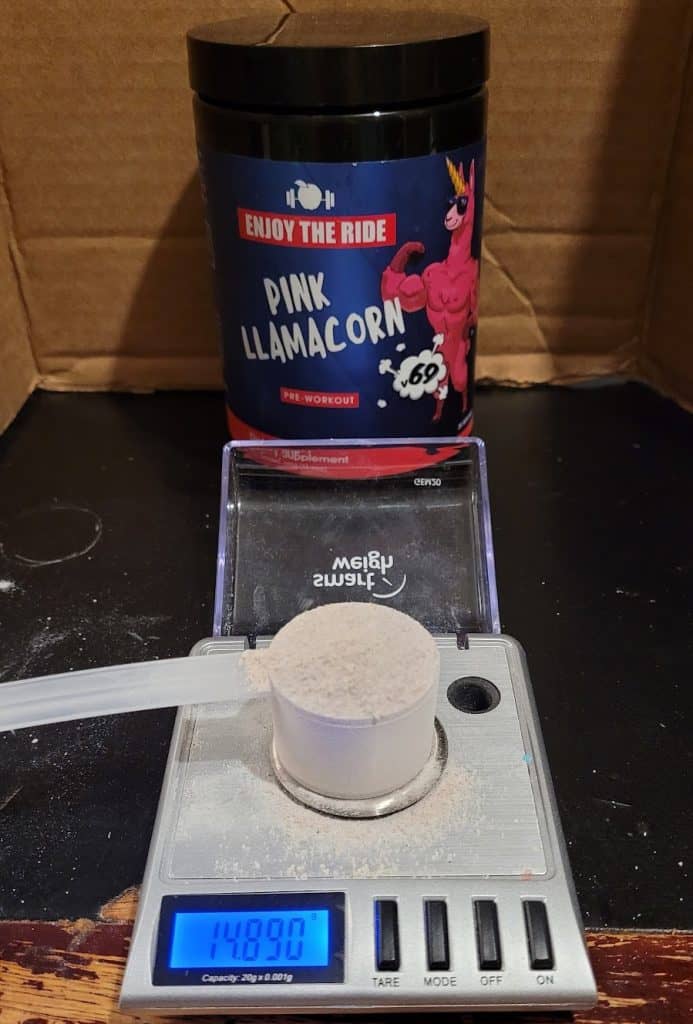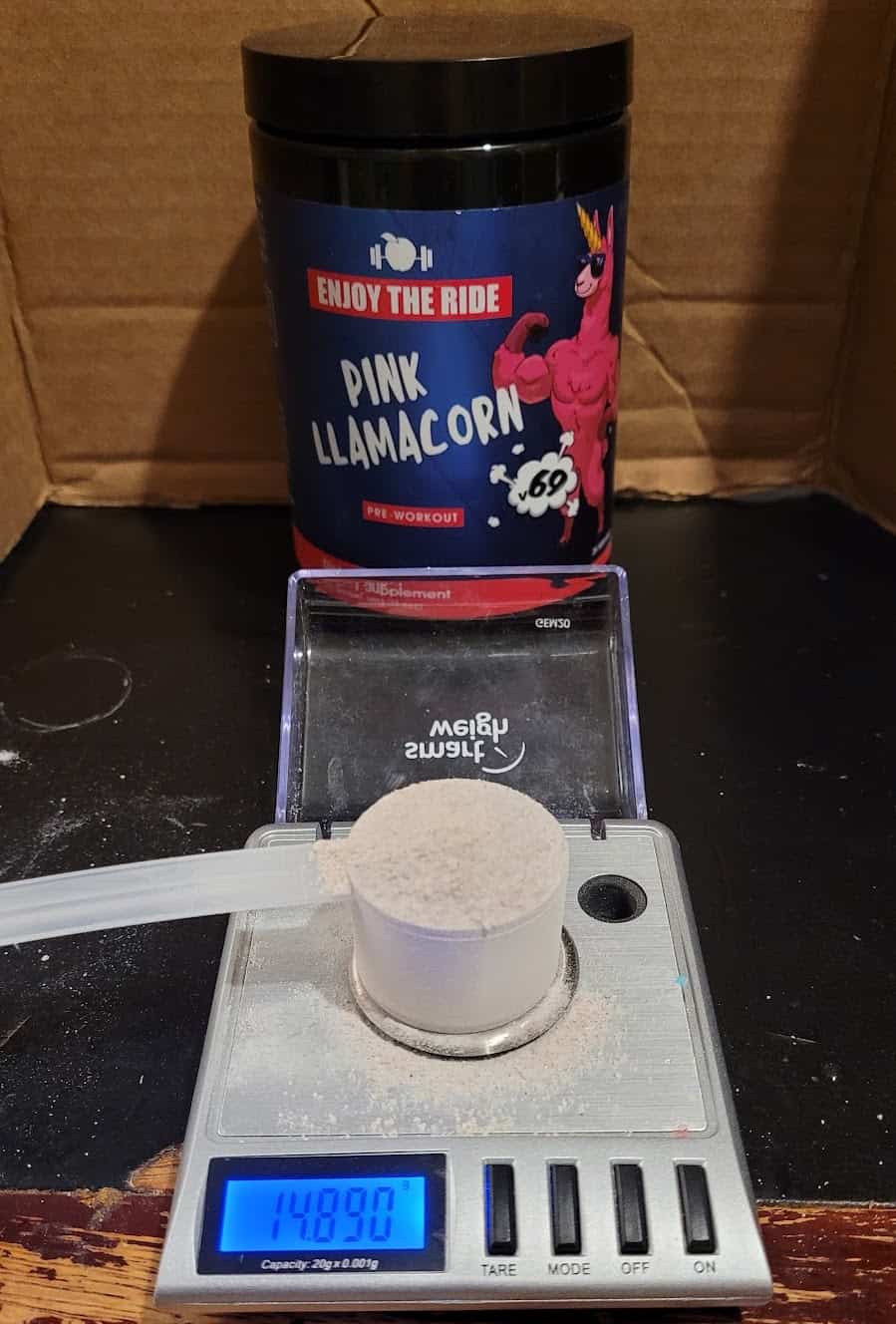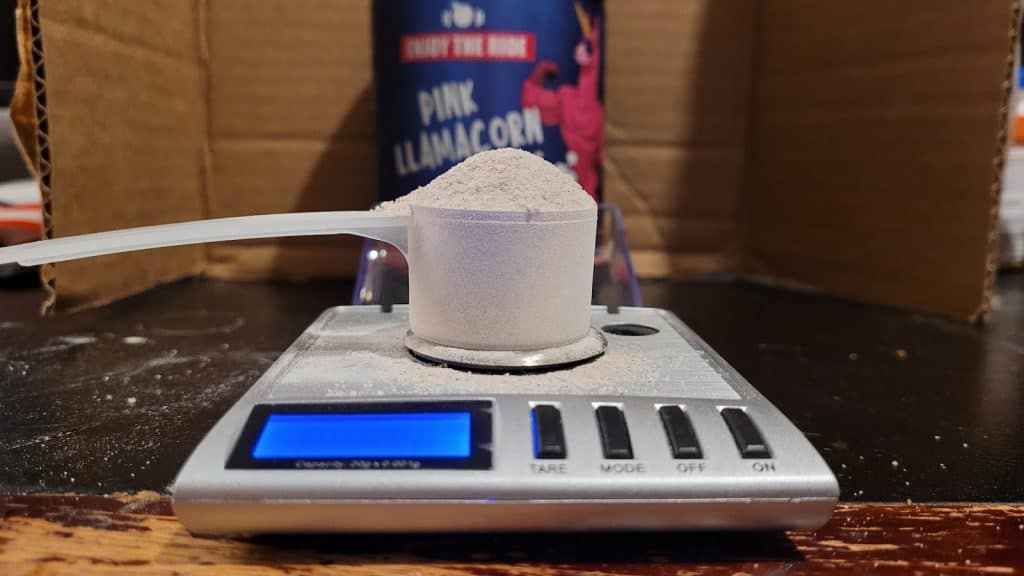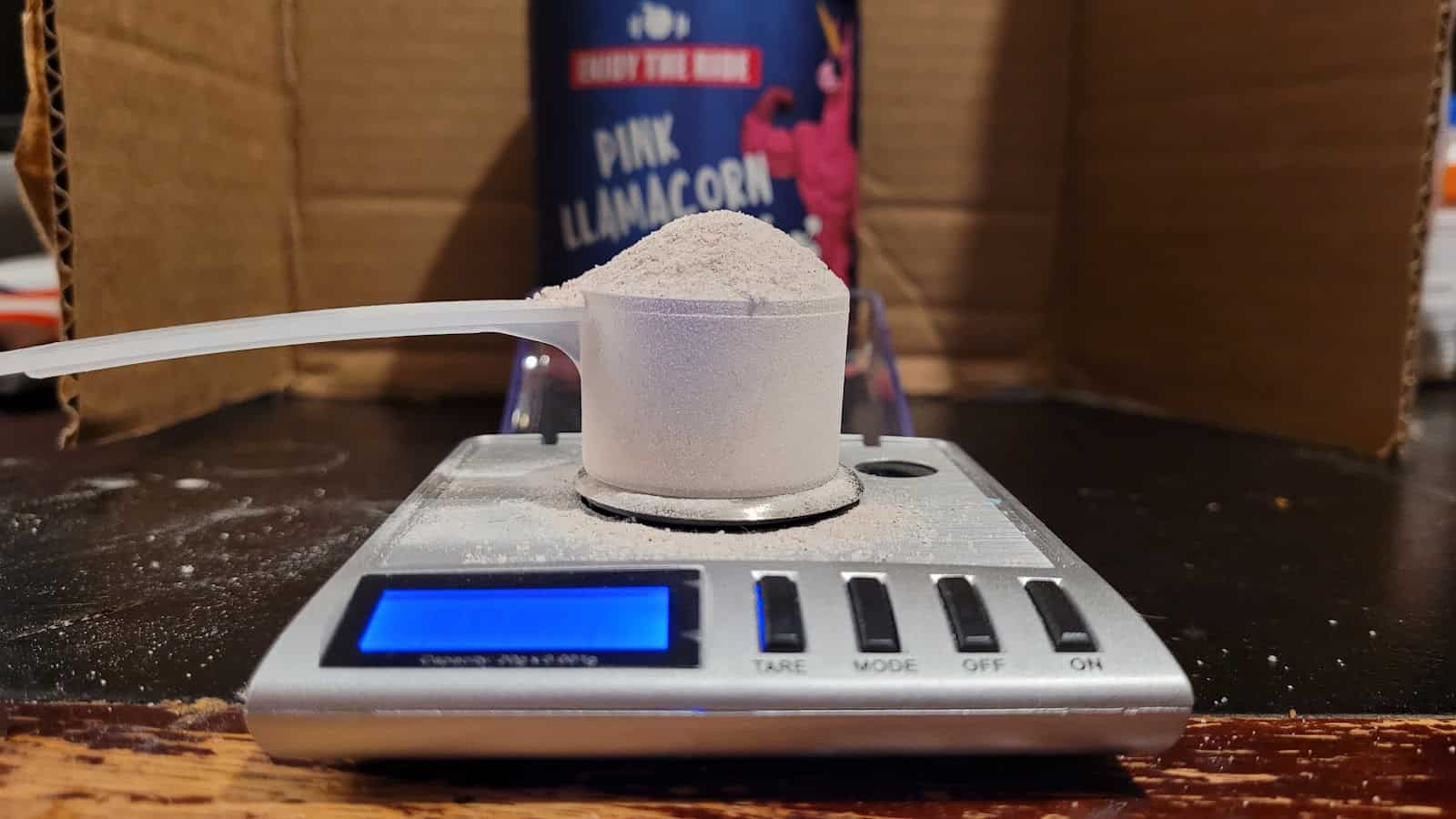 Ingredients
Below you'll find the Enjoy the RIde v69 ingredients, along with a breakdown of each ingredient.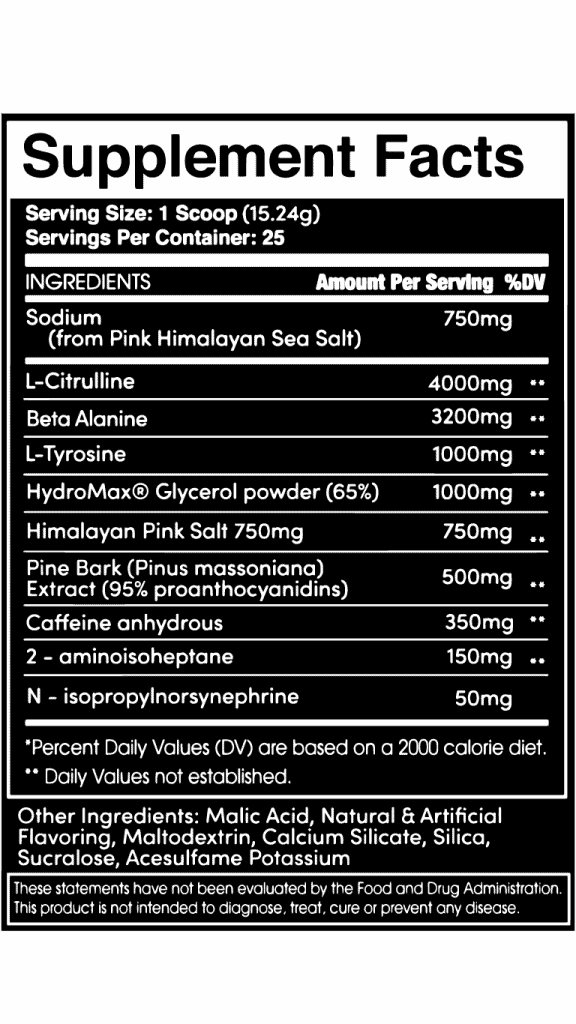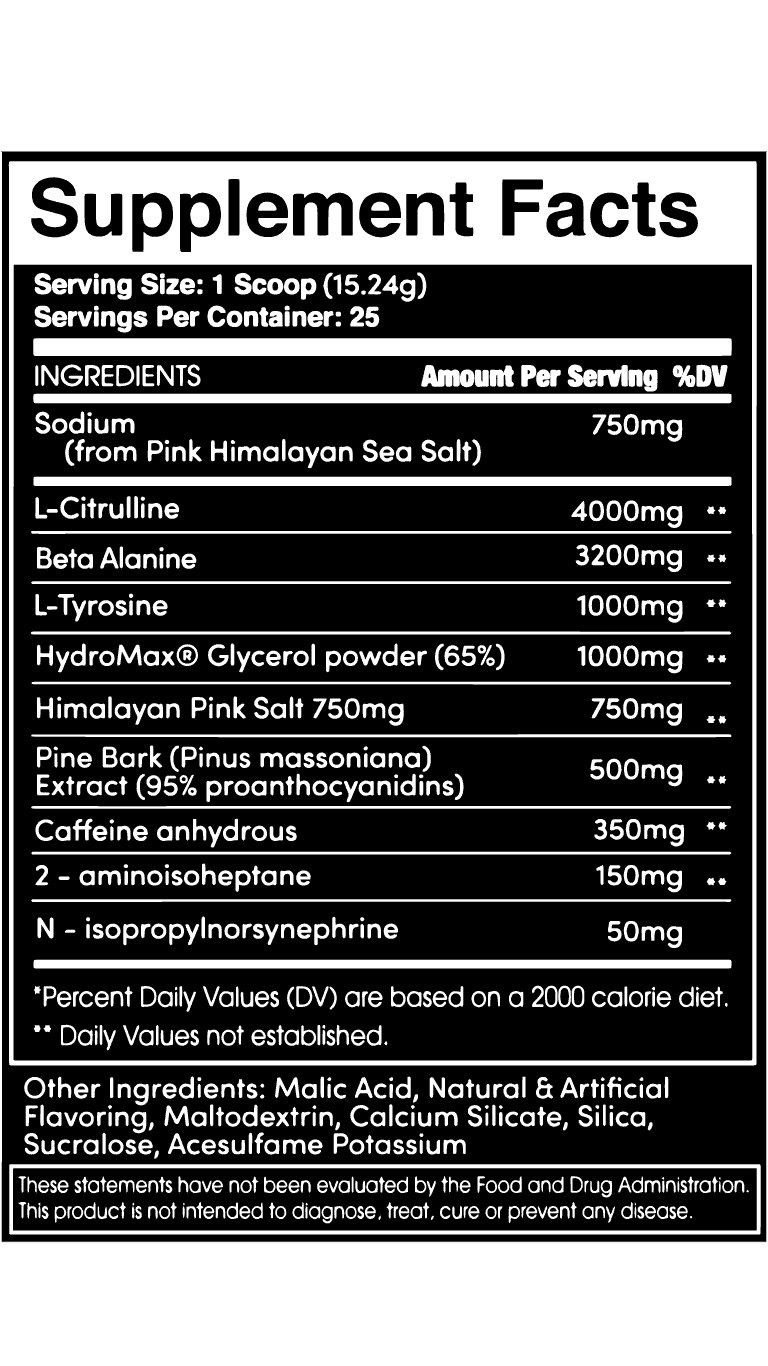 L-Citrulline – 4,000 mg
L-Citrulline is one of the most common pre-workout ingredients. It has extensive evidence supporting its effects on increasing nitric oxide production, power output, and endurance, making it an essential pump pre-workout ingredient.
4 grams is the clinical dosage of L-Citrulline, so it's right at the mark for Enjoy the Ride v69.
Beta-Alanine – 3,200 mg
Beta-Alanine has been repeatedly shown to increase maximal strength levels when taken regularly. Like Citrulline Malate, it is one of the most common and best-researched pre-workout ingredients on the market today.
3.2 grams falls within the accepted clinical daily dosage range.
L-Tyrosine – 1,000 mg
L-Tyrosine helps "smooth out" some of the harsher effects of stimulants and increases focus. Some limited research also shows it can act as a cognitive booster in stressful environments.
One gram is a substantial dosage and lands within the range recommended for use in an exercise setting.
HydroMax ® – 1,000 mg
From MPA Supps, HydroMax is a patented and highly concentrated powdered form of glycerol. It's broken down into 65% glycerol and 35% silica, and it is a more potent form of glycerol than glycerol monostearate. Noted benefits of HydroMax are enhanced performance, increased muscular pumps, and supporting proper hydration levels.
From PubMed, the hyperhydration effect of glycerol can be used to fight off heat exhaustion.
One gram should be noticeable with pumps, but two grams is the amount found in Light Year pre-workout.
Himalayan Pink Salt – 750 mg
Salt helps retain water, which enables you to achieve a swole look during your workout.
750 mg is an excellent dosage for this ingredient; just for comparison Hooligan Bare Knuckle has 250 mg.
It also contains essential electrolytes! (More info: Supplements in Review)
Pine Bark Extract – 500 mg
Pycnogenol, the active ingredient in pine bark extract, has been reliably shown to create a notable increase in blood flow. 500 mg is a great dose; just for comparison, the fantastic Sicario has 200 mg, and FSU Dyehard has 300 mg.
Caffeine Anhydrous – 350 mg
The Big Poppa of stimulant supplements is in your coffee, tea, soda, heck; it may even be in your sweets and gum (some confectioners add caffeine to their sweets for a kick). Well known for increasing energy, power, and focus, it's the staple ingredient in all stim-based products.
350 mg is in the middle range you mostly see in pre-workout supplements nowadays (usually ranging between 250 and 450). You feel the energy in Enjoy the Ride v69.
2-Aminoisoheptane – 150 mg
2-Aminoisoheptane, DMHA, Kigelia Africana, Juglans Regia (J. Regia), Octodrine, and Dimethylhexylamine. DMHA is a stimulant, similar to DMAA, known for boosting energy, focus, and mood.
1500 mg is a pretty standard dose (ranging from 100-300 mg); however, just because it says something on the label doesn't necessarily mean you'll "feel" it. You will feel it here, which is why it's included on Lift Vault's list of best DMHA pre-workouts.
Isopropylnorshynephrine – 50 mg
Isopropylnorsynephrine is a lipolytic agent, meaning it helps break down fat into glycerol (energy). It is a "fat burner." It may also possess energizing effects and is considered stronger than synephrine (bitter orange extract).
There is not a lot of research around dosage, but 50 mg should be enough to get you going.
Synephrine is a well-researched ingredient that has been shown to aid in weight loss.
"In general, bitter orange extract alone (p-synephrine) or in combination with other herbal ingredients did not produce significant adverse events as an increase in heart rate or blood pressure or alter electrocardiographic data, serum chemistry, blood cell counts, or urinalysis. p-Synephrine alone as well as in combination products were shown to increase resting metabolic rate and energy expenditure, and modest increases in weight loss were observed with bitter orange extract/p-synephrine-containing products when given for six to 12 weeks."

Synephrine meta-analysis
Enjoy the Ride v69 Pre Workout Review
Summary
Enjoy the Ride v69 provides a skin-tight pump, energy enhancement, and hyperfocus. With a loaded label containing 4 g L-Citrulline, 3.2 g Beta-Alanine, 1 g HydroMax, 1 g L-Tyrosine, 750 mg Himalayan Pink Salt, 350 mg Caffeine, and 150 mg DMHA, Enjoy the Ride has the pumps, energy, and focus for a long workout. Thumbs up! I could recommend this product for those who have used higher stim products before because of the DMHA.
Pros
Open-label

Skin-tight pumps

Long-lasting smooth energy (3-5 hours)

Incredible focus

The highest dose of Himalayan Pink Salt I've seen without any salty taste.

No crash or other adverse effects
Cons
 Slight chalky taste

No digestion aid