As part of the 2021 DMAA crackdown by the FDA, Krak'n is no longer being manufactured.
I'm not aware of any retailers that still carry it.
Check out other DMAA pre workout or just buy your own DMAA powder and add it to any pre workout.
Krak'n Pre Workout is a pre workout supplement from God Status Labz, a brand dedicated to hardcore supplements and stim junkie pre workouts.
After getting a lot of attention for Zeus, a pre workout that made the list of best DMHA pre workouts, people understandably wanted to know about the other pre workouts from God Status.
And it was hard to ignore Krak'n.
Why?
The ingredient label is really hard to find and cannot be found on the God Status Labz site.
If you want to see it, you can email me. Much like the address for a house show is "ask a punk," the ingredient label for Krak'n is "ask a stim junkie."
Crazy Euphoric Pre Workout!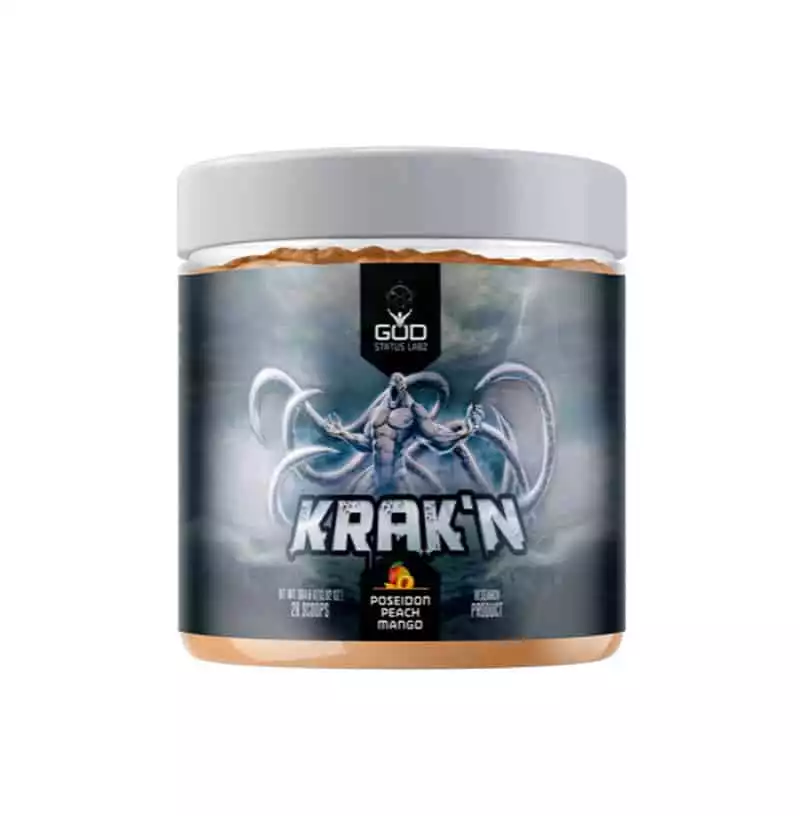 Krak'n Pre Workout
A euphoric high stim experience. One of the best mood elevation stim junkie pre workouts available.
Unfortunately, Krak'n is sold out. See some of the strongest pre workout supplements below.
Strongest Pre Workout
Lift Vault earns a commission if you click this link and make a purchase at no extra cost to you.
My pal at Supp Kingz sent me over some samples to try out and review for you all. This will be a shorter review, as out of respect for the wishes of God Status Labz I will not be revealing the label here.
…but you probably just care about the effects anyway, right?
Where to Buy + Discount Codes
Krak'n is sold out.
Check out other DMAA pre workout or just buy your own DMAA powder and add it to any pre workout.
My Experience
Overall, I really enjoyed Krak'n and think it's similar to Dark Energy. Now, I seem to experience Dark Energy a bit different than other people.
I find it to be overall smooth, happy, and energizing but nothing absolutely crazy. Others get "high" while taking it, but not me. I'd say the same for Krak'n.
Solid energy, euphoria, and focus. It's just a good pre workout with some higher than average mood elevation.
Would I recommend it? Yes.
How does it compare to Dark Energy? Honestly about the same!
I would absolutely take it again and would spend my own money on this product. It's not going to change your life, but I've tried enough pre workouts that I realize that's an unrealistic expectation. It'll get you happy and motivated to train hard at the gym. I'm not saying to dump your pre workout down the toilet and pick up a tub of Krak'n, but if you're looking to try something new and you're into high stim pre workouts that have solid euphoric effects, I think you'll be very happy with Krak'n.
If you want to feel like you're taking drugs, go with Excelsior.
If you want to punch holes in the wall, go with Assassin.
If you want to feel good and kill your workout, go with Krak'n.
Effects
I took a full scoop of Krak'n on an empty stomach against my own better advice. It's usually best to have at least a little food first to help your stomach out.
Within 15 or 20 minutes I could feel the beta alanine tingling coming in, as expected (there's a full dose of beta alanine, 3.2 g).
From there, I noticed some mild euphoria and decent energy kicking in about 30 minutes later. This one is a bit of a slow burner. It doesn't kick the door open straight away like Assassin.
By about the 45 minute mark I could feel the focus start to build up nicely. I was definitely feeling happy and dialed in.
And then it kept building, plateauing about 1 hour after taking it and lasting for a solid three to four hours.
Does it feel like Dark Energy? Yeah, it does. No doubt.
Flavor
I had the peach flavor and it's super pleasant. It's a subtle flavor, nice and light.
I don't see this flavor being an issue for anyone.
Side Effects
There weren't really any negative side effects to Krak'n. It's pretty clean. There was a tiny bit of fatigue and maybe a 1/10 headache, but that's it. No nausea, depressed mood, etc. I'd happily take it again.
Krakn Ingredients Label
Here's as much of the ingredient label as I'm allowed to show you.
There's 60 mg of the missing ingredient. I'll let you fill in the rest…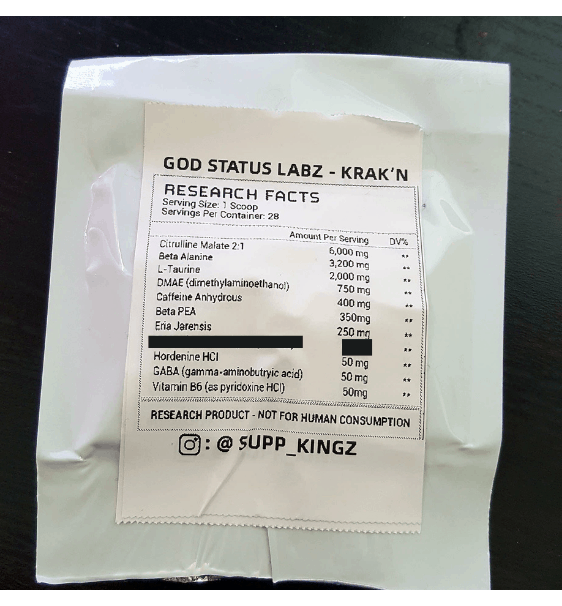 Citrulline Malate 2:1 – 6,000 mg
L-Citrulline Malate is one of the most common pre workout ingredients. It has extensive evidence supporting its effects on increasing nitric oxide production, power output, and endurance.
It is included in Krak'n at a 2:1 ratio between L-Citrulline and Malic Acid, which is the standard ratio.
6 grams is the clinical dosage of L-citrulline malate, so it's great to see Krak'n nailing this dosage.
Beta Alanine – 3,200 mg
Beta Alanine has been repeatedly shown to increase maximal strength levels when taken regularly. Like Citrulline Malate, it is one of the most common and best researched pre workout ingredients on the market today.
And yes, beta alanine is also the "tingling" ingredient.
3.2 g is the clinical dosage, so that's nice to see. The tingling is definitely apparent with Krak'n, but not too crazy.
L-Taurine – 2,000 mg
Taurine is kind of a "miscellaneous" pre workout ingredient with a range of potential, albeit limited, physical benefits. It can aid in blood flow, reduce cramping, and act as a booster to anti-oxidant defense systems (Examine). It's a pretty insignificant ingredient in pre workout compared to other ingredients, but doesn't hurt anything either.
2 grams is a solid dosage of taurine to achieve any effects it has to offer. It's more than most other pre workouts.
DMAE – 750 mg
DMAE is a choline molecule used to treat cognitive decline in elderly patients. It is included in pre workouts to promote focus and feelings of well being.
Dosing guidance for performance enhancement is not especially well understood, but 750 mg is a pretty large dose compared to other pre workouts that contain DMAE.
For reference, Chemix pre workout contains 400 mg of DMAE, while Dark Energy and Assassin both contain 750 mg.
Caffeine Anhydrous – 400 mg
Caffeine anhydrous is the standard form of caffeine found in coffee, energy drinks, etc. It's what you expect when you hear "caffeine": the energy, focus, motivation, and mood boost.
400 mg is a very solid dose for caffeine anhydrous. For the caffeine-naive it is an extremely strong dosage and for the caffeine-tolerant it is more than decent.
Beta PEA – 350 mg
B-Phenylethylamine (Beta PEA) is a neurotransmitter that inhibits uptake and efflux (i.e. removal) of dopamine, norepinephrine, and serotonin levels (2008 study). It is included here for the purpose of increasing focus and motivation.
This ingredient is not well understood and needs additional research. 350 mg is a solid dosage, a bit lower than the 500 mg seen in Assassin and Overtime.
It is banned by WADA.
Eria Jarensis – 250 mg
N-Phenethyl Dimetylamine is also known as Eria Jarensis. Eria Jarensis is a stimulant that has grown in popularity with extreme pre workouts as other alternatives, like DMAA or DMHA, or have become more difficult to sell without running into legal issues.
Doses typically range between 200 mg and 300 mg, so the 250 mg in Krak'n is very decent.
Hordenine HCL – 50 mg
Hordenine (N,N-dimethyltyramine) is a stimulant that is often included in recent "nootropic" products. It is not widely researched, so much of the information available comes from anecdotal accounts.
According to those account, "effective" doses start around 20 mg, so the 50 mg included in Krak'n should be plenty to feel the focus effects touted by proponents of Hordenine.
GABA – 50 mg
GABA is an amino acid that behaves as a neurotransmitter, attaching to your brain's GABA receptors and depressing the central nervous system (CNS).
It's also worth noting that not everyone responds the same way to oral GABA supplementation. Some people feel the effects more than others.
These GABA receptors are the same types of receptors that benzodiazepines (aka "benzos") like Xanax or Ativan attach to, producing a calming effect on the CNS.
To be clear: GABA and benzos attach to similar receptors, but they are not the same classification of drug. Benzos have a well documented effect.Oral GABA supplementation effects are less well documented, but they been reported anecdotally.
Nitric oxide has also been shown to help GABA cross the blood brain barrier (i.e. make it effective instead of just swimming around in the body, where it can't attach to GABA receptors in the brain), which citrulline malate helps with.
50 mg is the same dosage found in Dark Energy and Zeus.
Vitamin B6 – 50 mg
I don't know. It's vitamin B. It's fine.
Crazy Euphoric Pre Workout!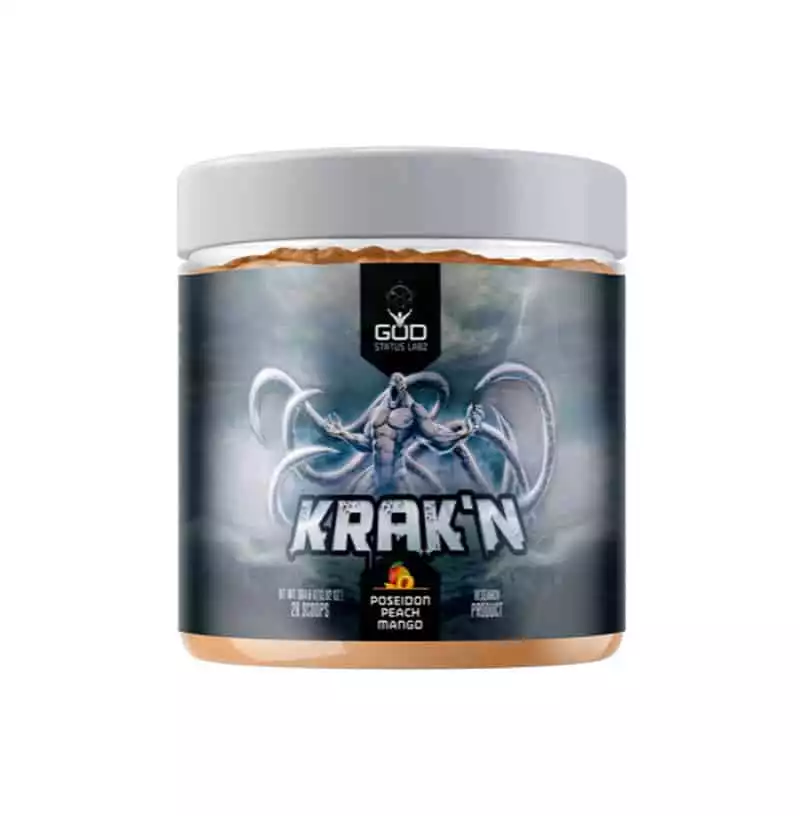 Krak'n Pre Workout
A euphoric high stim experience. One of the best mood elevation stim junkie pre workouts available.
Unfortunately, Krak'n is sold out. See some of the strongest pre workout supplements below.
Strongest Pre Workout
Lift Vault earns a commission if you click this link and make a purchase at no extra cost to you.
Krak'n Pre Workout Review
Summary
Krak'n pre workout from God Status Labz is just about everything I look for in a high stim pre workout supplement. The energy, focus, and mood elevation are all up front and very nicely done. The effects are smooth, not overpowering, and don't cause any unpleasant side effects. Despite whatever is on the label, don't get caught up in the hype. This won't change your life. It'll make you feel good, get you motivated to kill a workout, and not beat up your brain. And honestly that's enough for me.
Pros
Great mood elevation
Very nice focus
Long lasting (3-4 hours)
No crash
Cons
A bit pricey (use a discount code)