Crypto is a pre-workout supplement from Bio Tech Nutra. With 1 g L-Tyrosine, 1 g Choline, 450 mg total caffeine (from anhydrous and citrate), Theophylline, and Alpha Yo, the energy and sense of urgency is incredibly strong. Most importantly, the energy goes where it needs to go.
Other than for a workout, I took a dose before a 12+ hour shift for my job, and the effects were the same, high and intense energy with dialed-in focus and a strong sense of urgency.
Due to how strong the energy and Alpha Yo effects are, I would only recommend this to intermediate pre-workout users. If you have used Alpha Yo before and are looking to take the next step in pre-workouts, this supplement would be a great option.
Crypto is similar to Super BIOFreak, Specimen Yo-Yo, or Stimmed Up.
Read on for additional details of my experience, the best prices for the Crypto pre-workout, and a breakdown of its ingredient label.
My Experience
I took Crypto twice, and it is a type of pre-workout that puts a fire under my butt with an intense, almost jittery kind of energy.
Effects
The Beta-Alanine tingles took about 10 minutes to start taking effect, and it lasted about 15 minutes. It was not as strong as I expected, maybe a 7 out of 10.
The energy took a while to ramp up, about 20 minutes, but it came in strong and intense. I wasn't inclined to take long rest periods, even when trying to. This is not a pre-workout you can take and just sit around.
Focus is quite strong and pushed me to shorten my rest times.
Pumps were decent enough, probably the only lacking area.
Crypto had significant thermogenic effects, combined with the energy making me move; it made me sweat more than usual.
The Alpha Yo effects were quite strong and definitely added to the jittery energy and thermogenic effects. It cleared my sinuses quite well. If you are sensitive to Alpha Yo, you may want to try half a serving (or even a quarter) to see how it affects you.
Flavor
I tried the "California Limeade" flavor. The label shows cherry and lime, which I assume makes it their take on cherry limeade. . The flavor was delightful without a bitter or sour taste. I'd give it a 9 out of 10.
Other flavors include: "Wonderland Candy" (looks like a Skittles type flavor from the label), Orange Creamsicle, "Blue Crush" (shows blueberries and lemon on the label, so probably a blueberry lemonade), and "Red Jolly" (shows a red jolly rancher-type candy).
Scoop Size:
A whole serving is 18.9-grams, which comes out to be just over a flat scoop. A flat scoop for reference is 18.2-grams.
Ingredients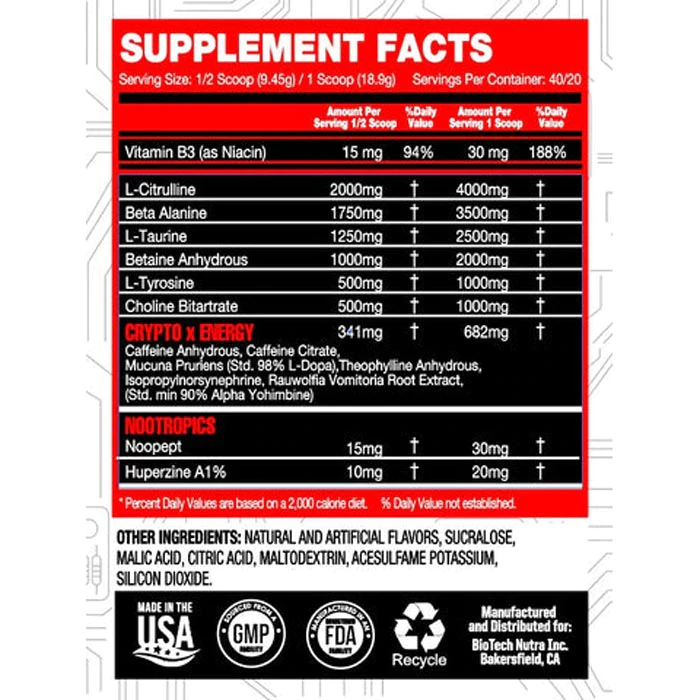 L-Citrulline – 4,000 mg
L-Citrulline is one of the most common pre-workout ingredients. There is extensive evidence supporting its ability to increase nitric oxide production, power output, and endurance.
Although most research uses a variation known as L-Citrulline Malate (2:1), anecdotal evidence supports that L-Citrulline delivers much of the same benefit.
When included as pure L-Citrulline, we like to see 4 grams as the dosage Crypto gives on the whole serving.
Beta-Alanine – 3,500 mg
This amount is well above the standard dosage for beta-alanine of 3.2 grams, which, when taken consistently, has been shown to improve muscular endurance by acting as a lactic acid buffer in muscles; this is the ingredient that gives you the "tingles." Crypto gives just over that 3.2-gram amount.
Taurine – 2,500 mg
Taurine is a "miscellaneous" pre-workout ingredient with a range of potential, albeit limited, physical benefits. It can aid in blood flow, reduce cramping, and act as a booster to antioxidant defense systems (Examine). It's a pretty insignificant ingredient in pre-workout compared to other components but doesn't hurt anything either.
2.5-grams is a solid dosage of taurine to achieve any effects it has to offer. Usually, other products have 500 mg to 2 grams.
Betaine Anhydrous – 2,000 mg
Betaine is included to help increase your power output. However, research on this claim is somewhat inconsistent. Two grams is a decent dose of this ingredient, where typically it is between 1.5 g and 5 g.
L-Tyrosine – 1,000 mg
L-Tyrosine helps "smooth out" some of the harsher effects of stimulants and increase focus. Some limited research studies also show it can act as a cognitive booster in stressful environments.
One gram is a decent dosage and lands within the range recommended for use in an exercise setting.
Choline Bitartrate – 1,000 mg per serving
Choline is a focus ingredient and is a chlorogenic source. Compared with Alpha GPC, choline bitartrate may not be as effective as a nootropic (source). This is another potential area of improvement for the product formula.
Still, the 1,000 mg of choline bitartrate will help focus; although, this claim is not as well researched. Doses usually range between 500 mg and upwards of 2,000 mg.
My main issue with this product is the added prop blend. On two scoops, we know it's a 682 mg blend, with 450 mg total caffeine. With that being said, trying to break down the blend would be 400 mg caffeine anhydrous, 100 mg caffeine citrate (yielding 50 mg), 100 mg Mucuna Puriens (Std. 98% L-Dopa), 50 mg Theophylline Anhydrous, 30 mg Isopropylsynephrine, 2 mg Rauwolfia Vomitoria Root Extract (Std. min 90% Alpha Yohimbine).
Caffeine Anhydrous
The Big Poppa of stimulant supplements is in your coffee, tea, soda, or even in your sweets and gum (some confectioners add caffeine to their sweets for a kick). Well known for increasing energy, power, and focus, it's the staple ingredient in all stim-based products. 400 mg is heading towards the higher end of the range you mostly see in pre-workout supplements nowadays (usually ranging between 250 and 450).
Caffeine Citrate
Caffeine citrate is a faster-acting version of caffeine when compared to caffeine anhydrous. It's not common in supplements. Some popular pre-workouts, like Wrecked Extreme and M2, include this ingredient.
Caffeine Citrate is usually 50% Caffeine and 50% Citric Acid.
Mucuna Pruriens (Std. 98% L-Dopa)
Also known as Velvet Bean, mucuna pruriens extract is a traditional herbal supplement with little dopamine increasing and cortisol reducing effects, among other things.
Though it's not relevant here, one of the more reliable effects is a noticeable reduction in Parkinson's Disease symptoms
Isopropylnorshynephrine
Isopropylnorsynephrine is a lipolytic agent, meaning it helps break down fat into glycerol (energy). It is a "fat burner." It may also possess energizing effects and is considered stronger than synephrine (bitter orange extract).
There is not a lot of research regarding proper dosage, but 30 mg should be enough to get you going.
Synephrine is a well-researched ingredient that has been shown to aid in weight loss.
"In general, bitter orange extract alone (p-synephrine) or in combination with other herbal ingredients did not produce significant adverse events as an increase in heart rate or blood pressure or alter electrocardiographic data, serum chemistry, blood cell counts, or urinalysis. p-Synephrine alone as well as in combination products were shown to increase resting metabolic rate and energy expenditure, and modest increases in weight loss were observed with bitter orange extract/p-synephrine-containing products when given for six to 12 weeks."

Synephrine Meta-Analysis
Theophylline Anhydrous
Theophylline anhydrous is a bronchodilator that treats the symptoms of asthma, bronchitis, and emphysema by making it easier to breathe. It achieves this by opening up the airways in your lungs.
While indeed an atypical ingredient, I have seen it before in Chemix Pre Workout, Red Sky Fat Burner, Pandamic Extreme, and Cannibal Ferox.
Rauwolfia Vomitoria Extract [Std 90% Alpha Yohimbine]
Rauwolfia Vomitoria Extract, otherwise known as Alpha Yohimbine, or simply "alpha yo," is a "love it or hate it" stimulant. Some individuals are particularly sensitive to alpha yohimbine and avoid any pre-workout with it outright. Common adverse side effects can include anxiety, headaches, sweating, frequent urination, and increased blood pressure.
If you are sensitive to Alpha Yo, steer clear or start with a half or quarter scoop as the effects are noticeable.
Noopept – 30 mg per serving
Noopept, also known as N-Phenylacetyl-L-prolyglycine ethyl ester, is a synthetic nootropic ingredient with cognitive boosting and psychostimulatory effects. It's in the racetam family of nootropics. In terms of focus ingredients, this is the star of this formula.
30 mg is a substantial dose of noopept and a typical amount for pre-workouts..
There is some evidence for neuroprotective health (Alzheimer's Discovery Organization)
Huperzine A 1% – 20 mg (200 mcg yield) per serving
Like Choline Bitartrate, Huperzine A is cholinergic and acts as a cognitive enhancer. It tends to be taken in doses of 50 mcg to 200 mcg, so the amount found in Obedient does land over the clinically effective range. As an acetylcholinesterase inhibitor, It helps lengthen the half-life of cholinergic sources (Examine).
Final Score and Summary:
4.2 out of 5
Crypto by Bio Tech Nutra is a hard-hitting, energy-amplifying, thermogenic pre-workout.
With Crypto, don't expect just to sit around and chat. You'll be raring to go. It truly put a fire under my butt. The energy builds and enables you to shorten rest times and move from exercise to exercise with ease.
For that reason, I'd only recommend it for intermediate users looking for an intense sense of urgency type of pre-workout.
Pros:
● Strong sense of urgency.
● Fast-acting and intense energy (lasting 5+ hours).
● Excellent focus.
● Strong thermogenic effects.
Cons:
● Stim-blend is under a prop blend
● It could use more ingredients for pumps.
● Alpha Yo effects may be too intense for those sensitive.
● Only 20 full servings.