What is Curcumin?
Turmeric, a ginger root popular in India and Southeast Asia as a flavoring and coloring agent, has become quite popular recently for one of its chemical components: curcumin. Curcumin is a polyphenol, which have been studied for many years due to their potential antioxidant capabilities.
What Does Curcumin Do?
So: turmeric is a root that is ground into a spice and curcumin is one of the chemicals found within it. Where it gets interesting is curcumin's potential effects as an anti-inflammatory supplement (see 5 studies). Clinical studies have also pointed to notable effects for pain reduction (see 9 studies), reducing symptoms of depression (see 5 studies), and reducing symptoms of osteoarthritis (see 8 studies).
I'm sure you see where this is going. Could curcumin help reduce inflammation in weightlifters? The answer is yes. A group of 28 untrained participants were asked to complete 60 eccentric reps on the leg press machine with 110% of their 1RM, which was determined 10 days prior in a pre-study observation. The researchers noticed that the group given 400mg of curcumin daily showed significantly less biomarkers of inflammation (summary).  Subjective assessment of muscle soreness showed no significant difference, so while curcumin seems to have high potential for reducing inflammation within the body, it does not show any evidence of helping actually reduce DOMs. You can see the full study pdf here. Another study, this time including moderately trained participants, found a significant reduction of post-exercise soreness 24 hours after activity. So if you're interested in antioxidants that could reduce muscle soreness and inflammation within the body, definitely give curcumin a try.
Curcumin Bioavailability Tip
An important thing to note is that curcumin has relatively poor bioavailability in the body (i.e. it's tough to absorb and use), but this can be enhanced when it is ingested with piperine, an ingredient found in black pepper. All of the recommended curcumin powders below contain piperine or comparable bioavailability enhancer for this reason.
Recommended Curcumin Dosage
Examine recommends taking 500mg of curcumin with 20mg of piperine three times per day, for a daily dosage of 1,500mg of curcumin and 60mg of piperine. Remember that curcumin is not the same as turmeric! Many supplements will advertise 1,500mg of turmeric, but the dosage of curcumin is much lower. Lift Vault has selected curcumin supplements from Amazon that do not contain this deceitful dosage labeling practice.
The Bio Schwartz Turmeric Curcumin product is an example of what you don't want. 150mg of turmeric extract, even 3x per day, doesn't get close to the 1,500mg daily recommended dosage of curcumin. They don't advertise the 150mg number on the front of the label though, they advertise the combined amount of turmeric powder: 1,500mg.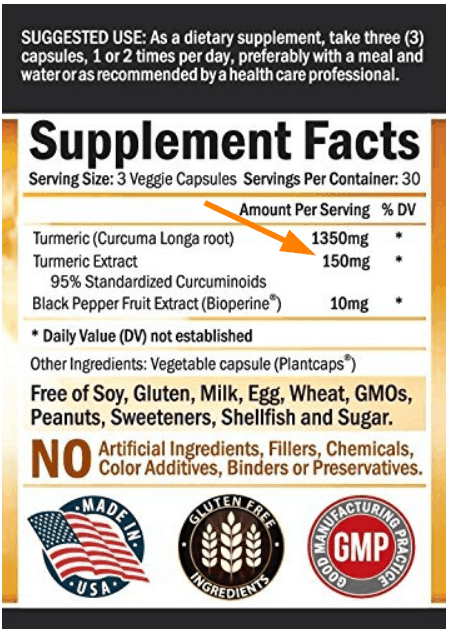 Best Curcumin Powder on Amazon Prime
Best Value, 30 Day Supply

20 Day Supply

40 Day Supply

40 Day Supply

30 Day Supply

Turmeric Curcumin Supplement 19X Stronger -1500 mg of 95% Curcuminoids Extract Capsules - Pure Turmeric with BioPerine Ginger Cinnamon – Best Anti-Inflammatory Joint Support Antioxidant Powder Pills
Smarter Nutrition Curcumin - Potency and Absorption in a SoftGel - The Most Active Form of Curcuminoid - 95% Tetra-Hydro Curcuminoids, 1 pack of 60 capsules - 30 Servings (Packaging May Vary)
Pure Encapsulations - Curcumin 500 with Bioperine - Antioxidants for the Maintenance of Good Health* - 120 Capsules
Turmeric Curcumin C3 Complex 500mg, Enhanced with Black Pepper & Organic Coconut Oil for Better Absorption; Non-GMO & Gluten Free - 120 Count
Vital Nutrients - Curcumin Extract (with Bioperine) - Nutritional Support for Normal Tissue Health - 60 Capsules per Bottle - 700 mg
Best Value, 30 Day Supply

Turmeric Curcumin Supplement 19X Stronger -1500 mg of 95% Curcuminoids Extract Capsules - Pure Turmeric with BioPerine Ginger Cinnamon – Best Anti-Inflammatory Joint Support Antioxidant Powder Pills
20 Day Supply

Smarter Nutrition Curcumin - Potency and Absorption in a SoftGel - The Most Active Form of Curcuminoid - 95% Tetra-Hydro Curcuminoids, 1 pack of 60 capsules - 30 Servings (Packaging May Vary)
40 Day Supply

Pure Encapsulations - Curcumin 500 with Bioperine - Antioxidants for the Maintenance of Good Health* - 120 Capsules
40 Day Supply

Turmeric Curcumin C3 Complex 500mg, Enhanced with Black Pepper & Organic Coconut Oil for Better Absorption; Non-GMO & Gluten Free - 120 Count