An ectomorph workout is a training program designed to build mass for skinny individuals. The ectomorph body type is often described as having a flat chest, small shoulders, and thin waist. These individuals are often described as thin or skinny and have trouble putting on weight, possibly due to a faster than average metabolism (i.e. they are a "hard gainer").
Building muscle and gaining weight is primarily a function of three things: your training program, diet, and recovery.
Manipulating these three things correctly can help an individual with an ectomorph body type build muscle, get stronger, and increase their overall size.
Summary (4 Easy Steps)
Here's what this guide will help you do.
Pick a training program
Calculate your total daily energy expenditure (TDEE)
Calculate your macro profile
Track your calories
That's it. The rest is just details and tips for your success.
Ectomorph Training Principles
In order to build muscle and gain weight, the three most important training principles are:
Train the largest muscle groups of the body with a focus on compound lifts
Provide the body with adequate resources to fuel growth by being in a caloric surplus
Adequate recovery
Ectomorph Workout Program Recommendations
Beginner Ectomorph Workout Routines
Ivysaur 4-4-8
A good starting option is the Ivysaur 4-4-8 Program.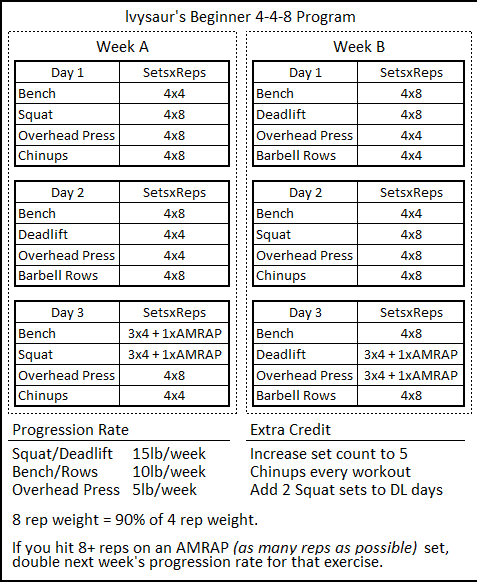 This program:
Utilizes 3 training days per week
Focuses on big compound lifts
Trains the full body each session
Progresses weekly, allowing for faster progress

lvysaur 4-4-8 Program Spreadsheet - LiftVault.com
Greyskull LP
Another great choice is the Greyskull LP program, which is another 3 day full body strength workout. It increases each session instead of every week, but the overall progression rate is the same as Ivysaur 4-4-8 (15 lb per week or 7.5 kg per week).
3 training days per week
Equal volume between overhead press and bench press
Equal volume between chin ups and barbell rows
Includes direct arm work (triceps, biceps)
Includes ab and shoulder work (shrugs)
5 exercises per training session instead of 4 exercises
I think Ivysaur 4-4-8 is slightly better than Greyskull LP because of the 3x weekly bench pressing in Ivysaur 4-4-8. Bench Press can typically handle higher frequencies, so I think it is suboptimal to split volume evenly between the overhead press and the bench press in Greyskull LP. Still, this is a minor complaint and I still recommend running Greyskull if you find it appealing.

Greyskull Linear Progression Program - 6 Week
Intermediate Ectomorph Workout Routine
5/3/1 Boring But Big (BBB)
As progress on the above program stalls, then I recommend moving to Jim Wendler's 5/3/1 Boring But Big.
This program:
Utilizes 4 training days per week
Focuses on big compound lifts
Has gradual progression built in, allowing it to be run for a long time while continually making gains

Wendler 5-3-1 v1.3.xlsx
Progression on These Programs
Combined, choosing a beginner and intermediate program listed above should be able to take you through your first year of training.
Ivysaur 4-4-8  or Greyskull LP with their weekly/daily progression, should provide somewhere between 3 and 5 months worth of steady progress. It will start easy, but gradually become quite difficult. Successful execution of the program will require that diet and recovery are dialed in, which we will discuss below.
Jim Wendler's 5/3/1 Boring But Big, with its monthly progression, should be able to provide you with a solid training regimen for the remainder of the year. Diet and recovery will be even more critical here, as the training frequency will be increased from three times per week to four times per week. It is a brutally simple program that has helped thousands of people increase their size and, run correctly, it will help you grow too.
Ectomorph Diet Plan
Neglecting diet and recovery will be the easiest way to not gain muscle.
One of the most crucial aspects of training for a skinny individual is the diet & nutrition plan. The perfect workout program cannot replace an inadequate diet. Both are essential to success, but often diet is overlooked or neglected. Do this at your own peril.
How the Body Builds Muscle, Burns Calories, and Gains Weight
Food consumed can be broken up into three things: carbohydrates, protein, and fat. These are known as macronutrients or "macros."

From these three inputs the total number of calories can be calculated.

The number of calories burned in a day is known as your Total Daily Energy Expenditure (TDEE).

Your average TDEE takes into account your average level of physical activity.
Every person has a TDEE, but the TDEE of an olympic sprinter will be higher than the TDEE of a sedentary office worker.

To gain weight, your daily caloric intake must exceed your TDEE. To lose weight, your daily caloric intake must be less than your TDEE.

This is why calorie counting is so important.

To build muscle optimally, around 0.7 grams of protein per pound of lean body mass should be consumed each day.

This is why tracking macro nutrients, especially protein, is so important.
How to Calculate Your TDEE
There are several calculators you can use to estimate your TDEE.
You can choose any one of them or try all three and average the results. Many will ask you for your body fat %, but it's okay if you leave it blank if you're unsure.
Excellent! Now that you have your TDEE (write it down, you'll need it later!) let's calculate your macros.
How to Calculate Your Macros
Similar to TDEE, there are lots of macro calculators that make figuring out your "macro profile" quite simple.
Damn Ripped Macro Calculator (no email required)
Transparent Labs Macro Calculator (email required)
Great! Now you have your daily goals for grams of protein, fat, and carbs.
How to Track Your Macros
The easiest way to track your macros is to use a meal tracker app. I used MyFitnessPal and had a good experience with it.
Tips for Gaining Weight and Getting Enough Protein
Breakfast Shake
When I started my journey of gaining weight, I simply wasn't eating enough. One thing that worked well for me was a tip I got from Alan Thrall, which was to make a breakfast gainer shake each morning.
It's been many years since I've made one, but the recipe was something like this (video below):
1 cup whole milk
1 tbsp peanut butter
1/2 cup of oats
1 or 2 tbsp of coconut oil
1 scoop raw honey
2 raw eggs
1 banana
1 scoop protein powder (optional)
If it comes out too thick, add some more milk. Too thin? Add some more oats.
I did this every morning for breakfast and it usually came out to around 1,200 calories.
The Strongest and QUICKEST breakfast
10,000 Calories per Day Diet
Do you need to eat 10,000 calories per day? No, almost certainly not. But watching someone do so should give you some ideas on how to prepare these meals and fit them into your daily routine.
Alan Thrall's 10,000 calories/day diet
Even More Information for How to Gain Weight
Ectomorph Diet: How to Gain Weight as a Skinny Hardgainer [Video]
Ectomorph Recovery Plan
You don't build muscle when you're working out. You build muscle when you're recovering from working out.
Getting 8-9 hours of sleep each night is essential to allowing your body the opportunity to build muscle and burn fat. It is also when your body has the opportunity to recover from fatigue, which accumulates in your body and, at adequate levels, reduces your ability to train at optimal levels.
Sleep Study #1

These study participants got 8.5 hours of sleep each night and lost 2.33x more fat than a group that got 5.5 hours per night.
The 5.5 hour group lost 1.6x more lean muscle mass than the 8.5 hour group.

Sleep Study #2

Not getting enough sleep reduces circulating levels of testosterone and IGF-1 (a growth hormone).
There is a ton of supporting research that suggests sleep is a crucial part of any strength and muscle building endeavor. Sleep cannot be sold, so you don't hear it discussed much by the fitness industry, but it is just as essential as exercise and diet. It is the third leg upon which the bar stool of fitness sits.
Can't get 9 hours? Shoot for 8.
Can't get 8 hours? Shoot for 7.5.
The point is that the more sleep you get, the more gains you will make.
That's it. Getting to eating, lifting, and gaining!
Extra Resources for Gaining Weight & Muscle
While the above information is all you need to get started, if you think you need some extra guidance, here you go.
Reddit /r/GainIt Community
A entire subreddit community dedicated to gaining weight, mass, and muscle.
Most importantly, read the FAQ section (below). It will very likely answer any remaining questions you have.
New to gaining weight? Please read the FAQ before posting. from gainit
Bulking Recipe Ideas
Here are some great recipes for meals that help you gain weight. The calories are listed next to most of the different recipes, along with whether the recipe is for a meal or a shake.
Weight_Gain_Recipe_Archive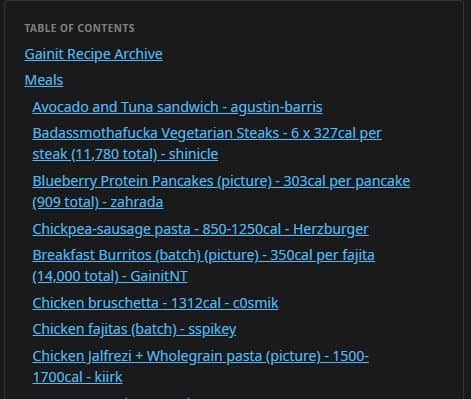 Muscle Building 101 (TheFitness.wiki)
Alan Thrall's Rant on Bulking
Some of this advice is counter to what I suggested above (e.g. he recommends not tracking your calories), but generally speaking this is good advice. He advocates for taking responsibility over your diet to help gain weight.
Bulking Rant w/ SAMPLE BULKING DIET - How To Gain Weight
Real Results & Success Stories
Here are real people that used Lift Vault programs and a sensible diet to gain weight and muscle. They did not always run one of the programs recommended above, showing that there are many paths to gaining weight and muscle, but they all use adding weight on heavy compound lifts and eating at a caloric surplus.
M/23/6'2 [158 lbs to 198 lbs] (1 year)
He used a PPL routine, running it about 5x per week.
M/18/6'1″ [140 lbs to 194 lbs] (3 years)
They used Sheiko programs, the CUBE method, and German Volume Training programming.
M/23/107 lbs to 126 lbs (5 months)
This person had success running PHUL, but more importantly actually started eating 3 meals a day + a protein shake.